Jetstar, a wholly owned subsidiary of Qantas (ASX:QAN), has hit the news board as it has announced a Tasmania sale with fares starting from $41 for travel from Melbourne to Launceston.


                              
In a report to ACCC (Australian Competition and Consumer Commission), Qantas declared that 2020 had led the worst trading conditions in the last 100 years. It has been felt by the airlines' industry globally. To beat this heat airlines are using price as the base to lure the customers.
Rex started the price lowering formula by slashing prices to reach upto $49 for people who wish to travel in the middle of Sydney and Melbourne.
The action followed the super-low price cut by rival airline company Virgin Australia. Government decisions for repeatedly closing the borders in a day's notice on founding 1 case has shaken travelers' confidence about flying. Both the companies slashed the prices to reach upto $49 for people who wish to travel in the middle of Sydney and Melbourne.
To add to the offer as mentioned above, Jetstar is not leaving the other sectors behind. It is offering flights from Sydney to Launceston for $55, Hobart to Sydney for $59, from Adelaide to Hobart for $75, Brisbane to Launceston at $99 and from Gold Coast to Hobart for $105.
The parent company Qantas Airlines too has offered a nationwide sale with more than 1 million seats on sale to 55 destinations starting from $99 along with premium level services on board.
Also read: Qantas (ASX:QAN) remains optimistic on its Project Sunrise
Stephanie Tully of Qantas Group also shared that with the international borders shut, the best way to push tourism is to make it easier and more affordable for Australians to discover what's special in their own backyard.
She elaborated that after customers told the Company they are having second thoughts about planning their travel post the sealing of overseas borders, atleast their Company is seeking ways to make sure that people do not hesitate or have second thoughts about wanting to embark on a journey.
Also Read: Qantas Reopens Overseas Flight Bookings for July 2021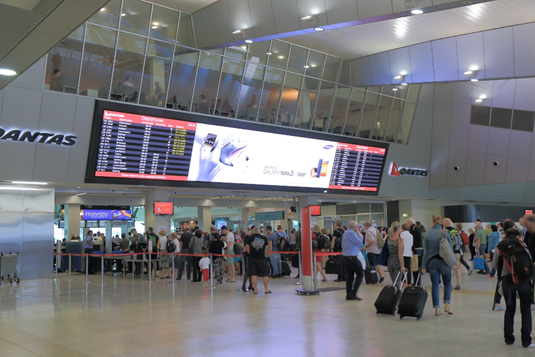 Source: Megapixl
Meanwhile, other airlines contribute to this ticket sale war with Rex and Virgin being the major players apart from Jetstar and Qantas.
Rex announced $49 flights on 10 February 2021 followed by Virgin offering domestic flights starting from $49.
Airfare searches showcase record cheap prices of flights across the country almost for the upcoming two months.
Meanwhile, as far as the stock is concerned, QAN closed the day's session at the ASX at $4.78 per share, up 0.21% with a market capitalisation at $8.99 billion.
*All financials are mentioned in AUD, unless specified.