Highlights

Aussies can choose from self-regulated super funds and professionally managed super funds.

SMSFs are a good choice for those needing greater control over their fund money, while APRA-regulated funds provide a hassle-free experience.
Both super fund options have some benefits and considerations that must be paid attention to.
Holding an SMSF means gaining full control over one's super funds. However, the control comes at the cost of self-research and requires a thorough knowledge about investment options. But APRA-regulated super funds can be a great choice for individuals wishing to have a less burdensome experience with their super money. However, each super option has an attached risk and some general considerations.
To say that one type of super is better than the other would not be fair. Instead, individuals must look at both alternatives as choices that come with different priorities. Industry managed funds may be better suited for those looking for a less costly and easier method of obtaining returns during retirement years. On the contrary, SMSFs allow the flexibility to hand-pick the super fund options.
ALSO READ: Australia Federal Elections 2022: Will Covid wave see Aussies cast their vote via phone?
Let us understand how both forms of funds are different from each other.
What is an SMSF fund?
Self-managed super funds allow members to become trustees in the fund. With these super funds, individuals are solely responsible for the gains or losses in their funds. Members also have the option of going for corporate trustees, through which they can become directors in the fund.
In a nutshell, SMSFs allow the member to choose where the fund money goes and what insurances are required. Unlike industry funds, here fund members are tasked with deciding everything about the fund, including choosing all administration requirements. For instance, those fund holders approaching retirement would also have to devise a strategy that provides them with fixed monthly payments.
What is an APRA-regulated super fund?
Professionally managed super funds or APRA-regulated super funds are most common among Australians. Australian Prudential Regulation Authority (APRA) is an independent statutory authority that supervises institutions across insurance, banking and superannuation while promoting financial system stability.
These funds provide a more hands-on approach towards managing one's fund money while also giving members the option to choose the type of investments they like. These options are not as complex and detailed as some professionals in the field would want. However, they save the hassle of doing meticulous research and analysis about the market.
What all do you need to know for Australian Super?
For instance, AustralianSuper is an example of a professionally managed super fund, which gives members some degree of control over where their investments go. AustralianSuper does all administration, tax, and compliance-related work on its own, allowing individuals to focus on managing their portfolios.
ALSO READ: China lockdown: What are the repercussions for Australia?
Making a choice
Several factors must be considered before making a choice between SMSFs and APRA-regulated super funds. Here is a comprehensive analysis of the benefits and costs offered by these funds: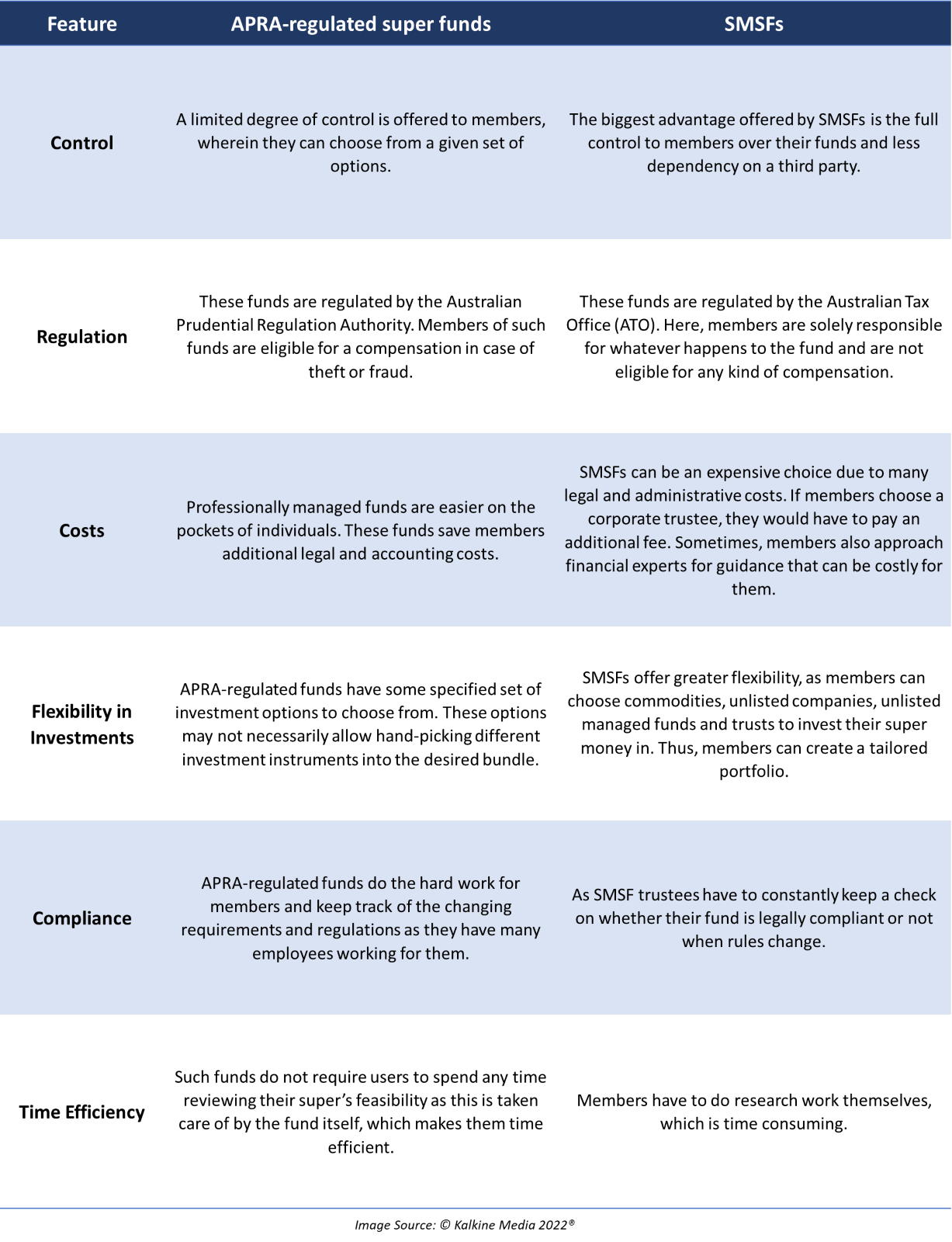 INTERESTING READ: Why is stagflation back on investors' minds?