Highlights

Many investors are again contemplating if global economies will face stagflation.
The commodity shock brewing out of the Russia-Ukraine spat has sparked fears of stagflation.
The prices of commodities have been impacted by disrupted supply chains due to a range of sanctions on Russia.
Persisting inflationary pressures are often accompanied by fears around the onset of stagflation. As rising oil prices grip economies by the throat, many investors are once again contemplating whether the storm named 'stagflation' would cast a shadow on their returns.
For those unfamiliar with the term, stagflation is a period of prolonged inflation alongside low economic growth and high unemployment. Stagflation fears generally go hand in hand with negative connotations building up for the economic outlook. Amidst the current scenario, investors are worried about the raging impact of an economic slowdown on equity markets and other investment areas.
Most importantly, stagflation has an associated risk of demand destruction, caused by declining incomes and depleting affordability. As employment falls and incomes slash, households get locked in a battle of survival, where a rudimentary lifestyle becomes the only way of sustenance.
What causes stagflation?
The most pertinent stagflation was experienced by the global economy in the 1970s when the oil shock triggered an inflationary spiral. The shock came after the Organization of Arab Petroleum Exporting Countries placed an embargo on oil exports.
An equally concerning image is visible in the current climate, where heavy sanctioning on Russia has reduced the overall supply of oil globally. The commodity shock brewing out of the Russia-Ukraine spat has led experts to speculate that 1970s-like conditions can be seen again. The ongoing price pressures are somehow disrupting the post-pandemic recovery of the nations and supply-chain bottlenecks. All these factors have together fared a risk to the global economy.
What is stagflation?
The Russia-Ukraine war has emerged at a time when global economies have already been facing supply-side disruptions and shipment delays. These supply snags have been weighing on the global supply of commodities, worsening the situation after the conflict ensued.
Some key commodities that have suffered the consequences of the war include wheat and Brent crude, which have risen by close to 36% and by over 40% since the start of the year.
DO NOT MISS: Three technical indicators to help gauge market volatility
How long will inflationary spells last?
Inflationary pressures were persistent across global economies even before the war began. As the risk of an economic slowdown increased, these pressures transcended into a widespread fear of stagflation.
During the post-pandemic recovery of nations, when supply was unable to meet the pent-up demand for goods, similar fears surrounding stagflation had developed. However, countries managed to move past that period of uncertainty, only to be locked in a sea of turmoil.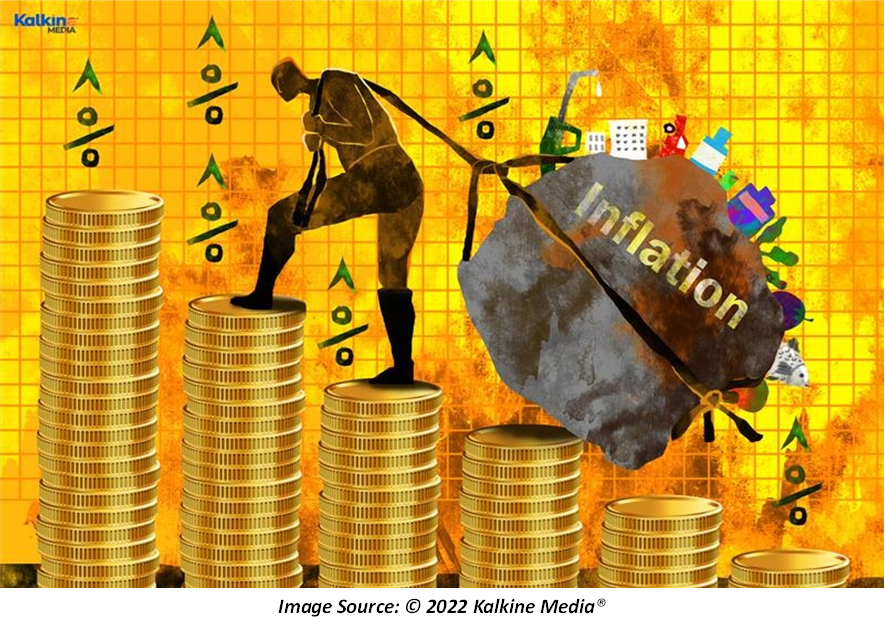 Many nations such as the US, European Union, and the UK have banned oil imports from Russia, with many other countries following suit. After imposing travel and financial bans, Australia has recently introduced a new tranche of sanctions against Russia. In a way, countries are becoming more rigorous in their retaliatory approach towards Russia, the effects of which might linger long after the war is over.
RELATED READ: Does Australia have sanctions against Russia?
Additionally, exporting facilities in Ukraine have been disrupted amidst the war. Russian military forces have captured ports and areas of economic significance in Ukraine, delaying the supply of goods from the country. Mass destruction of facilities and infrastructure, coupled with the displacement of the workforce, are weighing down on Ukrainian exports.
What should investors know?
Speculations are rife that Australian commodity exporters might gain from rising energy prices. The big importers of oil and energy might have to pay higher prices to other countries as soon as they start finding alternatives to Russian imports. Effectively, Australian metal exports could become expensive.
While the equity market has largely seen declining confidence amidst rising prices, the overall market has still been steady against these headwinds. Interestingly, some quality stocks have delivered exceptional performance over the past few weeks, even as inflationary fears took over.
Thus, investors can closely examine the companies that have been able to perform well even during such challenging circumstances. For instance, during the first few months of the lockdowns, many stocks came up as surprise winners due to their unique nature of conducting business. Also, investors can explore some hot commodities while deciding on stock to invest in.