Definition
Related Definitions
Research and Development
What is research and development (R&D)?
"Rome wasn't built in a day," as the adage goes, and the same could be said about products.
Every successful product's life cycle starts with research and development. At this stage, a product development team will brainstorm ideas for new services or products, evaluate their market sustainability, examine the necessary technology, and then build them.
R&D stands for research and development, and it refers to the activities that corporations participate in manufacturing new products and starting services. It's commonly considered the first step in the development process. The aim is usually to launch new products and services to the market while also boosting the firm's bottom line.
R&D, on the other hand, is a useful instrument for growing and strengthening a business. R&D entails exploring the market and customer needs and designing new and better products and services to satisfy those requirements. Companies that prioritise R&D strategy have a greater chance of success than those that do not. An R&D method may lead to innovations and increased productivity, and boost a firm 's competitive edge.
R&D is generally linked with innovation in both the government and corporate worlds and the private and public sectors. R&D enables the firm to stay one step ahead of its rivals. Without an R&D strategy, a business may not thrive on its own and may have to depend on other ways of innovation, like collaborations and mergers and acquisitions (M & M&A). In addition, firms can build new products and enhance their current offerings through R&D.
The R&D procedure does not ensure a fast buck; instead, it is carried out for the sake of long-term growth. Because it does not make a profit instantly, there is a certain risk associated with this activity. Because research may fail several times before the team accomplishes the intended goal, the overall return on investment is unclear to some extent. Nevertheless, firms invest billions of dollars in research and development in delivering new technologies and products. The R&D team is made up of highly trained, intelligent, and experienced individuals who can deliver the best possible solutions and concepts.
In sectors like technology, pharmaceuticals, the military, and chemistry, R&D is critical. These industrial sectors' businesses would be far behind their rivals if they did not grow. Therefore, they should always be looking for strategies to enhance the efficiency of their products and generate fresh ideas that will influence the market.
Summary

R&D refers to the activities that corporations participate in to manufacture new products and services.
R&D entails exploring the market and customer needs and designing new and better products and services.
R&D is generally linked with innovation in both the government and corporate worlds and the private and public sectors.
Frequently Asked Questions (FAQs)
What is the best way to build an R&D strategy?
The size of the firm determines the R&D strategy. Because of cost and financial constraints, R&D in small enterprises tends to concentrate on product enhancement. On the other hand, large firms could devote more time and resources to R&D to launch new goods while also upgrading existing ones.
R&D advantages are often long-term, specifically in product design and enhancement; R&D may assist in developing more effective and efficient methods and innovative ways of offering a service.
Investing more time and resources in research and development does not ensure success. Instead, the most comprehensive market studies to determine the requirements and aspirations of consumers are the key to success in R&D.
R&D could lead to business inventions, like new items and services, improved procedures, and new modes of communication with consumers. These inventions have the potential to boost revenues, reduce expenses, and help businesses expand.
Source: © Kentoh | Megapixl.com
What are the various kinds of research and development?
All R&D begins with theories and notions, which might be linked to fixing issues or exploring new possibilities. The R&D strategy then concentrates on attempting to uncover and evaluate such concepts to explore what is possible.
There are two major types of research within R&D – applied research and basic research.
Basic research – It's all about gaining knowledge and then employing that knowledge to generate understanding and intelligence that a corporation can use in its favour. These insights could have been used to launch new R&D ventures and drive strategic business decisions.
Applied research frequently leads up to the development phase, which is significantly more well-defined and appears to accomplish a certain goal. This could include utilising new technology, expanding into a new market, improving security, or lowering prices.
Moreover, the objective of the design and development phase is to adopt a concept and turn it into a particular product or procedure. In a nutshell, it's about turning research into a marketable product or service. Thus, prototyping, designs, testing, trials, and refinement are all typically required.
Source: Copyright © 2021 Kalkine Media
In which industries does research and development take place?
Research and development are carried out in a broad array of industries and enterprises of all sizes. These comprise industries that rely mainly on R&D initiatives, such as pharmaceuticals, life sciences, automotive, software, technology, food, and beverages. In addition, R&D is very crucial in the construction sector, especially in engineering and manufacturing.
What are the advantages of conducting R&D in product development?
There is a plethora of reasons why businesses invest in R&D, but the following are a few of the most common: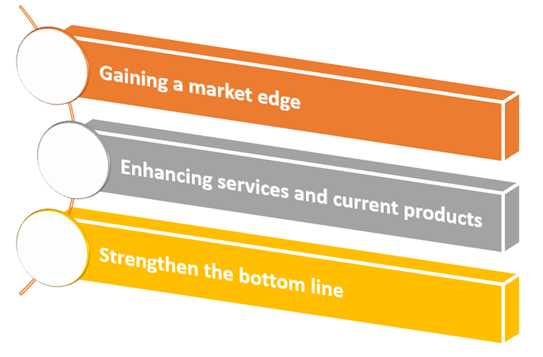 Source: Copyright © 2021 Kalkine Media
Gaining a market edge
Truly revolutionary new products can instantly change a firm's fate and propel it to market leader status.
Enhancing services and current products
Stagnation is a major issue for enterprises that do not innovate frequently enough, and R&D is a remedy.
Strengthen the bottom line
While R&D does not always yield a high return on investment, all required to make it worthwhile is a best-selling product concept.