Definition
Perimeter Security
What is Perimeter Security?
Perimeter security refers to the barriers that prevent intruders from entering the premises or keep captives within a boundary. In perimeter security, a functional apparatus is set up at the perimeter of the network to safeguard data and resources.
Perimeter security includes systems such as firewalls and browser isolation systems. The main objective of perimeter security is threat recognition, surveillance, and pattern analysis.
What are the types of security levels?
There are generally three types of security levels. These are non-specific, standard security, and increased security.
Non-specific:
In a non-specific type of security levels sensor information is displayed only, no active alarm would be generated. In this, alarms are switched off, and intervention staff is not alerted.
Standard Security:
In standard security, most sensors information is active. At this level, the sector concept, along with intelligent sensor dependencies, is employed. There is a low level of false alarm and high security to ensure robust operations.
Increased Security:
All Sensor information is active. In this, the sensor in all sector and zone can generate alarm independently in case of intrusion. Thus, ensuring that there exists a high standard of extremely sensitive perimeter protection.
What is the Role of a Perimeter Security System?
The central role of the perimeter security system is to identify any intrusion to the protected facility as early as possible and alert the guards to prepare for the appropriate actions.
There are various criteria that perimeter security must meet. Some of them are listed below.
Potential to early detect any intruder which they enter the premises.
Follows strict compliance with the perimeter outlines, and there are no blind spots.
Covered mounting of sensors of the security system.
Freedom of the parameters of a security system from seasonal and environmental situations
Stability against electromagnetic interference.
Business Value of Perimeter Security:
The security the primary concern in the present times and perimeter security is playing a pivotal role in fixing preventative measures around the premises. It could be electric fencing, motion detection beams, warning lights and digipass.
The perimeter security devices are highly cost-effective and can be installed easily. These devices are safe and do not harm people even there is a false alarm being triggered off. These devices can easily be used at various corners of the property like door entrance, door, windows, garden etc.
To know more about global Perimeter Security market, and its development, click here.
What are the different types of perimeter security?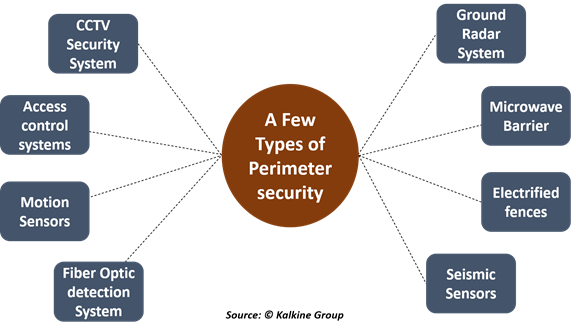 CCTV Security System:
A CCTV Security System is also known as closed-circuit television the shields the property via external camera. These cameras record any activity at the premises and simultaneously record on a recording device.
There are various forms of CCTV camera. These are conventional, thermal, PTZ and domes.
Access control systems:
The access control system allows the entry of authorized personnel within the premises. In places where there are access control systems, there is a need for either a pin, fingerprint, biometric pattern to enter.
As it is generally placed at the entrance of the premises, it frees up space which can be used for other purposes.
Motion Sensors:
Motion sensors are placed outside the premises to detect any activity taking place outside the zone via infrared rays.
Fiber Optic detection System:
The application of fiber optic detection System is more appropriate to protect walls and fences and cover a larger perimeter extension.
Ground Radar System:
The ground radar system is a very powerful perimeter security system that is capable of detecting the presence of people as well as vehicles at a medium distance of 1500 meters and the shorter distance of 700 meters. Their application is suitable in places like isolated plants, factories surrounded by fields.
Microwave Barrier:
Microwave Barriers are very powerful and have the potential to identify the presence of any object, even if it is hidden.
Electrified fences :
As the name suggests, the electrified fence has electricity passing through it. In case someone tries to cut or climb the fence, the alarm gets activated. These fences even give intruders electric shocks.
Microphone Cable fence disturbance system:
Microphone Cable fence disturbance system is a perimeter security system that runs along the overall fence. In case an intruder tries to cut or climb the fence, then the sensors act as a real microphone and transmit sound to the center.
Electrostatic field disturbance System:
Electrostatic field disturbance System creates an electric field using conductors and grounding. Any presence can be detected when an alteration happens in the electric field.
Spot Vibration Sensors:
Spot Vibration Sensors is a type of wireless perimeter alarm with sensors. These are placed at the door and windows and raises the alarm in case any intruder enters the premises.
Seismic Sensors:
Seismic sensors are capable of detecting vibrations within their range and raise the alarm in case there is any activity. However, these devices cannot detect an earthquake. In case someone enters the premises with the intention of robbery and uses a drill machine, then this device raises the alarm.
Some of the top manufacturers of Perimeter Security devices include:
Honeywell International
Axis Communication
Dahua Technology
Bosch Security
Raytheon Technologies
Southwest Microwave
Johnson Controls
Rbtec Perimeter Security Systems
Fiber SenSys
CIAS Elettronica
Click here to know about Honeywell's partnership with Australia-based Strategic Element Limited (ASX:SOR).