Definition
Related Definitions
Marketing Strategy
What is marketing strategy?
Any firm's success relies on having a solid marketing strategy in place. It is difficult to succeed without a proper marketing plan, and there is a chance of failing to achieve any of the objectives and targets specified.
If one has a strategy, one can utilise it like a map to achieve goals by following a predetermined path. Marketers adopt such strategies to attain their marketing objectives. While on the road to success, these marketing strategies join the dots of a marketing plan to enable the business to reach its target consumers via proper channels and prosper in the long run.
Furthermore, developing a marketing strategy involves formulating a firm's corporate plan to reach potential clients and changing them into customers of their services or goods. A marketing strategy consists of different components-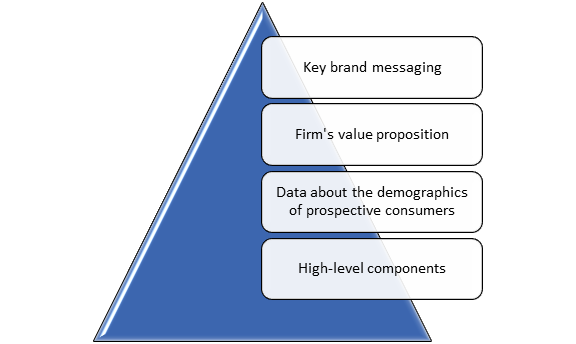 Source: Copyright © 2021 Kalkine Media
However, formulating a marketing strategy incorporates all a firm's decisions and actions to boost sales and gain a longer-term competitive edge by fully understanding and satisfying consumers' wants and needs.
A marketing strategy considers every step of the customer's journey. It presents a clear picture to every department, permitting the firm to concentrate on the resources it possesses, endeavouring to find the best way to use them to drive sales and boost profits.
Summary

Developing a marketing strategy entails formulating a firm's corporate plan to reach potential clients and changing them into customers of their services or goods.
Every marketing strategy is derived from the marketing plan's key objectives.
Marketing strategy offers a distinct advantage over rivals and aids in developing services and products with the highest profit potential.
What role does marketing strategy play in a company's growth?
Marketing strategies provide a set pattern for meeting marketing objectives, focusing on the firm's long and short-term business goals.
Marketing strategies create roadmaps that include the steps required to meet objectives. This roadmap provides guidance and guarantees that the organisation stays on track with the steps outlined.
Marketing strategy offers a distinct advantage over rivals.
It assists in the development of high-profit potential services and products.
It aids in identifying areas affected by organisational expansion and, thus, assists in crafting an organisational strategy to meet consumer needs.
It assists in choosing the best price for an organisation's services and goods based on market research and ensuring efficient departmental coordination.
It helps in setting the advertising budget ahead of time and formulating a strategy that sets the plan's scope. It also determines the income generated by the advertising
It determines the path to be taken and the interim objectives to be met. As a result, marketers will find it easier to oversee marketing operations and ensure they are carried out according to plan.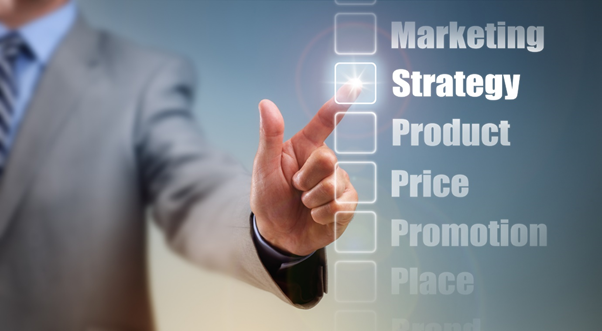 Source: © Flynt | Megapixl.com
How to formulate a marketing strategy?
Marketing strategy enables marketers to build a road map that will guide a firm from its current state to its desired one. They must concentrate on the following steps when formulating the strategy.
Set specific goals
Every market strategy derives from the core goals that are specified in the marketing plan. Whatever the marketing objectives are, whether long-term or short-term, qualitative or quantitative, the goal sets out the framework for a series of procedures.
Align the marketing strategy with the firm's goals, which may involve:
Many people are aware of services/goods.
Selling more items from a particular vendor.
Establishing a new consumer segment.
The SMART technique is a simple goal-setting strategy.
Specific: Have a clear idea of what you want to accomplish.
Measurable: Establish solid measurements to monitor accomplishments.
Achievable: Make objectives that are within the budget and capacity constraints.
Relevant: Make goals that will be relevant and assist in enhancing aspects of the business.
Time-bound: The targets must be attained within the time frame.
Segmentation
The present and prospective consumers of a corporation must be divided into specific segments based on individual requirements.
Through market analysis, marketers may be able to recognise these groups and their requirements. When marketers understand the consumer persona and needs, they can satisfy those needs even more efficiently than their competitors, and customer expectations must also be met.
Positioning and targeting
Marketers must concentrate on segments that have the most significant potential for profit for the firm.
Perform a market research
Before constructing marketing strategies, a marketer should be able to examine the current market situation, which contains –
Source: Copyright © 2021 Kalkine Media
Recognise and capitalise on competitive advantage
The term "competitive advantage" refers to obtaining a benefit that differentiates a corporation from its competitors in the industry. It is frequently fuelled by the company's unique value proposition, which is used to meet the company's strategic objectives.
Strategy for promotion
After deciding on a marketing strategy, the marketer should determine how the target audience will learn about the firm's service or goods. Next, the buyer should be informed about how and why the item will suit their requirements.
However, the brand should be promoted by advertisements, exhibitions, public relations campaigns, and online marketing/digital marketing for this purpose.
Monitoring and evaluation
The most crucial aspect of marketing is that the marketer must monitor and assess the strategy. Regrettably, many marketers in the business overlook this aspect.
Firms could use supervision and assessment to figure out how well their strategy is successful. It also aids them in designing a possible new marketing strategy. In other terms, it has both long and short-term benefits.