Definition
Related Definitions
Digital Marketing
What is Digital Marketing?
In a world full of brands, consumers are continuously provided with a regular dose of marketing activities such as advertising, events, promotions.
With the exponential rise of the internet over the last decade, the concept of Digital Marketing has sprouted up like the branches of a healthy growing tree.
It is fascinating the way products, services and everything else, including the ideas, are marketed digitally via online channels. The tools are used strategically and consistently with the company's general marketing strategy.
Digital marketing is nothing but the process of promoting and advertising products, brands, services through the internet. Digital Marketing, or also commonly known as Online Marketing, is a set of marketing techniques that are executed in media and Internet channels.
Those who consume these promotional activities are called internet users. The users access the internet through more than one form of digital channels and electronic media like computers, smartphones, tablets and other electronic devices.
Digital marketing effectively engages and manages the relationship between stakeholders and customers online. It also offers a wide variety of tools such as to engage consumers and create brand awareness.
Worldwide, digital marketing is also emerging as one of the best career choices in the management field.
GOOD READ: What are the biggest trends in digital marketing and e-commerce?
What is the Significance of Digital Marketing?
Today, companies are clear about the role of Digital Marketing in their marketing strategies. Most brands are now focusing more on spending their funds on digital marketing than traditional marketing.
Businesses are making most of the new technology that is benefiting the brand with a well-optimized and goal-focused strategy. Digital marketing in today's world is essential for companies, as it helps them use online resources and opportunities to promote businesses or brands efficiently.
The world is getting more digitized in every aspect of life. Today, digital marketing offers striking features to businesses such as cost-effectiveness, instant response, flexibility, convenience, effectiveness. It is determining a stronghold in the world of Marketing and Advertising.
How Did Digital Marketing Come into Existence?
All the offline marketing techniques which have been traditionally used are now being applied to the digital universe.
In the beginning, digital marketing was only Web-based. In simple words, the company had a website to showcase their products and provide information on the company, history and management. The transmitter emitted a message which was received by the internet user, but there was no communication happening between them. The online community also did not exist.
However, in a few years, the digital landscape changed 360 degrees with the revolution of the internet. The current web is bi-directional, and it's not a one-way communication anymore, most interestingly. The more the engagement is happening on the internet, the chances of success in the digital marketing world also increases.
DID YOU READ: Fundamentals of the Retail sector and the importance of marketing
What Are the Common Strategies Used for Digital Marketing?
There are many strategies and tools used in Digital Marketing but below listed are the commonly used tools.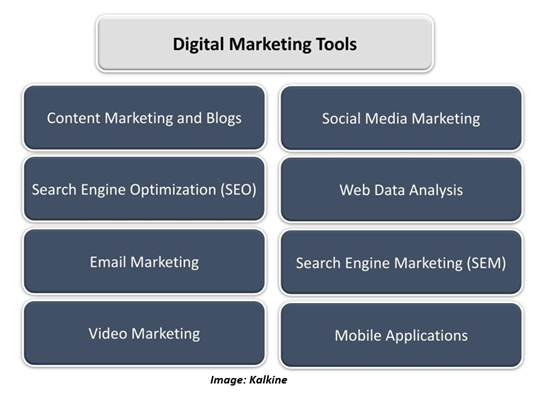 Search Engine Optimization (SEO) is an organic method of improving the ranking and visibility of the web pages published on the internet. There are various search engines such as Google, DuckDuckGo, Yahoo, Bing, which provides platforms for these web pages. Optimizing the web page adequately is essential in digital marketing.
Search Engine Marketing (SEM) also increases the visibility of the webpage but through sponsored placement and advertising. Pay-per-click (PPC) campaigns is one of the methods used in SEM. Marketers also purchase traffic through paid searches listed to increase the visibility of web pages on search engines.
Social Media Marketing is one hugely popular tool to market products and services digitally. Social media sites like Facebook, Instagram, Pinterest, LinkedIn, Twitter are giving some good results to the businesses as these platforms provide broad and instant reach and engagement directly with the consumers.
Email Marketing is an important tool to engage consumers and generate more and more leads. Many companies send newsletters, email campaigns to their subscribers to keep them updated and indirectly reminding them about the brand and products or services it offers.
Mobile Marketing provides instant updates, offers, information to consumers. Today, people may not have a computer or laptop, but they will have a smartphone in hand. Mobile is not just the medium of communication anymore; they have almost replaced computers for users. With every mobile user spending hours and hours on the device, the marketers need to make the most of this opportunity and grab users attention.
Web Analytics is a vital part of the digital marketing process. Businesses analyse web traffic and do market research in order to enhance website traffic. Google Analytics provides very detailed insights, such as how many people visited the website during a period of time, the age and location of these users and also how much time they spent on the website.
Video Marketing has become another most popular tool for marketers. Slowly the word content is getting replaced by videos. Platforms such as YouTube, TikTok are extremely attractive mediums in the digital space, and users are spending a lot of time on these platforms. There are multiple videos on almost everything the user needs with just one search. Video marketing platforms such as Facebook Videos, Instagram, TikTok are used to run video marketing campaigns. These campaigns are also clubbed with SEO, content marketing and other social media marketing activities.
DO READ: E-commerce Emerges as Winner from COVID-19 Turmoil
What Challenges Do Marketers Face in Digital Marketing?
Technology is rapidly growing, and platform algorithms are continually changing. Marketers have to keep themselves updated on this ever-growing sector. Additionally, because there is so much data on the internet, it is seemingly getting difficult to capture users' attention and keep them engaged.
User's attention timestamp has reduced, and they are bombarded with many brands always advertising to them. Hence, marketers have to find creative and innovative ways to market their products on digital platforms.
Digital markers are required to have a deeper understanding of consumer's online behaviour in order to analyse the data and promote products and services successfully.
ALSO READ: Facebook Inc.: Deployments Towards Messenger, Instagram And WhatsApp