Definition
Related Definitions
Green Fund
What are Green Funds?
Green funds are a form of mutual funds that invest in companies offering their product and services to build a prosperous, low-carbon global economy. These funds invest in companies that do business in the right way, safeguarding the future of their employees, community, and investors.
Investing in green funds also promotes companies with moral values, ideas, and beliefs concerning environment protection, thus safeguarding the future.
What do we mean by a Green Company?
The companies that focus on improving the lives of their community, employees, customers, and environment by adopting and implementing principles targeting preservation of the environment are known as "Green Companies". There are three prime principles of a green company: Environment, Social, & Governance, commonly known as ESG. These principles act as a significant pillar in sustainable development.
What has prompted increased adoption of ESG of late?
Financial specialists are progressively incorporating ESG in their investment cycle, which requests extended consideration regarding environmental, social, and governance-related issues. Investors provide extra weightage to an organisation's ethics, morals, and values concerning environment protection rather than giving importance to their fiscal summaries.
The primary reason for increased adoption is the growing interest of the public and corporates around environmental sustainability.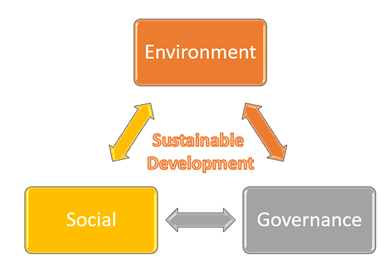 Kalkine Image
ALSO READ: How is ESG impacting mining companies?
ESG Aspects of Green Funds
The first aspect of green funds is the environmental aspect which focuses on minimising the environmental impacts while conserving natural resources. The companies set standard procedures and policies to check on their hazardous material handling, the main culprit to affect the environment.
The second aspect, social, focuses on the employees' working standards, corporate social responsibilities, the relation among the stakeholders, quality of product or service offered, and workers' safety concerns.
The third aspect is governance which deals with the authority factor towards policymaking, roles and responsibilities of different stakeholders of the organisation, including top-level management and shareholders. Investors can screen good companies following ethical business practices as per their investment interest.
Types of Green Funds
Some of the major sectors where green funds investment can be made are illustrated below. However, there may be other sectors as well where such investments are visible.
Kalkine Image
Performance of Green Funds:
Green funds were first coming into existence in 2007. A significant surge in demand for green funds is noticed in recent years by the investors who desire to hedge more returns and equally become socially responsible on the other front.
A total of 479 green bonds were floated worldwide in the year 2019. The year 2020 was also a bumper year for green funds as new standards were set in Europe. France, the US, China, and Germany were the key players to issue green bonds accumulating approximately 40 per cent of the world's total green bonds. China alone issued $15.4 billion of green bonds. Sweden was considered as the hot spot for green bonds with a hold of 78 new issuances.
Go Green and avoid Greenwashing
The lack of global standards and policies regarding a green company benchmarking is leading confusion among investors. A company's claim of being green may not be agreed likewise by others. A company may be green in one respect but not in all aspects. Sometimes companies mislead the investors for being green, claiming their products and services are environmentally sound. This process of misleading is known as "Greenwashing". It is a type of flimsy claim by a company to consumers of being eco-friendly. Investors must investigate these types of hoax to avoid risk in their investment.