Definition
Related Definitions
Bonfire Cryptocurrency
What is Bonfire cryptocurrency?
Bonfire is a frictionless cryptocurrency token launched by the Binance Smart Chain Network. It was launched via an OTC presale organised on the Binance Smart Chain (BSC). The sole purpose of the Bonfire token was to make money; it is in this way different from other crypto coins that have either introduced a new technology or have some other real-world use case. It is traded on the BSC-BEP20 Network as the ticker 'BONFIRE'. Bonfire cryptocurrency is supported by a passionate team that works full time to develop a comprehensive ecosystem of applications around the token. The team's purpose is to keep the cryptocurrency suitable as a long-term asset and for serious investors. The Bonfire project has the long-term goal of creating a decentralised social media platform for artists to sell non-fungible tokens (NFTs) and to provide many other features, that are yet to be announced.
Summary

Bonfire is a type of cryptocurrency token launched by Binance Smart Chain Network.
It is traded on the PancakeSwap platform, which is a part of the BSC_BEP-20 Network.
It was launched as a yield generating contract that could avoid market volatility and its developers have ensured its liquidity for optimal value creation.
Frequently Asked Questions (FAQ)
How does the Bonfire token work?
The Bonfire token runs on the 'Ethereum' blockchain. It operates in a similar way to the 'SafeMoon' cryptocurrency. Bonfire operators claim to reward people who hold the Bonfire currency and taxes those who sell it. This kind of reward mechanism is known as a static rewards system.
Under the Bonfire crypto's static reward system, 10% of each transaction is divided into two parts—one for holders and the remaining to push liquidity on its decentralised exchange. Bonfire has a self-income generating mechanism for its owner.
Since the launch of Bonfire, a considerable supply was burned into a 'blackhole' address to increase the demand and price of the token. The crypto-contract does not employ a manual burn wallet, and developers cannot control significant portions of the token, negatively impacting the marketplace. Bonfire says it is protected from the 'rug pull' scam', using which crypto fraudsters deliberately crash a token's value. It is possible for Bonfire, as it has locked its tokens' liquidity pool (LP). Locking of the tokens is permanent in the LP; this effectively reduces the available supply. It is believed by its creators to be a yield-generating contract amidst market uncertainty.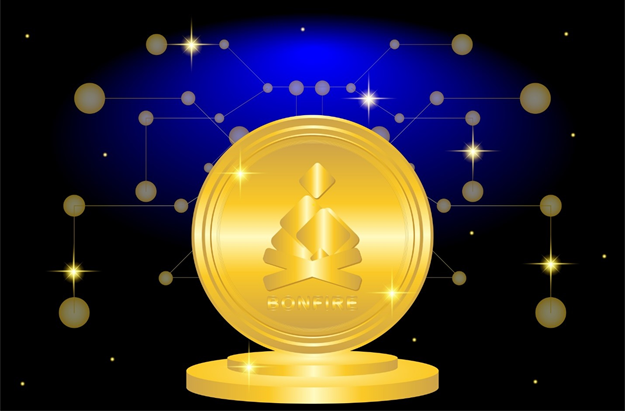 Image Source © Arif77shine | Megapixl.com
Who are the owners of Bonfire?
The founders of the Bonfire token have kept themselves unidentified. They have Telegram and Discord chat communities for users. Through these communities, they offer the required support services. It operates a Twitter handle, and one may ask any doubts and queries on this handle. Bonfire also has an official website that can be accessed by anyone seeking more information on it. The Contract Address of Bonfire Coin (Token) is: 0x5e90253fbae4dab78aa351f4e6fed08a64ab5590 and contracts can be made using it.
How does Bonfire derive its value?
The value of Bonfire is based on the consensus of its community. It has a total supply of 1 quadrillion (1,000,000,000,000,000 in words) 'BONFIRE' tokens on its platform. There are about 92,400 holders of the same. When a sale transaction occurs, a portion of every token sold is distributed among investors as an incentive for holding onto the tokens longer. This mechanism drives up the token price over time. Cryptocurrencies have always been a risky endeavour, and uninformed investors often lose money here. Despite this fact, Bonfire is being bought and traded at unexpected rates. The appeal of rapid value gain seems to outweigh the risks of high losses associated with cryptocurrencies. ??
Where can one buy Bonfire?
Image Source: © Talex_des | Megapixl.com
The Binance team has made a smart contract enabled blockchain network called Binance Smart Chain (BSC). Bonfire's initial competition was Ethereum. But, it now hosts a leading decentralised exchange called PancakeSwap on it. Investors can use this PancakeSwap platform to trade crypto directly from their cryptocurrency wallets. Investors can also create such wallets using the Metamask browser extension. Investors are required to deposit Binance Coin (BNB) in their wallets before they start trading Bonfire tokens on the PancakeSwap platform. The bonfire token contract can be used on Pancake Swap to buy Bonfire. Bonfire also sets out detailed instructions on buying the token on its website and helps avoid high network fees.
How is the security of Bonfire ensured?
According to the Bonfire white paper, it was designed to be secure. The token distribution is one of the healthiest ones available in the market. There are no whales (big-time developers) controlling bizarre amounts of the circulating supply. In addition, the Bonfire smart contract already has two essential security features established that aim at making the token completely independent and safe from malicious operations. Bonfire ensures that it is away from any fraudulent blockchain-based schemes running on BSC. For this, it has:
Locked the liquidity of Bonfire tokens on pancakeSwap. The Bonfire tokens in the liquidity pool are permanently locked in a zero-address, which means that developers cannot pull a rug on the token's market. It keeps the liquidity intact in the pancakeSwap market.
Renounced ownership- By passing on the ownership of the bonfire smart contract, the zero-address creators have ensured that it is impossible to change the settings of the contract for anyone. Since calculating a private key for the zero-address is impossible, no change can happen.
Bonfire has been independently audited by dessert finance, and details are available on its website. It states that SSL certificates were found valid for Bonfire. It also mentions that no wallets held more than 6% of the total tokens supplied. 2.9% of the token supply was found in the PancakeSwap Liquidity Pool, making it 3rd largest holder of Bonfire.