Definition
Related Definitions
Behavioural Economics
Behavioural Economics
According to the school of classical economics, people are intrinsically rational, looking to maximise their utility, and make decisions that are best for oneself. A behaviourist is likely to challenge this school of thought, opining that people often times work irrationally, whether on purpose or not.
How should the best parts of psychology and economics interrelate in an enlightened economist's mind?
One of the greatest minds of the 20th century, Mr Charlie Munger stated that- "I don't think it's going to be that hard to bend economics a little to accommodate what's right in psychology."
Humans are emotional and easily distracted beings. Consequently, decision making may or may not be made in their self-interest always. Every day, humans make decisions as basic as what amount should one pay for lunch, whether one should pursue a course, invest in gym equipment or how much should be kept aside as monthly savings to making personal finance decisions. There is a dedicated branch of economics that seeks to explain why people decide, what they decide. This branch is called behavioral economics.
Your brain effects your thinking- Making Wrong Investment Decision? Blame Your Amygdala!
Let us deep dive-
What Is Behavioural Economics?
Behavioral economics combines understandings from psychology, judgment, decision making and economics with an intent to produce an accurate understanding of human behaviour. It relates to the economic decision-making processes of individuals and institutions.
The concept explores reasons as to why people sometimes tend to make irrational decisions, why and how their behaviour does not follow predictions of economic models. It should be noted that behavioural economics focuses on the observable behaviour of humans and does not have strong theoretical or normative assumptions about how an economic system/ business sector or stock market works or should work.
Read: Understanding Behavioural Finance & Investment Decisions
Let us further break this down with an example:
Unlike the field of classical economics, in which decision-making is entirely based on logic, behavioural economics gives room to irrational behaviour and further attempts to understand reasons behind the same. Brexit, for instance is a classic example of how behavioural economics can be useful because behavioural economics can help illuminate how the narrow vote to leave the European Union (EU referendum) was influenced majorly by gut choices, as some experts suggest, as opposed to rational decision-making.
The Origin Of Behavioural Economics
A keen observer of human behaviour, American economist Richard H. Thaler is broadly believed to be the founder of behavioural economics. He was awarded the 2017 Nobel Memorial Prize in Economic Sciences for his significant contributions to behavioural economics. Thaler's opinions on the branch is believed to have been inspired by notable works of Israeli psychologist and economist Daniel Kahneman and cognitive and mathematical psychologist Amos Nathan Tversky. Daniel Kahneman also won a Nobel Memorial Prize in Economic Sciences in 2002 for his brilliant work on prospect theory, which he developed along with Tversky.
Thaler is best known for incorporating psychological assumptions into analyses of economic decision-making.
One of Thaler's popular ideas – Nudge: Why Move the Earth When A Nudge Can Do! Simple Solutions to Complicated Problems
What Are Various Themes Of Behavioural Economics?
Three prevalent themes in behavioural economics comprise heuristics, framing and market efficiencies.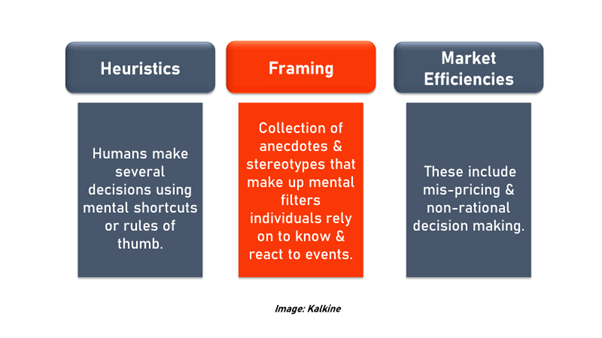 Why Is Behavioural Economics Important?
Behavioural economics provides new ways to think about barriers and drivers to a range of behaviours. This makes it significant, as traditional economic theory does not use insights from psychology, sociology and neuroscience to explain people's decisions. So much so, behavioural economics seems to have the power to change the way economists and policymakers think about real world problems.
Must read: How To Use Psychology To Aptly React To The Coronavirus Pandemic
The field also builds a bridge between economic theory and reality- a bridge based on scientific evidence coming from disciplines in behavioural science. Some experts even regard behavioural economics as a counter-revolution, which takes economics closer to its roots, based on psychological intuition and introspection wherein psychology enacts a scientific discipline that can offer much more than merely intuitions and introspection.
Besides, understanding basic concepts from behavioural economics can be very useful. It can help people be better negotiators.
How Does Behavioural Economics Influence Market Participants?
Clearly, people don't behave as rational, as traditional economists have assumed. They are affected by cognitive biases, are extremely influenced by other people and often practice herd mentality, have different perceptions about attitudes and behaviours.
In context to the stock market, erroneous, irrational financial decisions are the result of different unpredictable reactions by market participants subject to losses and high market risks. Therefore, for decision-making, it is essential to consider all the factors in the market-which creates a place for behavioural economics besides accounting fundamentals, macro and micro-economic factors, economic projections, etc.
Consider this- a sudden drop in the value of a few stocks followed by an equally rapid recovery, demonstrates that market participants did not cause such movements by rational choices but rather emotional reactions.
Read: What does Fear Do to your Portfolio? Stocks that Scared Investors in 2019
No wonder Benjamin Graham, the father of value investing, and mentor of Warren Buffett the world's best investor coined the term 'Mr. Market." Clearly, he understood there is more to market than numbers.
Read: Are you a Growth Investor? Then You Must Wear the Hat of a Psychologist!
Why Has Behavioural Economics Concept Risen Over The Years?
Let us take cues from dramatic global events over the years- for instance the Great Financial Crisis of 2008 or the novel coronavirus crisis of 2020 (Global Virus Crisis, as some call it).
Read: Things to Learn from Past Crises: Role of Financial Planners During Times of Crisis
These could not be explained by traditional neoclassic economic models though the impact of these events has been beyond massive. Therefore, other schools of economic thought gained traction and behavioural economics was one such concept.
Businesspersons seemed to make decisions based on their emotional state of mind while investors demonstrated nervousness that caused a massive sell off to an extent that circuit breakers had to be launched while.
Acts of spontaneity, irrationality, impatience, and herd mentality amid incidents of recent years have paved the way for economists to believe that the human mind is a crucial key to understand economic patterns, financial decisions and eventually- market and economic stances.
Do You Know Few Top Behavioural Economists?
Besides the foundation setters Kahneman, Tversky and Thaler, a number of economists, and psychologists have emerged as prominent figures within the field of behavioural economics over the years-
Behavioural economics enhances the explanatory power of economics as it provides it with a firm and more rational psychological basis. It surely is a way to make economics more accurate by incorporating more realistic assumptions about how humans behave. Besides, good understanding of human decision-making, its rational and irrational aspects, offers opportunities of influencing choices that take better account of how people actually respond to the context within which their decisions are made.
There are various to help one not fall prey to behavioural traps, mind you, knowledge alone does not help, but an ability to look at bigger picture and through the eyes of various mental models would help one reduce the errors. Eliminating behavioural errors would not be possible or rather would one be flawless and loose the human touch?
Read: All I want to know is where I am going to die so that I'll never go there- Inversion a Power Tool