Highlights

In Q2 2022, revenue for Pembina Pipeline Corporation rose to C$ 3,095 million.
On October 25, 2022, the stock price for Pembina Pipeline Corporation was C$ 43.68.
The net earnings for Keyera Corp. witnessed an increase in Q2 2022.
Investors are reeling under tough and uncertain market conditions since the start of this year. However, for someone planning for retirement, the investment strategy would be quite different. To build a retirement portfolio, the strategy must be long-term. Investors need to be selective about stocks as they plan for their retirement.
Remember to look at past performance along with present market trends. Apart from this, check the company's background as well as its valuation. For retirees, there should be a regular flow of income. This aspect should be kept in mind while filling up your portfolio.
Along with financial performance, several other factors play a major role in providing returns to investors.
Check with the company valuations along with the past and present financial returns of the selected stock.
Here, we explore five TSX stocks and look at their recent performances:
Pembina Pipeline Corporation (TSX: PPL)
Pembina Pipeline Corporation is a medium-sized company that has an integrated portfolio. The company serves North American and Canadian markets.
For Q2 2022, the revenue of Pembina Pipeline Corporation rose to C$ 3,095 million versus C$ 1,902 million in the same quarter the previous year. The earnings also witnessed an increase to C$ 418 million from C$ 254 million for the same comparative period.
Further, the company's cash flow from operating activities rose to C$ 604 million in comparison to C$ 584 million in the year-ago quarter.
For the same period, its adjusted EBITDA also went up to C$ 849 million from C$ 778 million.
The monthly dividend to the shareholders was announced at C$ 0.217 per share. Pembina Pipeline has a dividend yield of 5.917 per cent. The five-year dividend growth was posted at 5.53 per cent. The EPS (earnings per share) for Pembina Pipeline Corporation is at C$ 2.60 with a P/E ratio of 16.80.
CT Real Estate Investment Trust (TSX: CRT.UN)
CT Real Estate Investment Trust is engaged in investing in Canada's retail properties as a real estate investment trust. The portfolio of the trust majorly consists of properties that are managed by a Canadian Tire retail store. Additionally, there are several other retail properties that are not anchored by Canadian Tire along with commercial property for mixed use and distribution centers.
For the quarter that ended June 30, 2022, total property revenue was C$ 132 .5 million, which was C$ 3 .0 million or 2.3 per cent higher compared to the year-ago quarter.
On the contrary, the funds from operations increased to C$ 73.4 million from C$ 71.93 million for the same comparative period.
CT Real Estate Investment Trust pays a monthly dividend to its shareholders of C$ 0.072 per share. Its EPS is C$ 1.62.
Canadian Western Bank (TSX: CWB)
Canadian Western Bank is an organization providing financial services including trust, banking, equipment financing and leasing and wealth management services. Further, it also includes real estate financing, and general commercial banking, along with other services for small- and medium-sized companies.
Canadian Western Bank's revenue in Q3 2022, soared to C$ 272 million, which was a growth of three per cent compared to corresponding quarter of the previous year.
As of July 31, 2022, the debt of the company grew to C$ 3,430.92 million as against C$ 3,135.87 million as on April 30, 2022. On the other hand, the total assets saw an increase which were reported at C$ 40,403.93 million from C$ 38,927.82 million.
Cameco Corporation (TSX: CCO)
Cameco is a uranium producer and is one of the largest in the world. Along with the uranium mining business, the company operates facilities for conversion of uranium and fabrication.
In Q2, 2022, Cameco's revenue surged to C$ 558 million compared to C$ 359 million in the year-ago quarter. The gross profit grew to C$ 93 million from C$ 12 million for the same comparative period.
Cameco Corporation pays an annual dividend to its shareholders which is C$ 0.12 per share. The EPS was noted at C$ 0.16.
The below graph shows the total market capitalization of all the stocks mentioned here.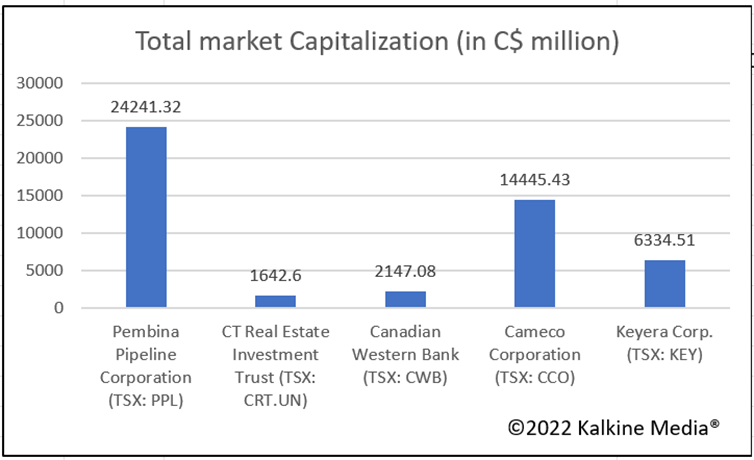 Keyera Corp. (TSX: KEY)
Keyera Corp. operates in Alberta and is a medium sized energy business. The primary business lines of the company include liquids blending for crude oil and natural gas liquids, the storage and processing and gathering of natural gas in western Canada. It also includes marketing of crude oil, natural gas liquids and iso-octane.
For Q2 2022, the adjusted EBITDA of Keyera Corp. was C$ 316 million versus C$ 224 million in Q2 2021. The cash flow from operating activities of the company was reported at C$ 199 million as against C$ 112 million for the same period of comparison.
The net earnings witnessed an increase too and were posted at C$ 173 million as compared to C$ 79 million.
As of June 30, 2022, the net debt also increased to C$ 3,468.26 million from C$ 3,103.8 million as on June 30, 2021.
Bottom Line:
Building your retirement portfolio can be overwhelming. Moreover, there are several factors to be considered while selecting the stocks. One of the factors is the dividend. It should grow at a steady pace in the coming years to give you the best results. If you wish to keep some cash aside for your TFSA for passive income or an RRSP, you should be focusing on the stocks with growth potential.
Also, go with the diversified stocks as to minimize the risk. This will also help you in getting different returns on different stocks. Make way for a stable portfolio and safeguard your retirement phase.
Please note, the above content constitutes a very preliminary observation based on the industry and is of limited scope without any in-depth fundamental valuation or technical analysis. Any interest in stocks or sectors should be thoroughly evaluated taking into consideration the associated risks.