Summary

Canada-based functional superfood firm Rritual Superfoods has announced its uplisting to the OTCQB® Venture Market.
The OTCQB listing will expand the Company's accessibility and visibility to US investors.
Rritual continues to build on its US expansion strategy and grow its brand through partnerships with local and national retailers.
Rritual Superfoods Inc (RSF:CSE) has been in full swing with a series of rapid developments to rev up its presence in the US. In yet another significant move, the Company announced its successful uplisting to the OTCQB® Venture Market from the OTC Pink Sheets. Rritual has started trading on the OTCQB market under the ticker 'RRSFF'.
DO READ: Rritual Superfoods continues to boost its brand, secures 'Tested to Be Trusted' certification
OTCQB trading will improve the Company's visibility as well as the accessibility to US investors. Furthermore, the OTCQB market offers considerable value and convenience to brokers, institutions, and US investors seeking to trade RRSFF.
Rritual Superfoods' common shares will continue to trade on the Canadian Securities Exchange (CSE) under the ticker 'RSF'.
MUST READ: Rritual Superfoods makes further inroads in the US market with CVS deal
To be eligible for OTCQB ® Market listing, companies must meet the below-mentioned criteria-
Commenting on this, David Kerbel, CEO and director of Rritual, said-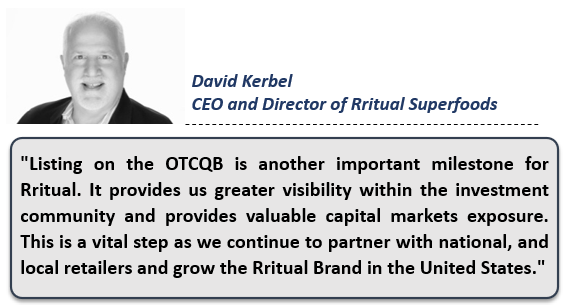 ALSO READ: Rritual Superfoods moves closer to the launch of e-commerce store on Amazon
OTCQB® Market in a nutshell
The OTCQB® Market is also known as the venture market. It is the mid-tier of OTC Markets on which nearly 11,000 US as well as global securities trade.
The OTCQB® Venture Market is the premier market of OTC Markets Group for early-stage, investor-focused US as well as international firms.
Companies must meet specific high financial standards to be eligible to trade in the OTCQB market.
DID YOU READ: Rritual Superfoods amplifies its customer reach in the US with Vitacost.com listing
Recent initiatives for US market expansion
In the past few months, Rritual has taken multiple initiatives to expand its presence in the US market. These include:
Launch of its premium brand of functional superfoods across CVS stores, the largest drugstore chain in the US.
Launch of Rritual's e-commerce store on Amazon.com.
Listing on RSF products on The Good Trends, a US-based leading specialty food marketplace.
The Company signed a deal with Vitacost.com to launch its functional superfood elixirs online at www.vitacost.com.
On 6 July 2021, RSF shares ended at CA$0.56.