Summary

Pacifico's Pre-Feasibility Study highlights a well-defined large-scale Mineral Resource at Sorby Hills project, with low-risk, simple crush-mill-float processing circuit, high metal recoveries and receipt of key approvals.
PFS demonstrates strong pre-tax economics for the Project with a Pre-Tax NPV8 of A$303M, IRR of 46% and the payback period of ~1.6years.
PFS with outstanding economic results is expected to underpin future activities including advancing DFS, offtake, financing and approvals workstreams.
Australian explorer Pacifico Minerals Limited (ASX: PMY) appears to be relishing the latest outstanding economic outcomes of the Pre-Feasibility Study for its flagship Sorby Hills Lead-Silver-Zinc Project, located in the Kimberley Region of Western Australia.
Significantly, PFS was undertaken for exploring the technical as well as the economic feasibility of developing an open-pit mine and adjacent processing facility to exploit the Sorby Hills Lead-Silver-Zinc Mineral Resource sustainably.
Latest PFS results emphasize the low-risk nature of the Sorby Hills Project with high metal recoveries, simple crush-mill-float processing circuit, a well-defined large-scale Mineral Resource and key approvals received.
ALSO READ: Pacifico Minerals' Remarkable June Quarter Report Full of Robust Developments
Commenting on the latest results of Pre-Feasibility Study, Managing Director, Simon Noon stated that the outcome of the Study reflects substantial opportunity for the Project to be a low-cost operation with an attractive IRR and NPV. Mr Noon also indicated that with advanced permitting, the Company plans on proceeding with the Definite Feasibility Study (DFS), financing, offtake ad approvals workstreams.
ALSO READ: Pacifico Minerals Appoints Leading Financial Adviser to Secure Development Funding Package for Sorby Hills
Key Highlights from the Pre-Feasibility Study
The Sorby Hills Project delivers strong economics:
Pre-Tax NPV8 of A$303M
An IRR of 46%, with a payback period of ~1.6years
Pre-Tax Life of Mine Net Operating Cash Flow of A$747M or ~A$75M per annum
The pre-production expenditure worth A$183M is anticipated for bringing the Sorby Hills into production. The expenditure includes:
Pre-Production Mining: A$24M
Process Plant (including EPC Fee): A$105M
Infrastructure: A$21M
Contingency: A$20M and Owners costs A$13M
The Project is expected to produce an average annual 81,000 dry tonnes of 62% Lead-Silver Concentrate, which would contain 50kt of recovered lead, as well as 1.5Moz recovered silver per annum across an initial ten years mine life.
PFS indicates that low C1 cash costs position of US$0.40/lb payable Pb, which includes a Net Silver Credit of US$0.27lb/ payable Pb, delivers an operating margin of 40% during the life of mine.
The PFS Base Case incorporates the mining of 14.8Mt of ore over an initial 10-year life from four deposits, namely Omega, A, B and southern portion of Norton.
Mined ore is planned to be treated through a simple crush-mill-flotation circuit at a rate of 1.5Mtpa over a nominal 10-year mine life for producing a Lead-Silver concentrate having an average grade of 62% Pb and 580 g/t Ag. Concentrate produced at the Project would then be transported via road to Wyndham Port from where it would be shipped to customers.
Ore Reserves for the Sorby Hills Project
Pacifico Minerals appointed independent mining consultants Entech Pty Ltd (Entech) that prepared the Ore Reserve. The PFS was utilised to serve as the basis for estimating Ore Reserves for the Project reported in line with the JORC Code 2012.
After considering the level of confidence in the Mineral Resource as well considering the material and relevant modifying factors, the Ore Reserves was estimated from the Mineral Resource. Ore Reserve estimate which was completed for the Sorby Hills open pit operations is based on the modifying factors, operating methodology, and unit cost estimates for the Whole Ore case reported in the PFS. Significantly, the estimate was based on three open pits including B pit, Omega pit and Norton pit.
Sorby Hills is supported by a Mineral Resource of 44.1Mt at 3.3% Pb, 38g/t Ag and 0.5% Zn and Proved and Probable Reserves of 13.6Mt at 3.6% Pb, and 40g/t Ag.
Casting an eye over the Significant Upside Potential
Inclusion of DMS in the Processing Circuit
During the PFS, two processing options were considered, namely Whole Ore (WO) Option and Dense Media Separaton (DMS) Option. The PFS has indicated that including a DMS circuit increases ore throughput, enhances flotation feed grade as well as allows for the economic treatment of lower grade ore.
Ore Grade Improvement
The PFS mining study uses a selective mining unit of 5.0m X by 5.0m Y by 2.5m Z, which in some cases led to higher than expected dilution. Pacifico Minerals plans on changing the methodology in the DFS to grade controlled boundary definition. The Company believes that it would result in a substantial ore-grade improvement.
ALSO READ: Revisiting The Upside Potential For Pacifico Minerals In Lucrative Commodity Space
Incorporation Near Mine Resources into the Project Mine Plan
Production Target mining ore from Omega (9.6Mt), A (0.8Mt), B (1.8Mt) and the southern portion of Norton (2.4Mt) has been used as the PFS basis for ensuring that the Project footprint remained within the existing approved development zone of Environmental Protection Agency, thereby allowing an expedited development timeline.
Subject to the further economic and technical investigation during the PFS, additional Lead-Silver Mineral Resources existing out the Production Target at Norton, Alpha and Beta could be incorporated into the Mine Plan for extending the life of the Project.
Resource Upgrade and Exploration Drilling
According to Pacifico, gravity data, proving to be the best vector for mineralisation, has correlated well with the transition from linear gravity lows to gravity highs. The continuity of shallow mineralisation near existing resources has been confirmed by the four recent 'wildcat' drillholes. During the DFS, these targets would be a priority for follow up diamond drilling.
Apart from Mineral Leases comprising the Sorby Hills Project, Pacifico owns all unrestricted exploration property which surrounds the Pincombe Inlier. It, therefore, lays the foundation for a long-term future with an additional 30 km strike length of the near-surface prospective horizon.
ALSO READ: Here's How Pacifico Minerals' MD, Mr Simon Noon Charts Out Future Growth Trajectory
Way Forward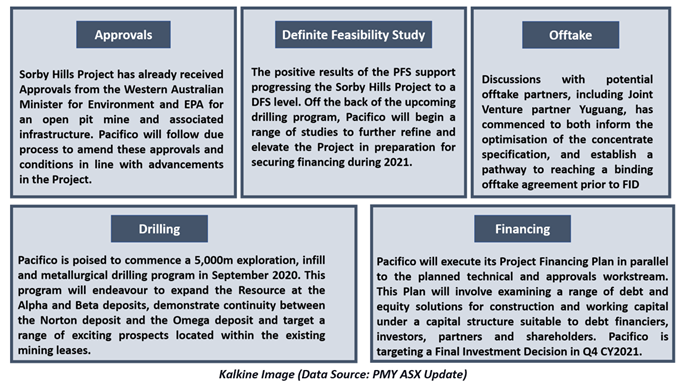 PMY shares traded at $0.021 during mid-day trading on 26 August 2020. The stock has generated a return of 380% in the past six months.