Hightlights

Iron ore prices rebounded after the Chinese President pledged more effective measures for economic development.
The Chinese steel industry is witnessing sluggish demand as the country is struggling with economic disruptions due to frequent lockdowns.
Iron ore prices failed to continue the momentum after the lockdowns in Shanghai were lifted early in June.
China is a global leader in steel manufacturing and consumption. The Asian country produces nearly 50% of the world's steel. Being a significant consumer, any hiccup in its economic activities sends the entire steel industry into a tizzy.
Iron ore commenced the year 2022 on a high note as prices soared nearly 50% and climbed up to US$150/tonne. In March 2022, the prices moved further north and reached ~US$160/tonne before falling to US$130/tonne.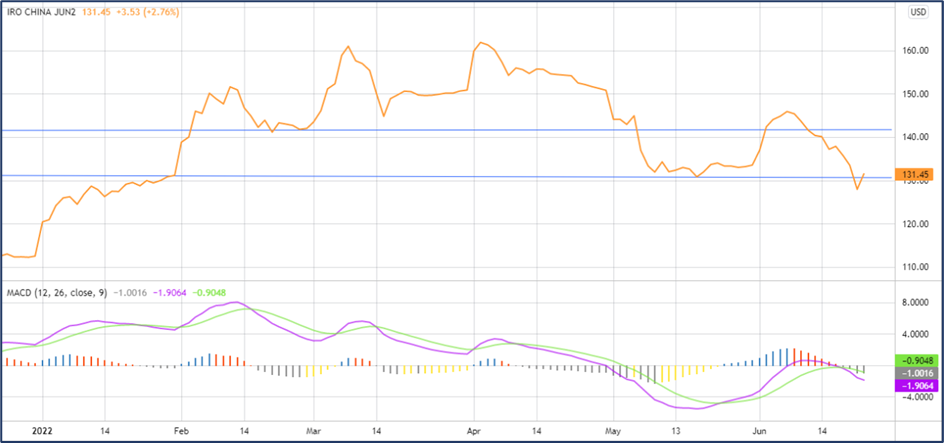 Iron ore price chart on YTD basis (Image source: Refinitv; Analysis: Kalkine Media)
Rebound in iron ore prices amid positive sentiments
The latest respite in iron ore prices came as the Chinese premier pledged to take more steps to bring the Chinese economy on strong growth path.
While speaking at the BRICS business forum, Chinese President Xi Jinping vowed to accelerate macro-policy adjustments and take more effective measures for meet development targets. Backed by the statement, iron ore prices rebounded on Thursday, 23 June 2022.
On that note, let us skim through the performance of a few of ASX-listed mid-cap iron ore stocks in 2022.
ASX stocks in focus
Also read: Rio Tinto (ASX:RIO) targets to increase Pilbara iron ore exports in 2022
Mount Gibson Iron Limited operates iron ore projects in the prolific Western Australian region. The company has two iron ore projects in production, the Koolan Island Mine and the Shine Iron Ore project.
During the March 2022 quarter, Mount Gibson sold 0.24 million wet metric tonnes of iron ore.
Australian resources player Fenix Resources is a high-grade iron ore producer with projects in Western Australia. The company commenced production from its flagship Iron Ridge Project in December 2020.
During the March 2020 quarter, the company shipped 295,000 wet metric tonnes of iron ore, generating solid cash flow.
CZR Resources operates the Robe Mesa Iron Ore Deposit in the Pilbara region. The company is currently conducting a Definitive Feasibility Study (DFS) on the project and has delineated a mineral resource of 89.1Mt @ 53.7% Fe at a 50% Fe cut-off grade.
Grange Resources is one of Australia's largest iron ore pellet producers. During the March 2022 quarter, the company's total iron ore product sales stood at 513kt dead metric tonnes and realised an average product price of AU$224.3/t (FOB).
Grange paid a dividend of 10 cents per share during the March 2022 quarter.
Iron Road operates the Central Eyre Iron Project (CEIP) in South Australia. CEIP is a high-grade iron concentrate project and holds one of Australia's largest magnetite ore reserves. IRD has completed a Definitive Feasibility Study and other optimisation studies on the project.
Related read: Three ASX penny stocks defying gravity amid weak market