Highlights

As technology advanced and the use of lithium-ion batteries increased, lithium became a valuable resource.
It is projected that new lithium mining and manufacturing will occur in more nations as a result of the rising lithium demand.
ASX-listed companies like Core Lithium, Pilbara and Piedmont traded in green today.
Lithium has long been used extensively, but as the demand for the metal jumped in the last few years several companies rushed to mine Lithium. There is no denying the fact that Lithium has now emerged as a vital component in many rapidly expanding markets and its demand is anticipated to keep rising because of its use in the batteries fitted in electric vehicles and telecommunications industry. Due to its great efficiency and energy density, lithium-ion batteries are a preferred battery technology for EVs and consumer gadgets like smartphones, tablets, and laptops.
As technology advanced and the price of lithium-ion batteries decreased, lithium became a valuable resource. However, lithium prices have recently risen due to the pandemic's impact on the supply chain and rising demand for the metal.
Government policies and measures to considerably reduce pollution have promoted the use of eco-friendly activities like driving electric or hybrid cars, and demand for lithium has also increased in China.
It is projected that new lithium mining and exploration will occur in more nations due to the rising lithium demand, which is mostly driven by its use in electric vehicles.
On this note, this article will discuss the performance of a few lithium companies in 2022. These companies include Core Lithium, Piedmont Lithium and Pilbara Mining.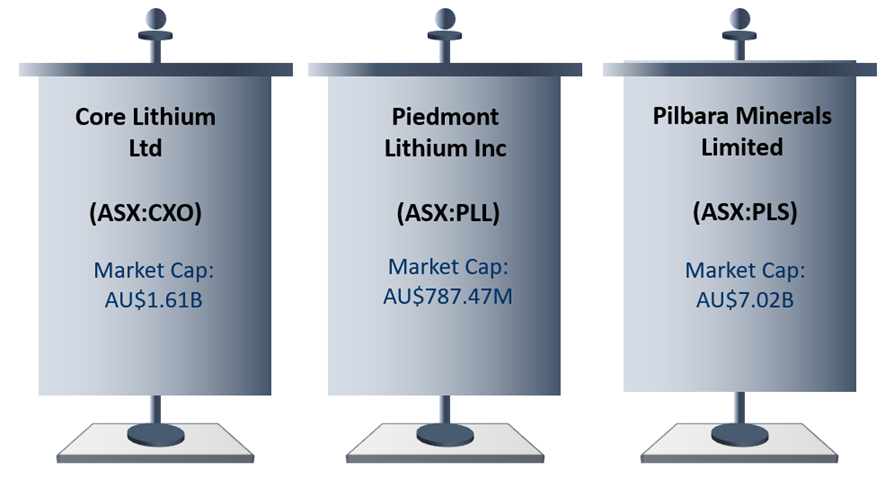 Image Source: © 2022 Kalkine Media ®
Data Source- ASX website dates 20 July 2022 at 2.58 PM AEST
Core Lithium Ltd
Shares of Core Lithium (ASX:CXO) were trading at AU$0.997 apiece, up 7.26% on ASX today (20 July 2022) at 2.21 PM AEST. This outperforms ASX 200 Materials Index, which was 2.76% higher at 14,935.90 points at 2.22 PM AEST.
Core Lithium's shares have grown almost 60% year-to-date (YTD) and 335% in the last one year.
Core Lithium is committed to developing and expanding the Finniss Lithium Project in the Northern Territory and South Australia.
Image Source: © Mileatanasov | Megapixl.com
Piedmont Lithium Inc
Another lithium player Piedmont Lithium's (ASX:PLL) shares increased by 6.06% on ASX today at 2.25 PM AEST. The shares of the company were trading at AU$0.525 each at that time.
Piedmont has recorded negative growth of around 32% on a YTD basis and was down almost 40% in the last one year.
Piedmont, a sizable producer of lithium with a wide range of products, is dedicated to fostering the development of a sustainable energy economy in North America and assisting in the transition to a net-zero society.
On 7 July 2022, the company announced that it got added to U.S. Russell 2000® as one of its members. The business has also been included as a constituent of the Russell Microcap Index as part of rebuilding the Russell indexes for 2022.
Pilbara Minerals Limited
Shares of Pilbara Minerals (ASX:PLS) were 4.87% up today and were spotted trading at AU$2.48 per share on ASX at 2.29 PM AEST.
Although Pilbara's shares recorded negative growth of 29.55% YTD, the shares have grown around 70% in the last one year.
Pilbara Minerals Limited is the world's biggest and most independent hard-rock lithium company. In the resource-rich Pilbara area of Western Australia, the Pilgangoora Operation creates a spodumene and tantalite concentrate.