Australia has been facing the problem of carbon emission and stands as one of the highest per capita emissions of carbon dioxide country in the world. Accounting for 0.3% of the world's population, Australia is responsible for producing 1.3% of greenhouse gases (GHG). As on December 2017, the GHG emission was 556.4 MtCO2e.
Key sectors in Australia for the rising emissions are electricity, energy, transport, agriculture, industrials, waste, land use, and fugitive emissions.
CO2 is the main GHG contributor (out of 3 – carbon dioxide, methane, nitrous oxide) to global warming due to its higher concentration in the atmosphere, which is increasing at a faster pace and rate. As per the Department of the Environment and Energy, under the Paris Agreement, the Australian Government made a commitment to reduce its emissions by 26% to 28% by 2030. It means that the emission is planned to come down to 441 Mt CO2 -e (Million Tonnes of carbon dioxide equivalents) annually by 2030 from 612 Mt CO2 -e, annually in 2005.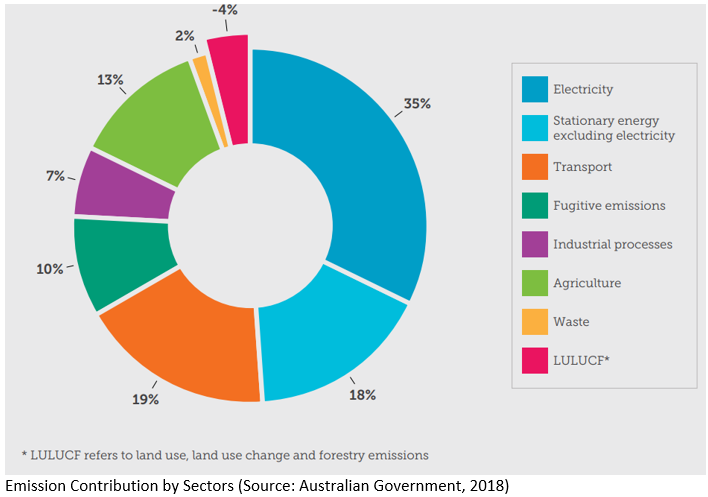 The Australian Government has come up with a series of programs to help the users of energy to curtail the costs associated with it. For the real estate industry, the Government has set certain parameters to improve efficiency. Additionally, to improve the energy and emission performance of buildings, the Government has provided an additional fund of $10.5 million in 2019–20 for Australian buildings to be energy efficient. This amount includes $3.4 million for the improvement of both new and existing homes in terms of energy efficiency. Remaining $7.1 million will be used to improve the energy efficiency of commercial buildings. Constructing energy efficiency is one of the most cost-effective steps to support the emissions reduction program in Australia, delivering up to 45 million tonnes in emission reduction by 2030.
Delivery of Low Energy Homes: With an increase of energy efficiency of Australian homes, lower energy bills can be attained for the user who is living in a new detached home on average by $382 per year, whereas energy bills of $43 per annum can be saved for people who live in new apartments. As per the report of the Australian Government, Australian households accounts for ~24% of the overall electricity use in Australia, with ~12% of the total greenhouse gas emissions. Fresh funds offered by the Government is expected to provide support for implementing the COAG Energy Council's Trajectory for Low Energy Buildings.
Delivering low energy commercial buildings: The sector providing commercial building accounts for ~25% of the overall electricity use in Australia and ~10% of the total greenhouse gas emissions in Australia.
The offered fund will also be deployed to expand the NABERS (National Australian Built Environment Energy Ratings System). The CBD (Commercial Building Disclosure) program will also see some fund following the current review of the program. The owner of an office building (more than 1000 sq mt) is required to mention the NABERS office energy rating while offering it for lease or sale. The NABERS will be backed by this new fund to increase its voluntary energy rating tools, thus, including more types of buildings such as school, retail store and industrial building.
In 2015, the CBD program was reviewed, and it was observed that the program motivated the owners of office buildings (which are not performing well) to work upon increasing the energy efficiency of that buildings. The process delivered net benefits of $44 million in the first four years.
Vicinity Centres (ASX: VCX)
Vicinity Centres (ASX: VCX) invests in, manages, and develops properties. The group also is engaged with leasing and funds management related to properties. The company, very recently, announced that it has set a Net Zero carbon target for its 34 wholly-owned shopping centres. VCX has planned these targets to achieve with a combination of its solar program and energy efficiencies by 2030. The company also announced a solar investment program worth $73 million in 2018, which is nearing completion with renewable energy systems being installed across 22 shopping centres in six states. The new carbon target comes as Stage II of this solar investment program.
The management of the company informed that VCX has already deployed 12 rooftop solar energy systems and is switched on. With this, the company has been able to deliver > 5,000MWh cleaner energy to power 850 Australian homes for a year. In addition to this, the management considers this Net Zero carbon target by 2030, a key factor towards its long -term sustainability. The company, being the second largest retail property group, is aware of its role towards a low-carbon economy, thus, a sustainable strategy is essential to focus on delivering outcomes, which will lead a better life, business, community and environment. The management undertook a portfolio-wide review of its energy consumption, which witnessed innovative and improved lighting, air-conditioning and optimising building performance. The company has seen a sharp reduction of 14% in carbon emission through its energy efficiency program, since June 2016.
Dow Jones Sustainability Index assumes VCX, at present, as the 3rd most sustainable REIT in the world and this new carbon target offers an opportunity to further strengthen its sustainability credentials and meet the expectation of the end users with less environmental impact and increased business efficiencies.
Estimated June 2019 valuations: The company recently announced estimated valuations for the six months ended June 2019 to facilitate potential debt capital market raising. VCX informed that 35 of its 62 directly owned retail properties (which is 57% by value) have reached to the final stages to be valued independently. Rest of these retail proprieties are being valued internally, for which the company has projected a net valuation decline for the overall portfolio of 1.3% or $202 million for the period. However, these estimations are yet to be finalised and audited, which will be communicated with the FY19 results on 14th August 2019. The expectation of 1.3% valuation decline is mainly on the back of Western Australian and pre-development centres. The Flagship portfolio of VCX, Chadstone, Premium CBD assets and DFO (Outlet) centres, continued to outperform while strengthening its strategy to focus on market-leading destinations. The flagship portfolio of the company is projected to rise in value by $86 million or 1.2% on the back of growth seen in income. Capitalisation rates are expected to be unchanged on an individual asset basis.
The below given table summarises the forecast valuations of VCX's directly owned portfolio at 30 June 2019:
Pricing of Medium-Term Notes: The company recently priced six-year medium term notes (Notes) with total value of $400 million. The Notes were a combination of – (a) fixed rate notes amount to $225 million with a coupon of 2.60%, (b) floating rate notes of $175 million, priced at a coupon of three-month bank bill swap rate +142 bps. The transaction amount will be used to repay the current bank facilities and for usual business objectives. Commonwealth Bank of Australia and National Australia Bank Limited acted as Joint Lead Managers. Issue of the senior and unsecured Notes was settled on 27th June 2019.
Quarterly Update for March 2019: The company saw specialty store MAT per sqm of $10,939, which was up 10% on the prior corresponding period. The growth can be attributed to portfolio repositioning and organic growth. The destination portfolio specialty store MAT per square metre stood at $11,392, whereas total portfolio specialty store and mini majors' MAT witnessed a growth of 3.3%. This growth was largely on the back of jewellery (up 11.0%), leisure (up 6.1%) and retail services (up 5.3%). Results for Chadstone and the DFO portfolio were solid and Chadstone maintained its position of being number one retail assets by MAT. Specialty store and mini majors' MAT for the destination portfolio posted a growth of 3.9%.
The company updated investors about the redevelopment of The Glen valued at $430 million, which is going through Phase IV. The project is likely to be inaugurated in the month of August 2019. The project is comprised of a new format David Jones, sixty specialty stores and alfresco dining. The management also informed that construction of more than 550 apartments on site by Golden Age, a third party, was planned to start in May 2019, with completion projected in 2021.
Guidance for FFO (fund from operations) per security for FY19 is unchanged at 18.0 to 18.2 cents with distribution payout ratio expected to be at the upper end of the targeted range of 95% to 100% of adjusted FFO.
At market close, the stock was trading at $2.620, with a price to earnings multiple of 14.590x. The annual dividend yield for the stock stands at 6.02%, with a market capitalisation of $9.96 billion on 9th July 2019. Looking at the price performance, the stock has gained ~4.76% on a YTD basis. The 52-week high and low range for the stock comes in at $2.835 to $2.415 per share. The stock in today's session was down by 0.758%.
---
Disclaimer
This website is a service of Kalkine Media Pty. Ltd. A.C.N. 629 651 672. The website has been prepared for informational purposes only and is not intended to be used as a complete source of information on any particular company. Kalkine Media does not in any way endorse or recommend individuals, products or services that may be discussed on this site. Our publications are NOT a solicitation or recommendation to buy, sell or hold. We are neither licensed nor qualified to provide investment advice.