Summary

Renewables and green energy demand are likely to drive battery materials growth 10x by 2030.
NOVONIX has been proficiently delivering battery materials to the Electric Vehicle and renewables space.
NOVONIX is under the spotlight amidst battery materials growth, in-house elements for Million-Mile Battery and notable operational developments.
Few developments to watch out: Developments around DPMG technology, ground floor patents for new technology and single crystal cathode breakthrough.
NOVONIX Limited (ASX:NVX) is a highly respected and ground-breaking battery testing company. It spun out of Dr Jeff Dahn's lab at Dalhousie University in Nova Scotia. Currently, the team renowned as leaders in modern battery technologies, evident by the quality of their worldwide clientele.
The strong footing of NOVONIX is acknowledged by Mr Steve Promnitz, MD of Lake Resources NL (ASX:LKE). Lake recently appointed NOVONIX Battery Technology Solutions, the owner of DPMG manufacturing technology, to produce NMC622-based lithium-ion battery (LIB) test cells using Lake's battery quality lithium carbonate.
For more insights on this agreement, PLEASE READ: NOVONIX Inks Agreement with Lake Resources to Produce High-Performance Lithium-Ion Battery Test Cells
On 9 September 2020, NOVONIX presented at the ASX Small and Mid-Cap Conference 2020. Areas of emphasis in the presentation were battery materials growth, lucrative stance in the battery-related technology and activities that have kept NOVONIX at the forefront of market interest.
NOVONIX & The Quest for the Million-Mile Battery
Pioneers like General Motors and Tesla have time and again intimated that their respective million-mile battery is almost here.
NOVONIX's technologies support "million-mile+ battery" performance. Besides, the Company believes that Million-Mile Battery requires three critical elements- Long-life Anodes, Long-life Cathodes and Long-life Electrolytes. Interestingly, the Company has all three elements in-house-
PUREgraphite Anode is developed and scaling.
NOVONIX DPMG Single Crystal Cathode is currently under development with its IP filed.
NOVONIX Electrolyte has demonstrated performance, and its IP is also being filed.
The Company's complete battery cell technology is impressive, with demonstrated and projected performance predicted to exceed 1 million miles-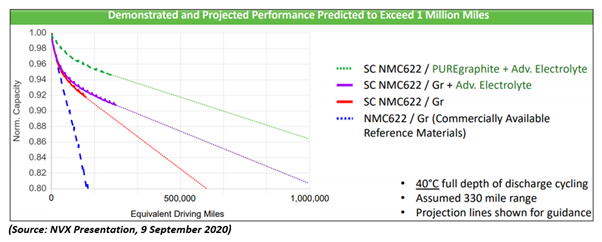 Strong Corporate Footing
NOVONIX's corporate updates between April and June 2020 deserve closer attention:
$63 million from equity raise, along with a capital restructure is likely to enable implementation of NOVONIX's business strategy. This strengthens NOVONIX's footing to become a market-leading producer of ultra-long-life anode materials for LIBs for EV and Energy Storage Systems (ESS).
NOVONIX updated the market on its technology roadmap and outlook.
For more insight, PLEASE READ: NOVONIX Marking Strong Presence in Rapidly Growing Advanced Materials Market
Anode Materials Buzzing- PUREgraphite Update
Advancing its stance in the anode materials space, NOVONIX is the first contracted supplier of US-made high capacity long-life synthetic anode. It also signed a conditional sales agreement with Samsung SDI in December 2019 and a Non-binding MoU agreement with SANYO soon after, in January 2020.
NOVONIX updated that the first shipment is likely to be delivered to Samsung SDI in September 2020, with multiple scheduled over the next six months. At Samsung SDI, Cell mass production at with PUREgraphite material has been rescheduled to begin in April 2021.
In connection with the Sanyo MoU, mass production samples may be evaluated shortly with production line operational.
Besides, new engagements with cell manufacturers, auto OEMs and ESS focused companies have begun with the increased bandwidth of production at PUREgraphite. The Company is scaling established relationships with supply chain partners. It remains focussed on continued product development with improved materials produced at pilot scale on test at Novonix BTS.
With developments around anode materials fostering, NOVONIX's cathode technology is entering pilot-scale and commercialization phase. It will be interesting the watch the Company showcase its core competencies and pave its way towards becoming a tier one global supplier in this rapidly growing advanced materials market.
NVX traded at $ 1.825 on 10 September 2020. The stock has delivered whopping returns of over 700% in the last six months.