Summary

Lithium Ion Battery market is in a growth phase, expected to experience 13% annual growth in battery volume from 2016 to 2025.
Some experts opine that demand for lithium ion batteries is forecast to rise tenfold over the next decade.
NOVONIX's mission is to assist in cleaner energy future via global deployment of lithium-ion battery technologies.
Single crystal cathode materials have lately become an aspiration for the lithium-ion battery industry, while the Company aims to advance the battery materials space via its technology and work towards lower cost, higher performance materials.
NOVONIX Limited (ASX:NVX), previously known as GraphiteCorp Limited, has transformed from a developer of a flake graphite deposit into a well poised supplier of advanced battery materials, equipment and services to the global Lithium Ion Battery (LIB) market and bears potential to operate in both the upstream and downstream aspects of the value chain. An integrated developer and supplier, NVX has operations in Canada and the USA along with sales in over 14 nations.
Recently, the Company, in a partnership, has exemplified its ability to create Single Crystal Cathode/ "single crystal" NMC cathode material through its proprietary DPMG (Dry Particle Microgranulation) technique, a breakthrough method that can be applied to the manufacturing of both anode and cathode materials for lithium-ion batteries.
Talking about stock performance, NVX quoted $ 1.095 on the ASX with ~8.4 million shares traded on 12 June 2020 (12:02 PM AEST). Notably, the stock has delivered YTD return of 205.7%.
Single Crystal Cathode Manufacturing Ability via DPMG Technique
Owing to proven outperformance over traditional polycrystalline cathode particles (existing standard), ultra-long life for ESS & EV uses, improved energy density, single crystal cathode materials are an aspiration for LIB industry. So much so, single crystal cathode cells significantly outstrip the lifetime of other NMC/graphite cells.
Reciprocating to this trend, NOVONIX has revealed its ability to produce Single Crystal Cathode via DPMG technique, in partnership with the Professor Mark Obrovac Research Group (Dalhousie University).
Prof. Mark Obrovac is the lead inventor of new single crystal cathode materials & methods and DPMG. The Company's manufacturing ability further complements its PUREgraphite anode product, both addressing the ultra-long-life battery performance needs that are key to attaining the million-mile battery life sought by prominent EV automakers.
Funded by NVX's wholly owned subsidiary, NOVONIX BTS in collaboration with Canadian Government's Program (NSERC Industrial Research Chair Program), the Single Crystal Cathode materials & manufacturing methods program were created within Prof. Obrovac's group.
NOVONIX BTS owns IP rights to the new Single Crystal Cathode technology on an exclusive and royalty-free basis, under the commercialization arrangements with Professor Obrovac and Dalhousie University. To safeguard the new Single Crystal Cathode methods & materials, it has filed for a patent application which will adhere to methods & materials further manufactured by new dry manufacturing procedures.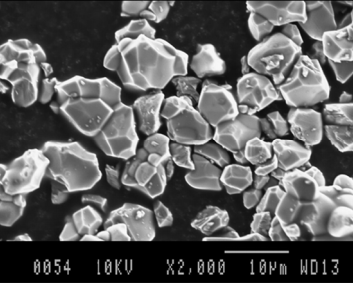 Single Crystal Cathode material built via DPMG (Source: NVX's Report)
Expert Take on NVX's Manufacturing Ability
Cells of this type (single crystal cathode) can possibly power an EV for more 1.6 million kilometres and last at least 20 years in grid energy storage, as conveyed by Prof Dahn and team expressing the importance of single crystal cathode.
NVX MD Phil St Baker opines that battery material inventions offer advance step-change upgrades in sustainability, performance as well as cost, within the EV, battery and renewable energy segments.
Further, superior performance of single crystal cathode particles in head-to-head comparisons with polycrystalline materials has been illustrated through studies published by the Professor Jeff Dahn Research Group at Dalhousie University.
More recently, supporting the "million-mile battery" project, The Dahn Research Group has shown the value of single crystal NMC532.
To this, CEO of NOVONIX BTS and co-founder of the Company, Dr. Chris Burns, emphasizes on the capability of the commercial prospect in cathode materials for the Company's proprietary Single Crystal Cathode material and recently developed DPMG technique. He further highlights the value of advancement pertaining to NVX's new technology to expand battery materials domain, underpinning work towards higher performing materials at much lowered cost.
Prof Mark Obrovac stated that his research pursued scalable manufacturing methods that are low-cost and applied to advanced, high-performance battery materials.
What's Next?
Development of elegant dry processing methods that increase yields, eliminate wastes, and enable use of inexpensive feedstocks has created a tremendous opportunity for the advancement of practical battery materials.
More details around the developed methods and materials are expected as Professor Obrovac and team determinedly chase prospects from new methods and continue to build new dry processing methods that bring more prospects to the table.
Meanwhile, a NOVONIX BTS team is engaged in positioning pilot scale production capability for Single Crystal Cathode manufacturing and DPMG. This can further back development along with testing against advanced materials.
Casting Eye over DPMG
Dry particle microgranulation or DPMG provides a method for synthesizing highly engineered particles through the consolidation of fine materials into particles that can be tens of microns and suitable for use in lithium-ion batteries. It should be noted that these fine materials would have otherwise been waste.
The technique has applications in creating both cathode materials such as Li[NiMnCo]O2 (NMC) and spherical graphite anode particles. The capability to make NMC and additional cathode materials via dry mechanical processes can shun cost of current cathode manufacturing methods and reduce waste.