Highlights:

myIOU BNPL transactions for the first half of the December quarter deliver income margin above 12-month average.
Since the launch of myIOU in mid-June 2021, the company has continued to register growth in terms of onboarding new consumers and merchants.
Strategic partnerships are progressing with integration work for a number of partners complete and new merchants being referred for approval.
myIOU Business+, a new B2B short-term financing solution for SMEs in Malaysia, is being launched, complementing IOU's existing B2C BNPL service.
Capability for two foreign currencies is planned to be introduced with myIOU 2.0 Phase 3. The major technological update is slated to facilitate cross-border transactions and expansion into new jurisdictions of the lucrative SEA region.
Let's explore how IOUpay Limited (ASX:IOU) fared during the first half of the December 2022 quarter (01 October to 15 November 2022) and its plans for a new B2B financing solution and myIOU 2.0 Phase 3.
Focusing on BNPL opportunities in the booming South East Asian (SEA) market, the company launched its flagship BNPL platform myIOU in June 2021.
Solid metrics for myIOU BNPL
myIOU BNPL transactions completed during mid-December quarter paint an impressive picture. AU$2,948,080 in Total Transaction Value (TTV) has been transacted, delivering AU$194,491 in Net Transaction Revenues (NTR).
Where, TTV means total value of purchases made by customers of myIOU, and NTR means TTV minus the amounts paid to merchants.
As at 15 November 2022, the non-performing loans (NPL) ratio is 0.78%. NPL and NPL ratio remain relatively modest, highlighting the company's impressive 'credit quality control' strategy.
As part of its 'best-in-class' brand positioning in SEA, the company remains persistently focused on creating a community of quality merchants and consumers.
In an impressive show of numbers, right now an upwards of 2,800 merchant outlets across 13 industry verticals are system active on the myIOU platform. The company says these active outlets signify the 'physical' and 'online' shopfronts of greater than 1,000 merchant relationships from across Malaysia.
Activation of new merchants and consumers
During the reported period, a total of 73 new merchants operating 164 outlets across 11 industry verticals across Malaysia were included in the myIOU platform.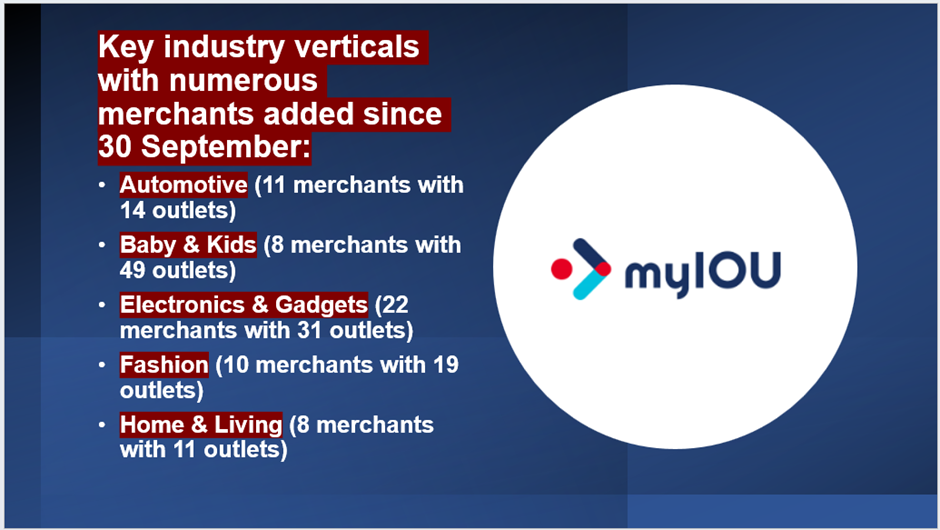 © 2022 Kalkine Media®, Source: Company update dated 01 December 2022
Consumer engagement has been active going into the December quarter (Q2 FY23). Consumer downloads have upped by 15%, consumer onboarding by 15% and consumer account activation by 14% when compared with results at September end.
Mobile Banking Division doing well
The company says its Mobile Banking Division is registering good performance.
In October: The transaction events for October are mirroring those in July, which has been an impressive month for the company.
The month of July saw very strong levels of activity across the business (which includes myIOU BNPL).
This is how the Mobile Banking Division has fared in the months of July, August, September and October: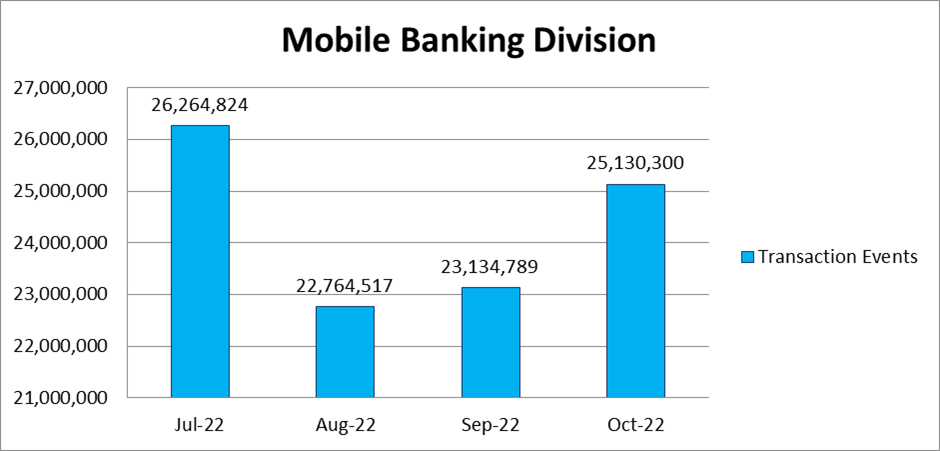 Source: Company update dated 01 December 2022
In November: Transaction activity levels for the November month are on an upward trend, which indicates yet another impressive month of performance.
Strategic Partnerships update
Master Services Partner Agreement (June 2022) with Pine Labs
Integration works are about to complete, and Pine Labs is gearing up to activate the approved merchants as ready to 'go live' – expected in December.
The sales team of Pine Labs are signing up merchants during the integration, and referring applications for assessment and approval in hopes of onboarding. As a result, 15 merchant applications have been okayed.
Master Merchant Agreement with senangPay: Integration work completed
IOUpay Asia has a master merchant agreement with Simplepay Gateway for acquiring merchants that are operating on the senangPay payments platform.
Integration work and testing has been completed for seamless operation of myIOU as a payment option on the platform.
IOUpay Asia has now approved 33 merchants, which have been onboarded by senangPay. Not just that, live transactions have been successfully processed and completed.
SOGO Departmental Stores (June 2022)
During mid-October, phase 2 was launched with myIOU going live on the e-commerce platform of SOGO.
PayHalal Merchant Acquiring Services Agreement (July 2022): Customer onboarding prioritised
IOUpay Asia has now approved a total of 109 merchants referred by PayHalal, a Shariah-compliant fintech payment gateway. The company is further working with PayHalal to onboard these merchants. A promotional campaign is being planned.
Integration with two renowned Payments Platforms
Integration with ManagePay
Phase 1 integration for e-commerce payments is currently in the testing phase for expected launch in December.
Phase 2 integration for instore purchases via point-of-sale (POS) terminals is being planned.
Integration with Revenue Monster
IOUpay Asia has almost completed the integration of myIOU into Revenue Monster's POS terminals. Like other partners, Revenue Monster too has been referring many merchant applications for assessment and approval by the company. Following which, a total of 18 merchant applications have been approved. Revenue Monster is expected to go live with myIOU in December.
Latest Company Product: myIOU Business+ is a short-term financing solution for B2B purchases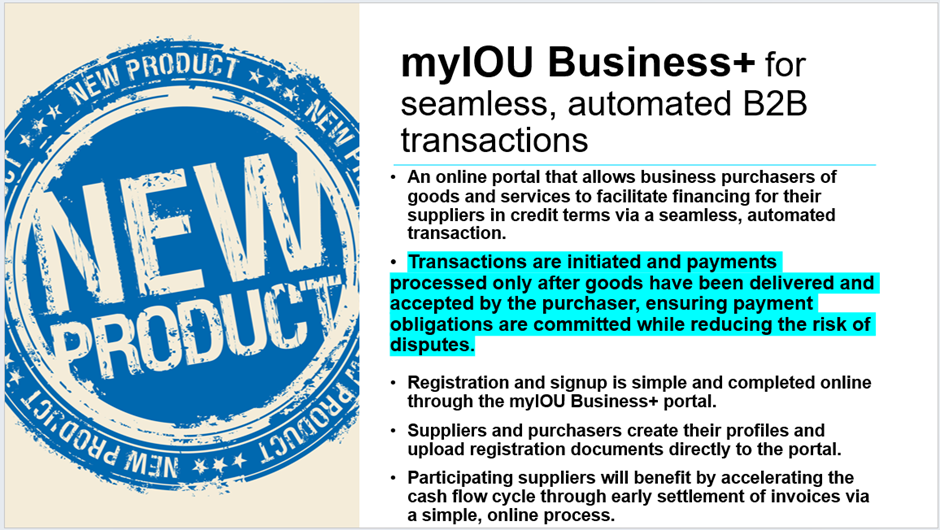 © 2022 Kalkine Media®, image: © Selenka | Megapixl.com, data: Company update dated 01 December 2022
In this quarter, the company is targeting the 'B2B purchases segment' by launching a new short-term financing solution, myIOU Business+, for small to medium sized enterprises (SMEs) in Malaysia.
In Malaysia, SMEs command a whopping 97% of total business establishments and churn out 38% of the country's GDP.
© 2022 Kalkine Media®, image: © Artistashmita | Megapixl.com, data: Company update dated 01 December 2022
Though the product is focused on SMEs, it is available for any eligible business.
The introduction of myIOU Business+ for B2B purchases complements IOUpay's existing B2C BNPL service, leveraging the technology platform for growth opportunities in a new market segment and diversifying the company's revenues.
Technology updates
The enhancement to upgrade the merchant app version consistent with the consumer app is on track for rollout during January 2023.
Foreign currency capability introduced with myIOU 2.0 Phase 3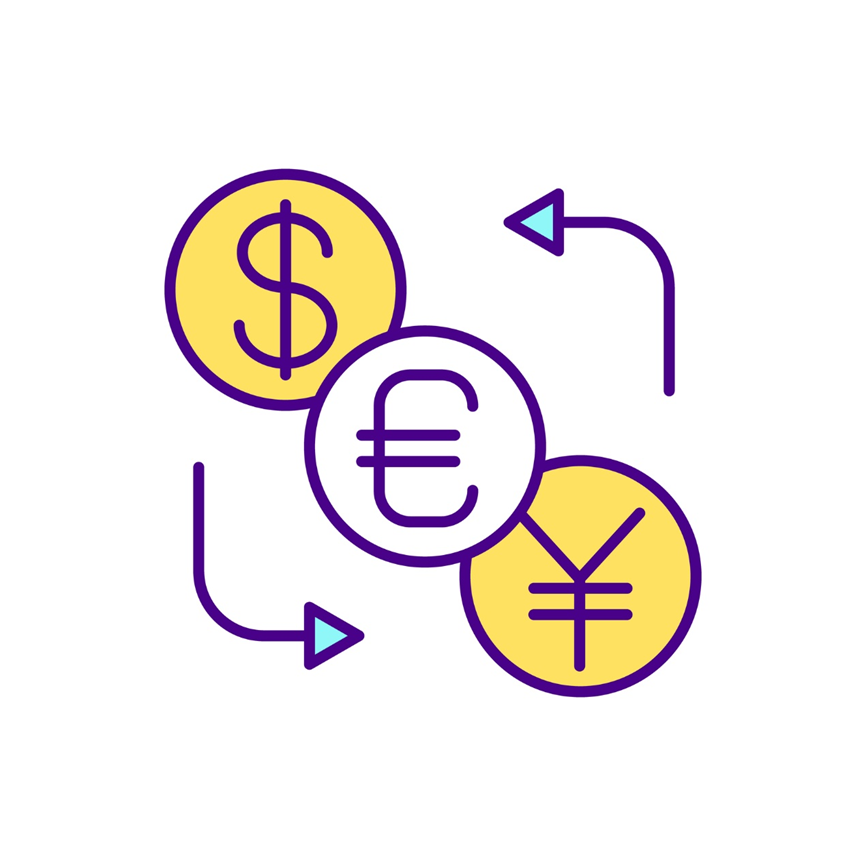 Representational image: © Nesterenkoruslan | Megapixl.com
The myIOU 2.0 Phase 3 is set for completion in December. It offers myIOU transactions in two foreign currencies.
This will facilitate cross-border transactions ready for planned expansion of the business into further jurisdictions of SEA.
New Admin Portal planned for the March quarter (Q3 FY23)
A new administration portal is being developed by the technology team.
The new administration portal will enhance efficiency, data analysis, reporting and performance of the backend system.
Experian – additional credit analysis tools
The company has completed integration with Experian. Rollout is expected in January 2023.
IOU shares were trading at AU$0.048 midday on 1 December 2022.