Highlights

Invion is riding high on latest study outcomes indicating the effectiveness of its lead drug candidate INV043 in a clinically important class of tumour.
In an in vitro set up, INV043 proved effective against cell lines related to anal cancer.
The global anal cancer market is projected to reach US$1.25 billion (AU$1.84 billion) by 2028, growing at a CAGR of 6.3%.
The next step of preclinical testing using topical delivery of INV043 is underway.
Shares of Invion Limited (ASX: IVX) shot up over 16% on Thursday morning following an important update regarding the company's lead drug candidate INV043. The shares were trading at AU$0.014 midday on 15 September 2022.
The Australian biotech company stated that in recent research carried out by the Peter MacCallum Cancer Centre, photoactivated INV043 in in vitro conditions demonstrated its effectiveness against six squamous cell carcinoma (SCC) cell lines, which are linked to anal cancers.
According to a study by Coherent Market Insights, the global anal cancer market is projected to grow at a CAGR of 6.3%. The study forecasts the market to reach US$1.25 billion (AU$1.84 billion) by 2028.
Anal cancers are challenging to treat, and the majority are SCCs that line the surface of the anal canal.
INV043 effective against six anal cancer SCCs
INV043 represents the next generation of photodynamic therapy, which targets the treatment of different cancer types.
This is the first set of laboratory tests obtained from Peter Mac, which worked in collaboration with the Hudson Institute of Medical Research (Hudson Institute) and Invion.
The study was conducted with the primary intent of assessing the relative cytotoxicity of light activated INV043 of human anal SSC cell lines. The in vitro tests indicated that photoactivated INV043 was efficient against the six SCC cell lines that cover the spectrum found in anal cancers.
These data are a prelude to planned in vivo studies.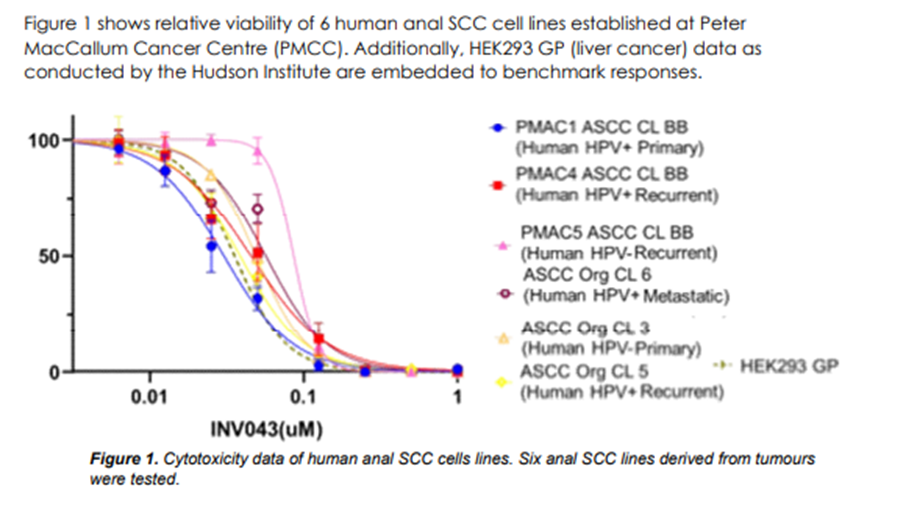 Image source: IVX update
Study adds another tumour class under INV043 study scope
The results of the study led by Group Leader at Peter Mac, Professor Robert Ramsay, align well with the promising outcomes obtained at Hudson Institute on other types of cancer, including triple-negative breast cancer.
Commenting on the development, Professor Ramsay said: "Investigating INV043 therapy for anal SCC is our immediate focus. SCC cell lines from the full range of anal cancers, from primary to metastatic and molecular subtypes, all respond to the killing action of INV043."
"Preclinical testing using topical delivery of INV043 has now started as a prelude to moving to clinical testing in patients with anal SCC", Ramsay added.