Highlights

MediKane highlights that its food-based products have proven efficacy supported by clinical trials.
NutriKane R is a 100% natural, fibre-rich medical food scientifically developed to improve regularity and support gut health.
NutriKane R doesn't contain harsh chemicals and helps to reduce constipation by enhancing overall gut health and promoting healthy bowel movements.
A healthier gut is key to a healthier body. Maintaining a healthy gut is critically important for proper food digestion and absorption of nutrients. The gut microbiome plays a key role in maintaining gut health. A balance between the good and harmful microbiomes in your digestive system leads to good gut health.
MediKane, a company advocating the healing power of nutrition, offers 'NutriKane R', which has been proven to improve gut health. The Australian company, specialising in 'Food as Medicine' products, aims to develop targeted nutritional therapies that can fight several global chronic health conditions.
MediKane's current product portfolio includes NutriKane D, NutriKane R, and SugarKane Fibre. These are food-based products with proven efficacy supported by clinical trials, as highlighted by the company.
NutriKane D: Helps in lowering and controlling blood sugar levels (BSLs)
NutriKane R: Prevents constipation and improves regularity
SugarKane Fibre: Increases intake of natural dietary fibre in a safe way
NutriKane is the umbrella brand for the first two products. It is based on a new 'Farmerceutical approach'. Read more to know the details!
Quality ingredients and minimal processing
MediKane sources natural, high-quality Australian ingredients from trusted sources to develop its range of 'Food-as-Medicine' products. The company employs minimal processing to maintain the nutritional integrity of the products.
Scientific formulation
MediKane conducts a careful analysis of the nutritional content and medical value of all its ingredients. It combines them in specific ways to develop targeted 'Food-as-Medicine' therapies for specific conditions.
Research and testing underway
MediKane says that its products are tested in a similar manner to that of a pharmaceutical company developing new drugs. The company has data from more than 10 years of research and trials with more research underway.
NutriKane R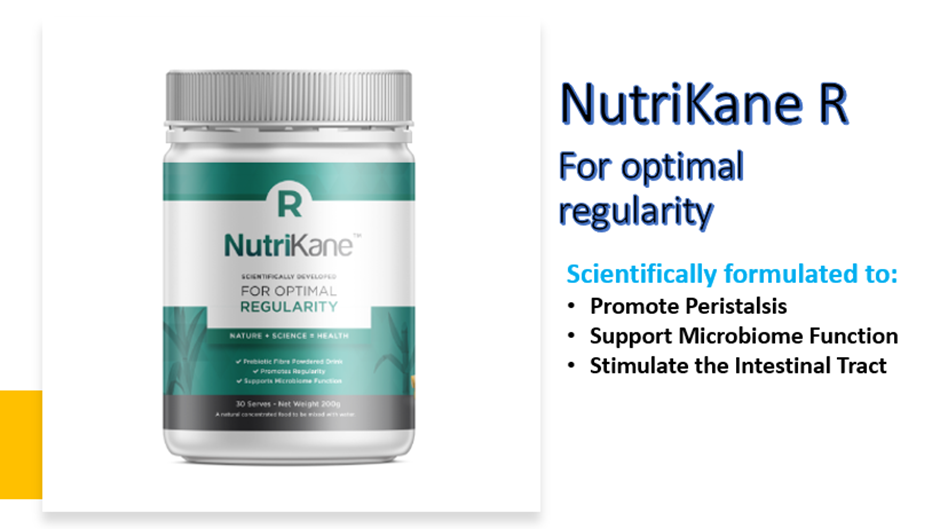 Data and image source: MediKane website
© 2022 Kalkine Media®
NutriKane R is a 100% natural, fibre-rich, concentrated medical food containing essential micronutrients to support gut health.
MediKane highlights that this product has been scientifically developed to improve regularity and support gut health. Unlike other laxative products, there are no harsh chemicals in NutriKane R, which improves overall gut health, thus relieving constipation and encouraging healthy bowel movements.
The fibre in NutriKane R aids in stimulating the entire length of the intestinal wall, aiding in nutrient absorption and essential hormone production.
The key ingredients in NutriKane R are high-quality pectin, antioxidants, essential minerals, and soluble and insoluble fibres. The slightly sweet, natural citrus flavoured product is designed to be taken with water; however, one can mix it with fruit juice or smoothies.