Who would have thought that after sustaining a level above 6,000 points for almost the entire year in 2019, the S&P/ASX 200 would crash below 4,500 in March 2020? But that sets the key to investing in an equity market which sometimes carries unexpected surprises with it, presenting once in a decade shot for investors to tap buy-the-dip opportunity at the right time.
Go Through COVID-19 FAQs: Here's What You Need to Know!
And this time, the surprise surfaced with black swan event - COVID-19 pandemic that induced massive market turmoil, offering some investors a golden chance to reap the benefits of potential market-crushing returns over the long term with numerous stocks trading at rock-bottom prices. Nonetheless, key risks should be borne in mind when market witnesses a mayhem.
Although S&P/ASX 200 has risen over 22 per cent over the last two months since it bottomed out on 23rd March 2020, several stocks are still available at undervalued prices. As a cherry on top, the market is giving a chance to investors to capitalise on certain potentially lucrative investment opportunities brewing up in different sectors.
Having said that, let us discuss some pockets of opportunities investors can potentially tap amidst COVID-19 crisis, matching with their investment strategies and risk appetite:
Defensive Strategy
The defensive strategy is targeted at reducing the impact of down market by adding high quality stocks with relatively low volatility into the portfolio. This is aimed at minimising the risk of losing capital by rebalancing portfolio to retain one's planned asset allocation. Market players may look at defensive themes while taking investment decisions: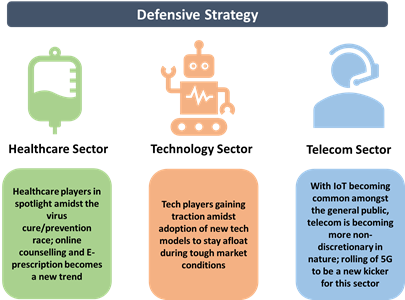 Healthcare Space Riding High amidst Fight Against Virus – While WHO believes coronavirus to likely stay with humanity as an endemic possibly forever, healthcare sector is going from strength to strength in its endeavour to stay at the edge of the popular virus cure/prevention/vaccination race.
Some players are striving to obtain key regulatory approvals for testing and development of vaccines/drugs, while others are in limelight for supplying healthcare essentials and equipment like masks, sterilisers, testing kits, ventilators, etc.
While staying abreast with economic transitions, duration of virus containment and drug/vaccine development, taking exposure to healthcare space may form a significant portfolio redesigning strategy.
Popular Stocks in Spotlight: Fisher & Paykel Healthcare Corporation Limited (ASX:FPH), Mesoblast Limited (ASX:MSB), Starpharma Holdings Limited (ASX:SPL), Zoono Group Limited (ASX:ZNO) and Pharmaxis Ltd (ASX:PXS)
Tech and Telecom Stocks Charting Out New Defensive Space: With people increasingly consuming in-home entertainment, online shopping, communicating more often via the internet and adopting work-from-home practices, tech and telecom space seems to be garnering significant attention.
Additionally, opportunities are popping up in the fintech sector, including BNPL space, with digital payments overshadowing cash transactions during the lockdown period.
Taking a long-term exposure to strong businesses in these spaces with robust growth, attractive fundamentals and strategic outlook may be looked at for reaping sustainable returns.
Popular stocks in spotlight:
Tech Titans - Xero Limited (ASX:XRO), Altium Limited (ASX:ALU), Appen Limited (ASX:APX) and NEXTDC Limited (ASX:NXT)
Must Read! Guide to Build Emergency Proof Portfolio
Income Strategy
The income strategy involves creating an investment portfolio particularly structured to produce regular income. Investors following such strategy usually cherry-pick stocks specifically tailored to boost the annual passive income in the form of returns.
Blue-Chips Space Always a Saviour: Although there is no guaranteed success formula to become victorious in a bear market phase, investors may evaluate blue-chip companies with a sound balance sheet and relatively immune operations to coronavirus pandemic.
Investors may look at companies protecting cash flows, ensuring cost management without standing down their workforce and managing capital expenditure effectively during market upheaval.
Market players may bring in more skin to the game, tapping multiple blue-chip stocks trading at huge discounts with long-term view. With the economy expected to be bold again once virus spread subsides, there seems to be enough impetus for blue chips to register new all-time highs.
Popular Stocks:
Dividend Stocks – An Attractive Space to Tap: Amidst current market volatility, investors can tap stocks of companies that have paid dividends over many years consistently with high payout ratios, retaining the trend. Companies operating in utilities and REIT spaces have traditionally been consistent dividend paying companies in Australia.
In determining strong dividend stocks for the portfolio, investors can evaluate four key ratios – dividend payout ratio, dividend coverage ratio, free cash flow to equity and net debt to EBITDA ratio. Instead of evaluating a single ratio, investors need to use a combination of these ratios to identify high-yield dividend stocks and think long-term to reap benefits of dividend investing.
Popular Stocks: Smartgroup Corporation Ltd (ASX:SIQ), Pinnacle Investment Management Group Limited (ASX:PNI), Alumina Limited (ASX:AWC), Magellan Financial Group Limited (ASX:MFG).
Growth Strategy
Investors following growth strategy typically invests in companies with good tail winds, demonstrating signs of above average growth in revenue & income. Growth investors usually seek for companies in rapidly expanding industries, having excellent potential.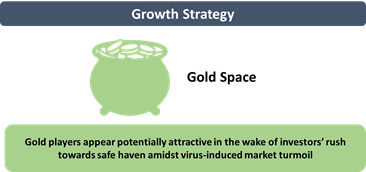 Yellow Metal Trends Occupying Prominent Space: As investors keep a tab of occasional correction in the gold prices, the metal seems to be holding its glittery shine from a long-term perspective.
While Central Banks have fired up their money-printing presses to reduce the severity of the COVID induced economic crisis, intensified transport restrictions and closure of refineries and bullion trading centers seem to be providing cushion to gold prices in near term.
Although some gold miners still seem to be having plenty of space to run and benefit from the value of gold, investors need to take a cautious move and judiciously invest in gold stocks. Investors may think of parking chunk of funds in gold futures/ETF's considering their risk profile and return expectations.
Popular Stocks: Evolution Mining Limited (ASX:EVN), Saracen Mineral Holdings Limited (ASX:SAR), Newcrest Mining Limited (ASX:NCM), Resolute Mining Limited (ASX:RSG) and Ramelius Resources Limited (ASX:RMS).
Value Strategy
Legendary Investor, Mr Seth Klarman's investment methodology, value investing involves picking up stocks trading at less than their book value. Value stocks are characterised by low valuation metrics such as low price to book, low PE, facing temporary head winds and low growth prospects. Such stocks offer relatively higher margin of safety and deliver favourable returns over the long term.
Banking Stocks Need Not Be Discarded in a Haste: Major Australian banks have been in limelight either deferring or suspending their dividends, making capital provisions for potentially high credit losses in the challenging market.
What's worth noting is that these banks still seem to be decently positioned (although with short- to medium- term impact), bolstering some faith in their long-term potential with their profitability prospects, capital buffers and long-term outlook remaining potentially encouraging to weather the storm of financial crisis.
Though there may be some pain over the near term for banking stocks, the operational conditions of banks are expected to be much better than what they are today once economic recovery kicks in.
Popular Stocks: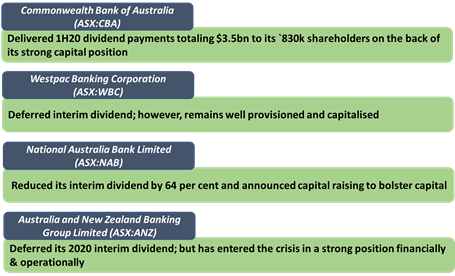 Energy Exposure to Be Carefully Gauged Given Recent Oil Crash: Although oil's journey over the last many years has been a tumultuous one, the current trend appears to be sinusoidal, with oil price possibly holding the ground at an extended low level.
What's worth noting is that oil remains an important commodity in the long run with the dependency of the global energy, chemical and transportation sector. However, investors need to prudently gauge the reviving trajectory as it may take some time for oil to reach pre-COVID-19 levels.
Market players expect an extended rally in oil price as soon as normalcy returns, with demand possibly exceeding the supply – Though, its still a long way to go! Taking an exposure to different renewables along with taking a balanced view on oil stocks comes to the crunch for investors.
Popular Stocks: Woodside Petroleum Limited (ASX:WPL), AGL Energy Limited (ASX:AGL), Oil Search Limited (ASX:OSH) and Santos Limited (ASX:STO).
Though an upbeat has been spotted in equity market lately, investors need to take a cautious move from bearish to bullish sentiment. Investors may evaluate their risk appetite and assess opportunities in safe havens and recovery-driven spaces, bearing in mind the uncertainty around depth & duration of the pandemic.
One must avoid engaging in short term trading strategies with an unsuccessful approach to time price trends.
Don't Miss Guide to Invest in 2020 Bear Market