Keeping the entire globe in limbo, the coronavirus pandemic has become a tough nut to crack. Although the world continues to spend on coronavirus bailouts and opt for lockdown measures to combat the disease, the economic cost of dealing with the crisis is mounting each passing day with no certainty over the end of disease.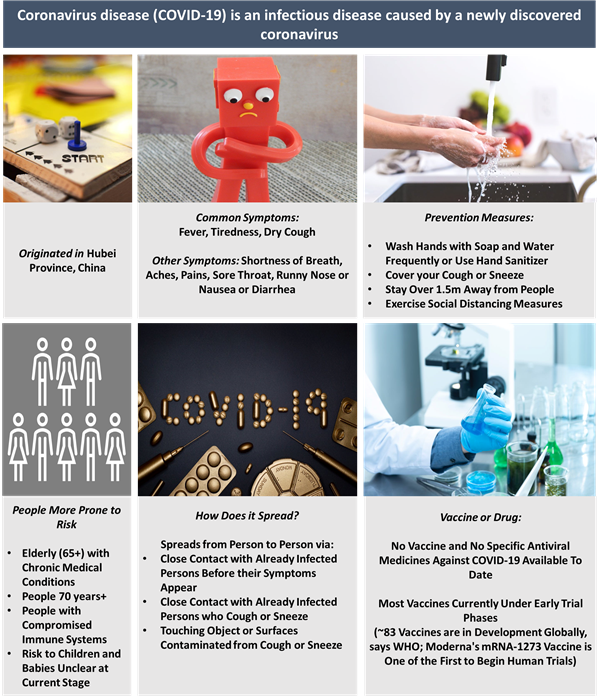 However, on the bright side, the pandemic is rendering assistance in fighting the global battle against climate change, revealing the true power of humans to revive the natural ecosystem. The pandemic has delivered an unequivocal message of humans being strongly interconnected with nature.
Besides, the coronavirus curve has begun to flatten or has already flattened in some countries across the globe, adding a flicker of hope. The prime example being the epitome of paradise, Australia, that has started to walk the road back with its suppression approach. PM Scott Morrison is eyeing key easing of containment measures in near term.
A decline in the growth of fresh coronavirus cases has also started to relatively lift the investors' appetite for risky bets. While some continue to look for diversification opportunities in business with strong business models and decent balance sheet. In this context, let us answer some of the most common questions asked by investors regarding COVID-19 driven market crisis:

Will COVID-19 break Australia's longest record of uninterrupted GDP growth or the nation will sail through this sticky wicket?
Since the time the virus began to hold a grip over the nation, economists have been voicing out their concerns regarding the possibility of a coronavirus-induced recession in Australia. Besides, falling employment numbers, significant job losses, crumbling businesses and deteriorating consumer confidence made this risk far more potent.
The RBA Governor, Mr Philip Lowe expects the nation to face its biggest contraction in the national output (~10 per cent) since 1930s in the first half of 2020 amidst ongoing restrictions and uncertain future. Besides, he anticipates a decline of ~20 per cent in total hours worked in Australia over 1H 2020 and a rise in the unemployment rate to ~10 per cent by June.
Despite all these odds, Mr Lowe is confident of the economy bouncing back once the spread of coronavirus pandemic is contained. Besides, effective fiscal and monetary policy measures are aiding the economy amidst difficult economic scenario, while positioning it well for the recovery in near term.
Undoubtedly, the coronavirus pandemic has been weighing heavily on the equity market, shaving off multi-billion dollars' worth of market value from the Australian share market in March 2020. Amidst economic threats looming from the pandemic, the S&P/ASX 200 fell about 37 per cent between 20th February 2020 and 23rd March 2020. Simply put, the Australian shares slipped into bear market territory owing to coronavirus crisis.
Additionally, the pandemic drove huge volatility in the equity market, with the S&P/ASX 200 observing both its biggest one-day gain on record and biggest fall in 20 years in March.
"Invest for the long haul. Don't get too greedy and don't get too scared", says Mr Shelby M.C. Davis, a renowned investor.
The quote goes great in line with the current equity market scenario, which has left many investors wringing their hands in worry and panic. Instead of freezing into inaction and freaking out, rational investors need to understand such panic situations and make rational decisions based on their risk appetite and long-term goals.
History suggests stock market downturns are periodic, healthy, and normal although the current episode seems to be different emanating from health and economic crisis. However, investors may grab this opportunity to beef up their portfolio by buying high-value stocks trading at undervalued prices. This is, nonetheless, subject to one's appetite and analysis of a tailored approach with regards to investment management.
Some investors may leave their high-quality investments untouched in poor performing market phase to reap potential benefits over the long run.
One needs to decisively cherry pick stocks in potentially attractive and profitable investment avenues adopting a mix of fundamental and technical approach.
Investors may set the stage to build long term wealth in a bear market, which is known for offering the best buying opportunities. Bargain hungry investors may tap this opportunity to buy promising stocks of companies with strong fundamentals and positive operating cash flows. Again, being selective and having better clarity on investments with deep understanding of markets are the factors to be looked at.
Several potentially attractive themes are shining amidst current market turmoil in Australia, which appear to include:
Lucrative gold stocks buoyed by commodity movement, gold futures/ETF's or gold as an asset class.
Healthcare companies in the virus cure/prevention race or those meeting the soaring demand for healthcare products and essentials.
Quality blue chip companies with strong fundamentals.
Education companies leveraging online training trends.
Growth-driven tech stocks, benefitting from online streaming/digital trends.
Telecom companies experiencing strong internet demand in coronavirus lockdown.
Fintech players gaining from robust demand for cashless payments and digital technology.

To thrive or survive in a bear market, investors need to be mindful of their actions to safeguard their wealth in COVID-19 induced market turmoil. Investors can bear in mind the following points to sail through the market downturn strongly:
Modifying the investment strategy in panic needs to be a well thought through decision; however, investors may reassess their strategy in line with long-term financial goals.
To avoid missing on lucrative opportunities, investors may abstain from speculating the market bottom and instead hunt for value stocks trading at discounted prices.
Conducting a proper fundamental and technical research in line with market pulse before making an investment decision can save investors from taking wrong calls amidst market volatility.
With plenty of stocks trading at bargain prices in the bear market, investors can put money in businesses they understand instead of following a herd mentality, which usually backfires.
Looking beyond short-term price fluctuations and investing for the long haul may help investors navigate the bear market.
Acknowledging the fact that events like coronavirus pandemic are unpredictable and unavoidable, investors may build a coronavirus proof portfolio to prevent potential losses. To create such portfolio, below investing tips may be worth looking at:
Set up an emergency fund and keep some cash aside for rainy days to protect quality long-term investments.
Formulate a budget and adhere to it to maintain financial stability.
Diversify portfolio and choose multiple asset classes to invest in, bearing investment goals and risk profile in mind.
Look for stocks relatively immune to the pandemic or seek shares of high and stable dividend yielding companies.
Hedge portfolio through the purchase of put options.
Evaluate other investment choices like gold and cryptocurrency.

As volatility continues to rock the Australian equity market, the benchmark index S&P/ASX 200 has started to post gains, delivering a return of over 15 per cent since it bottomed out on 23rd March 2020 (calculated until 24 April 2020).
The key catalyst for this bullish sentiment has been the probable "flattening of the curve" of the virus induced infections, with a positive wave seen across the nation in terms of reported cases/deaths. Additionally, anticipation over a potential global treatment to effectively prevent COVID-19 stimulates some bullish sentiments.
In fact, some experts suggest that the equity market is entering a new positive phase, after dropping over 35 per cent between the bear market phase of February and March.
Moreover, market analysts continue to put their faith on sectors like financial technology and pharmaceutical, which are likely to stay relatively immune and sweep through coronavirus-generated crisis. Online Retail and travel space also seem to be bucking the trend.
Commodity and Energy stocks in the realm of gold, iron, uranium and oil are often under investors' watchlist amidst overall price scenario keeping a long- term view on prices that may get back to moderate levels.
Investors may continue to hunt for other game-changing players with a strong foothold in the future.
Something to Ponder on - Your appetite for risk and long-term goals can chart-out the way forward for decent equity-driven returns in the next two to three years from now, while COVID-19 becomes an Event of the Past!