Imagine a bear attacking its prey, swiping its paws in a downward motion; that's how the global equity markets are performing for the last few months. Needless to say, its COVID-19 repercussions!
The global health crisis has triggered fear of pushing several economies into a large-scale meltdown. The COVID-19 pandemic has rippled the global financial markets, inducing steep drops in the world's major indices. Although numerous coronavirus hotspots have begun to show signs of flattening the curve, the uncertainty surrounding the equity markets still remain prevalent.
Striking like a bolt from the blue, the coronavirus pandemic has left investors struggling to price the market with growing uncertainty over the duration of its persistence. Although it's not the first time the world has entered into a bear market, what's more unsettling is that the equity markets have experienced one of their fastest bear market falls ever, which is not only steep but psychologically handicapping too.
Most of the global equity indices observed their biggest-ever plunge on 23rd March 2020, owing to looming economic threats from coronavirus pandemic along with the oil price war sparked by the Saudi Arabia.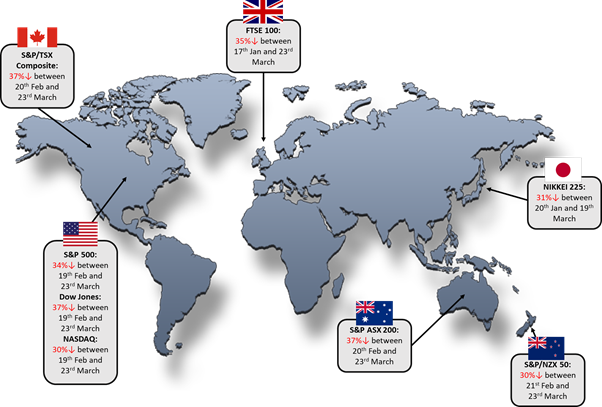 Why is Bear Market Interesting?
What makes bear market fascinating is the golden opportunity it offers to beef up the stock portfolio and set the stage for building wealth over the long run. With plenty of stocks trading at bargain prices, the bear market offers a chance to buy shares of solid businesses at reasonable prices.
Although investors can take advantage of the bear phase and venture out smartly, what actually happens is entirely opposite. Investors either prefer to adopt one of the safest strategies of "selling out" to evade potential losses or wait for a market bottom. In an attempt to time the market, investors may tend to miss the boat, losing potential gains from the much-likely stock market recovery.
But investors need not be blamed for it! It's a human psychology to feel safe when they see a danger approaching. Let us understand the brain psychology to be more apparent. ?
When we experience fear, a fear response begins in a section of our brain, called amygdala, which becomes more active when we get exposed to a stressful situation like a stock market crash, and act as a panic trigger. Consequently, the unconscious part of the brain rules the conscious one, stimulating hasty decisions in circumstances like market upheaval.
In order to sail though the stock market correction strongly, the investors need to fight their instincts, setting aside emotional drivers like fear.
Do's and Don'ts in a Bear Market
To survive, in fact thrive in a bear market, investors can be mindful of the following do's and don'ts to safeguard their finances during this challenging phase: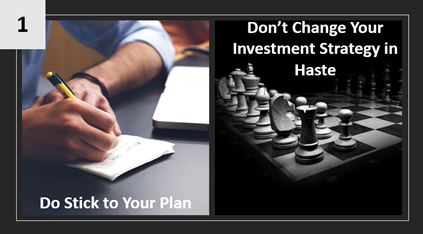 If the investment plan was prepared bearing in mind the inevitable market downturn, investors can stay the course with their set investment allocation. Changing the investment strategy in the middle of a bear market needs to be well thought through. However, investors may reassess and change their strategy to suit the needs.
Investors generally tend to modify their investment strategy in panic during a market turbulence, which abandons their years of investing principles and gets in their way of achieving long-term financial goals.
Investors trying to speculate the bottom of the bear market end up missing lucrative opportunities. It's imperative to not get caught up in an effort to time the market as it's almost impossible to predict the market's next move.
Holding off investment and waiting for stocks to sink even lower can result in a loss of time and effort. And in case the prediction goes wrong, investment goes completely bust. Instead, investors can hunt for value in a market turbulence and grab stocks of fundamentally sound companies at discounted prices.
Though share price of a company usually appears enticing in a bear market, investors need to make an informed decision before investing by conducting proper fundamental research of the company and the industry it belongs.
Besides, investors need not indulge in panic selling amidst huge market volatility and can follow a disciplined investment approach, considering the broader long-term picture. It is worth remembering that equity markets are volatile and will keep fluctuating.
Whether it is bear or a bull market, the decisions of investors are usually influenced by the actions of their acquaintances, relatives or other investors. But this herd mentality strategy generally backfires in the long run, resulting in potential losses.
In order to avoid this evitable mistake, investors can put money in businesses within their circle of competence, which they can understand. A sound knowledge of the company's products, market, weaknesses and competitive strengths raises the likelihood of handsome returns.
To reap the benefits of best buying opportunities offered by the bear market, investors need to invest for the long haul. There is considerable historical evidence available that exhibits recovery in the equity markets over the longer timeframe.
One classic example being the S&P/ASX 200 index, which nosedived by more than 50 per cent between October 2007 and February 2009, to deliver a significant return of about 57 per cent by April 2013, subsequently producing a return of over 35 per cent by February 2020.
Investors need to be watchful of buying opportunities and look beyond the short-term price fluctuations to pass with flying colors in a bear market.
These do's and don'ts can help investors evade mistakes they may end up regretting amidst market turmoil. Besides, investors need to be ultra-cautious on all fronts and avoid liquidating long-term investments in a rush to judgement.
Let's not forget, Warren Buffet's famous quote: "Someone's sitting in the shade today because someone planted a tree a long time ago."
Although there is no guaranteed success formula to become victorious in a bear market phase, investors can keep a bird's eye perspective, investing in companies with a sound balance sheet and relatively immune operations to coronavirus pandemic. Besides, companies protecting cash flows, ensuring cost management without standing down their workforce and managing capital expenditure effectively, can be a good bet during market upheaval.
Stay abreast with market moves, economic transitions and consumer behavior;
Widen your horizon; and Look at appropriate pockets of opportunities!
---
Disclaimer
This website is a service of Kalkine Media Pty. Ltd. A.C.N. 629 651 672. The website has been prepared for informational purposes only and is not intended to be used as a complete source of information on any particular company. Kalkine Media does not in any way endorse or recommend individuals, products or services that may be discussed on this site. Our publications are NOT a solicitation or recommendation to buy, sell or hold. We are neither licensed nor qualified to provide investment advice.