Middle Island Resources Limited (ASX:MDI), an Australia-based gold explorer, recently unveiled its Investor Presentation for April/May 2020, highlighting on its 2020 Exploration Program progress at the Sandstone Gold Project.
It is important to note that Middle Island is progressing substantially well towards recommissioning of its fully permitted Sandstone processing plant, kept on care and maintenance. The milestones achieved from the ongoing exploration and resource definition drilling campaign till date testifies the same.
The Company's latest presentation outlines the crucial developments at the Sandstone project since the commencement of this major drilling campaign. In this context, let us discuss the key developments emphasized in the presentation:
Sandstone Mineral Resources Increase to 624,000oz Gold
The presentation stated the total 2012 JORC Mineral Resources at Sandstone Gold Project now stands at 624,000oz gold. These resources include open pit Indicated & Inferred Mineral Resources of 124,000oz gold in four deposits: Two Mile Hill (TMH), Shillington, Shillington North and Wirraminna. Out of these four deposits, three have already been permitted, with an approved mining plan in place.
Notably, the Company ideally requires open pit inventory of over four years.
It is worth mentioning that the 2016 Pre-Feasibility Study (PFS) at $1,600/oz gold price was insufficient to justify Sandstone recommissioning. However, the re-optimisation study utilised contemporary gold prices, returning a positive outcome.
The total 2012 JORC Mineral Resources at Sandstone further include underground Inferred Mineral Resources of 500,000oz gold in two deposits:
Two Mile Hill Tonalite: JORC 2012 Mineral Resource of 14Mt at 1.1g/t Au for 480,000oz to 500m depth.
Two Mile Hill BIF: JORC 2102 Mineral Resource of 200kt at 3.1g/t Au (20,000oz).
Progress on 2020 Exploration Program
The presentation cited that the massive 17,300m drilling campaign is currently in progress to increase & upgrade Sandstone open pit Mineral Resources. The Company is assessing six deposit extensions and eight new targets within 4km of the Sandstone processing plant under the drilling campaign.
MDI has so far completed an initial aircore drilling program (~1,800m) and Phase 1 RC drilling program (~13,400m) as a part of the major drilling campaign. The presentation highlighted that about 50 per cent of the assays have already been received and reported.
The assays from the Phase 1 RC drilling program have resulted in three new discoveries to date, including McClaren, McIntyre and Old Town Well prospects.
McClaren Prospect
In April this year, the Company reported significant results from one of a cluster of three gold prospects hosted in the south-east extension of Shillington BIF, the McClaren prospect. The results are headlined by 4m at 90.6g/t bonanza intercept and a further intercept of 8m at 3.35g/t Au.
Located on the permitted Mining Lease and 2.5km from the processing plant, the McClaren prospect is likely to represent a new open pit deposit to compliment the project's recommissioning inventory.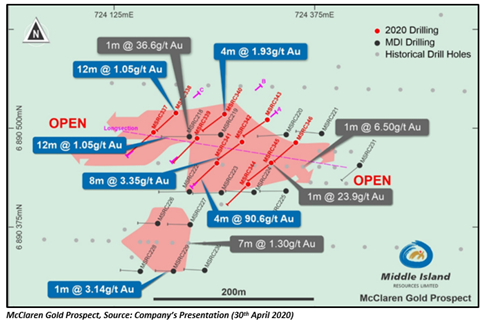 McIntyre Prospect
MDI announced the second new gold deposit at Sandstone project on 21st April 2020, the McIntyre Prospect, which is defined by new, shallow intercepts of 24m at 1.66g/t, 18m at 1.35g/t, 11m at 1.39g/t and 23m at 1.40g/t Au.
Mineralised from surface with very low strip ratios, the McIntyre prospect is hosted within SE extension of Shillington BIF. This prospect is also located on the permitted Mining Lease and 2.5km from the gold processing plant.
The Company notified that the geological mapping suggests McIntyre & McClaren can be linked via NE trending deformation zone and hold considerable potential for resource extensions.
Old Town Well Prospect
The Old Town Well prospect is the latest gold discovery at Sandstone, which comprises broad, shallow mineralised zones over a 60m aggregate width & 340m strike length. The recent results for Old Town Well prospect from Phase 1 RC drilling program include 20m at 0.87g/t, 8m at 2.17g/t and 8m at 1.45g/t Au, together with similar historic results.
Located just 600m north of the processing plant within permitted Mining Lease, this prospect is expected to represent a substantial, shallow oxide gold deposit, including a blanket of mineralised laterite from surface. The broad zones of intense alteration in the prospect suggest significant proximal deposit.
The robust assays received from the Phase 1 RC drilling program demonstrates the commendable progress Middle Island is making in the ongoing exploration and resource definition drilling campaign. Moreover, the additional Mineral Resources identified by the continuing drilling program are likely to enhance the outcome of the updated PFS, paving the way for a positive recommissioning decision in the September quarter.
MDI closed the trading session at $0.012, with a rise of ~9 per cent on 6th May 2020.
Must Read! Walk Through Middle Island's Glorious Journey of March 2020 Quarter