Greatcell Energy Pty Ltd was formed in August 2019 after strategically acquiring Intellectual Property (IP), equipment and fixed assets of the Greatcell Solar Limited, a leader in Perovskite Solar Cell (PSC) technology formerly listed on ASX with ticker GSL. Assessing the potential of the PSC technology, Greatcell Energy was formed, on the back of 20 years of history, to purchase Greatcell Solar group of companies and became a world leader in perovskite-based 3rd generation solar power technology.
Greatcell Solar Conversion to Greatcell Energy

Greatcell Solar, formed initially as Dyesol Limited (ASX: DYE) in 2004, re-prioritised itself to work on Perovskite Solar cell in 2013 once a variant of dye solar cell technology was revealed in Japan of utilising perovskite as the absorber.
DSC is well-proven thin-film rigid silicon cells technology which offers a lesser conversion facility of equal or more than 11% and higher production cost in comparison to PSC. The solar to electric power conversion efficiency is measured around ~23.7% for PSC at lower production cost as it requires a little high vacuum or high temperatures.
To pursue the positivity of work related to PSC technology, Dyesol changed its name to Greatcell Solar Limited (ASX: GSL)- to become leader in stand-alone PSC production technology.
What is PSC technology?
PSC is a semiconducting thin film technology of perovskite compositions which absorbs light to generate power. The main advantage of PSC over other PV technology or DSC is that it has coverage for a broader range of light spectrum skilling to produce electricity even at indoor lighting. The absorption of light causes the material to discharge an electron into the conduction band, thus creating a hole and a medium for conduction of electrons and holes to the conductors.
PSC technology – Market Place
The marketplace for PSC technology for commercialisation purpose comprise of IoT and Micro Device Power, products with a rechargeable independent power source such as household products, electronic door or window or gate openers, signage, remote power and textiles to mention few. Also, it will be used in lightweight panels for application on roofs and facades such as building applied photovoltaics (BAPV).
Apart from a small generation, it may also act as a large scale standard panel for both electricity generation for grid integration and stand-alone applications for site mineral processing. Further, it has potential for advanced Building products that produce electricity, i.e. Building-integrated photovoltaics (BIPV).
Greatcell Energy – Funding Update
Greatcell Energy invested the seed fund of around A$1.9 million for the revival and restructuring of the Greatcell technology platform. The fund has been utilised to re-organise the facilities, creation of a pilot plant for micro-power PSC devices, and to prepare the Company for additional investment.
The Greatcell Energy is anticipated to raise further funding over next year to build on Greatcell Solar 15 year legacy with a clean slate and have strong management and technical team to advance toward commercialisation and growth. The significant steps involved are: -
To finalise equipment acquisition and set up a pilot plant by early 2020. And to start set-to-work trials.
Connect with JV partners for the design and development of specific commercial products.
Sell of first micropower cells by 2H2020.
Promote sales of PSC materials and equipment. Further, the introduction of new Hyperion solar simulator into the market.
Greatcell Energy – Investment Strategy
The investment is planned in three phases starting with Mezzanine Phase I commenced in December 2019, and the detail is shown below: -
Post the development of pilot plant equipment; Mezzanine Phase II is likely to start with the aim to inject fund of A$5 million from a combination of sources to progressively implement the IoT/micropower projects and scale-up of production.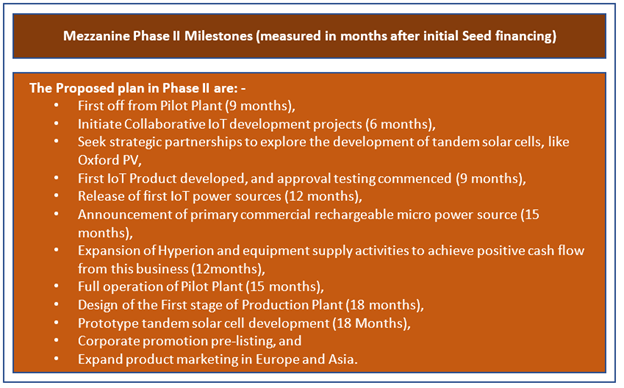 The last phase involves the issuance of IPO targeted at a public listing to raise at least A$10M, and it will be used for, as shown below: -
As a part of Investment Strategy, the Company is presently planning to raise A$500,000 working capital before costs through Private Placement of 2.5 million Ordinary Shares at A$0.20c per share. The accumulated amount is expected to be used for Pilot Plant Set-Up (A$125,000), R&D Collaboration (A$150,000), Marketing (A$100,000), Corporate (A$75,000), Financing & Legal (A$25,000) and Working Capital (A$25,000).
Greatcell Energy – Earning Projection
The Company is anticipated to earn revenue from OEM and Own Product, PSC Micropower Product and Funded Development. The OEM and Own Product (Hyperion) is likely to start and grow progressively in the first three years to over A$1 million in revenues per annum subject to the level of marketing investment where the sales of Micropower device is anticipated to start in 2H2020.
Funded development to continue support R&D up to nearly half the cost of ~A$1.5million per annum. In Europe, this support will come from EU funded multi-partner projects, while Australian collaborative R&D will attract R&D rebates.
Also, it is pertinent to mention that the Company anticipates the operations to break-even in the third year when the additional earnings from hybrid IoT and rechargeable devices start. The expenses before break-even are likely to balance by the equity injection of A$5 million as seen above. They forecast earnings of A$2.75million resulting in projected cash at bank of over A$1million at the end of 2020/2021 before the planned public listing.
The Greatcell Energy aims to generate positive cash in by 2022.
---
Disclaimer
This website is a service of Kalkine Media Pty. Ltd. A.C.N. 629 651 672. The website has been prepared for informational purposes only and is not intended to be used as a complete source of information on any particular company. The above article is sponsored but NOT a solicitation or recommendation to buy, sell or hold the stock of the company (or companies) under discussion. We are neither licensed nor qualified to provide investment advice through this platform.