Australia-based multi-mineral explorer, Boadicea Resources Ltd (ASX: BOA) is primarily focused on its project portfolio of Nickel and Copper deposits while evaluating other commodity opportunities including Gold and Lithium, as having a well-balanced portfolio with projects at different stages can enhance cashflow, insulate against market risks and enable encashing the market upswings.
Good Read: Boadicea Resources Targeting The Right Commodities in Highly Prospective Western Australia
The Company recently released its March Quarter 2020 Report, updating on its activities as BOA continues to transform its ground position via consolidation of more and more tenements in the Fraser Range, situated halfway between Norseman and Balladonia, 100km east of Norseman in Western Australia, which is a world-known favourable mining jurisdiction.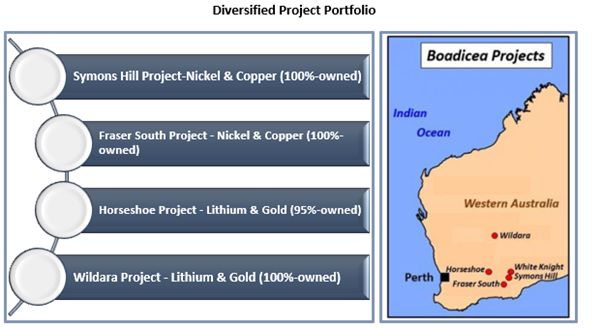 March Quarter 2020 – Key Highlights
Boadicea Resources was again successful in winning a series of Mining Warden Ballots for Exploration Licence Applications granted by the Department of Mines, Industry Regulation and Safety (DMIRS). These are located within prospective areas of the Fraser Range and increased the Company's landholding to a total of ~737 km2 in the region, positioning BOA close to the three most prominent nickel discoveries in the region being Nova, Silver Knight and Mawson.
Acquisition of New Projects
White Knight - EL28/2721 (100% -owned)- Secured in January 2020, White Knight licence, E28/2721 covers ~30 km² and strategically adjoins the Creasy Groups Silver Knight Nickel Project to its northwest.
Southern Hills - E63/1951 (100%-owned)- The Southern Hills licence E63/1951 covers ~23 km2 and was secured in January 2020. It is located in the southern portion of the Fraser Gravity Ridge.
Transline North - E28/2849 and Transline South - E28/2866 (100%-owned)- The Company was successfully granted these two Exploration Licences in January 2020. In total, Transline North and Transline South cover ~ 59 km2 in the northern part of Fraser Range.
Giles – ELA39/2148- The Giles licence ELA39/2148 covers ~126 km2 in the northern part of Fraser Gravity Ridge and was granted on 30 January 2020.
Giles South - ELA28/2952- Boadicea Resources was granted the Giles South Exploration Licence in February 2020, which covers an area of ~42 km2, in the northern portion of the Fraser Gravity Ridge.
Update on Existing Projects
Symons Hill Ni-Cu Project (E28/1932)- Located 4km from the Nova-Bollinger nickel-copper mine, Symons Hill is also the Company's flagship asset, which is being progressed in a systematic fashion via collection and analysis of quality datasets and drill testing of priority targets.
In 2019, Boadicea Resources identified 3 late-time, flat-lying conductors as significant from the modelling of an MLEM survey. These conductors depict the potential to represent sulphide accumulations, and in conjunction with the magnetic and gravity interpretation warrant drill testing. The following table gives the details of the conductors.

The Company, quite encouraged by the MLEM program results, especially in light of the coincident aeromagnetic and gravity features, plans to now drill test the conductors and targets in due course after the necessary permits and approvals have been obtained.
Inspired by intersection of a thick package of key "Nova style" rock types by Independence Group (IGO) at the Elara Prospect located ~1,500m from the Symons Hill Project, Boadicea Resources is also planning to undertake additional MLEM surveys over untested targets in the southern portion of this Project.
Fraser South Nickel-Copper Project (E63/1859)- Located at the southern margin of the Fraser Gravity Ridge, adjacent to IGO's Southern Hills Project and Galileo Mining's Yardilla Project, an initial geological field reconnaissance has been completed at Fraser South by Boadicea Resources for identifying additional targets and planning future exploration activities and work programs.
Horseshoe Lithium Pegmatite Project (E15/1596)- This project is located 75km south-southwest of Coolgardie in the highly prospective Eastern Goldfields, where there is significant pegmatite development covering 204 km2 of the Horseshoe greenstone belt.
An initial geological field reconnaissance (including rock chip and soil geochemical sampling) of the project area had confirmed minimal outcrop and identified pegmatite sub-crop and float in nickel and gold exploration tracks. Subsequently, after a couple of other test programs, the Company relinquished the less prospective areas of the tenement, while retaining the more prospective regions where further work programs are being planned.
Wildara Lithium – Gold Project (E36/873)- It comprises the one granted Exploration Licence (60 km2), located ~30 km southwest of Leinster in the northeast Goldfields region.
The primary reason to target this region was highly anomalous lithium results from a regional scale bore water geochemical sampling program conducted across the northern Yilgarn Craton by the Minerals Research Institute of Western Australia (MRIWA). Currently, the project is being re-evaluated to identify additional targets for warranted geochemical programs planned for the coming months.
Stock Information: With a market capitalisation of ~ AUD 11.68 million and ~ 55.6 million shares outstanding, the BOA stock settled the day's trade at AUD 0.210 on 21 April 2020. BOA has generated a positive return of 10.53% in the last six months and 5% over the last five days.