Mining activities are not just important from the business point of view of a company, but they are also economically important to the producing regions and countries. Having a large land tenure in a mineral-rich region helps an aspiring miner fully take advantage and make the best of the opportunity in sight through exploration activities.
Victoria, Australia-based mineral exploration company, Boadicea Resources Ltd (ASX: BOA) is operating on the same lines, quickly expanding its ground position in Fraser Range, in Western Australia, a very favourable and world renowned mining jurisdiction.
The highly prospective and abundant region (Fraser Range) is located approximately 200km south east of Kalgoorlie, and presently, the primary focus commodities for the Company are Nickel and Copper while it remains open to other opportunities like Lithium and Gold in the region.
Interesting Read: Boadicea Resources' Targeted Commodities: Nickel and Copper to Have Upswing in Demand
The Company is highly committed to the Fraser Range Nickel Belt, which is home to nova-style high-value targets and large known resources that are untapped due to only few years of prior mining activities. The empirical evidence suggests that there is a great opportunity for upcoming miners such as Boadicea Resources to discover new nickel deposits in this area.
BOA is already transforming its exploration portfolio through consolidation of additional prospective tenements to enhance exposure to this region and is strategically positioned next to significant nickel discoveries being Nova, Silver Knight and Mawson.
Boadicea Resources' Project Portfolio in this emerging world-class Nickel province of Fraser Range, where there are high-quality mineral deposits, that is, aggregate of nickel in particular in an unusually high concentration, is given below.
Symons Hill Project-Nickel, Copper & Gold (100%-owned)
Fraser South Project - Nickel & Copper (100%-owned)
Horseshoe Project - Lithium & Gold (95%-owned)
Wildara Project - Lithium & Gold (100%-owned)
Symons Hill Nickel, Copper & Gold Project – Flagship Asset
The Symons Hill Project is arguably one of the most prospective nickel exploration licences in Western Australia, located ~100km east of Norseman and ~200km south east of Kalgoorlie. Moreover, the mining licence covering the project adjoins a mining lease hosting the world-class Nova-Bollinger nickel-copper mine, to the north east. This mine is now owned by Independence Group NL following the $ 1.8 billion, late-2015 acquisition of Sirius Resources, the mine's previous owner.
Consequently, Boadicea Resources has allocated additional funding to Symons Hill and is increasing its footprint in the region through new licence applications e.g. Fraser South Project and recent ballot wins.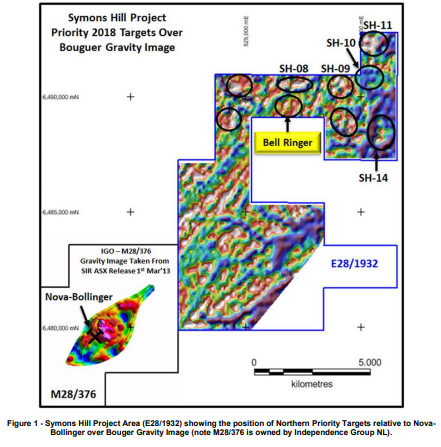 Last year in March Quarter 2019, the modelling of a Moving Loop Electromagnetics (MLEM) survey had discovered 11 conductive anomalies, of which seven were of low conductance or too broad and the response was considered insignificant. Later, three conductors (late-time, flat-lying) were identified and considered quite significant with a potential to represent sulphide accumulations and also in conjunction with the magnetic and gravity interpretation warrant drill testing.

The results of the MLEM program have been very encouraging for the Company, particularly in light of the coincident aeromagnetic and gravity features, the prime reasons behind selection of the targets.
Now, going forth, BOA plans to conduct drill testing at these conductors and targets soon after the necessary permits and approvals have been received. Furthermore, in light of Independence Group's confirming that drill hole SFRD0738 at the Elara Prospect intersected a thick package of key "Nova style" rock types and prospective mafic-ultramafic rocks had been intersected at the Hercules Prospect, approximately 500m from the Symons Hill Project, Boadicea Resources is also planning additional MLEM surveys over untested targets in the south.
The Company was most recently reported success in ballot for the "Giles South" licence ELA28/2952 (~42 km2) and the "Giles" licence ELA39/2148 (~126 km2), both of them significantly expanding the land exposure in the northern part of the Fraser Gravity Ridge.
For an eye over BOA half year to 31 December 2019, please read, Boadicea Resources' First Half 2020 Highlights.
Stock Information: The market capitalisation of Boadicea Resources stood at approximately $ 12.23 million, and it has around 55.6 million shares outstanding. The BOA stock last traded at a priced at $ 0.220 on 20 March 2020. The last six-month return of the stock was noted at 15.79%.
---
Disclaimer
This website is a service of Kalkine Media Pty. Ltd. A.C.N. 629 651 672. The website has been prepared for informational purposes only and is not intended to be used as a complete source of information on any particular company. The above article is sponsored but NOT a solicitation or recommendation to buy, sell or hold the stock of the company (or companies) under discussion. We are neither licensed nor qualified to provide investment advice through this platform.