Diversification is a risk management technique whereby a firm strategically allocates investments among various financial instruments, industries, products or commodities to maximise returns as different areas react differently to the same event. It also expands a company's operations by adding markets or stages of production to the existing business.
Australia-based multi-mineral explorer, Boadicea Resources Ltd (ASX: BOA) has Nickel and Copper as its focus commodities but the Company is also exploring other opportunities such as Gold and Lithium. In the metals and mining sector, boasting a well-balanced portfolio with projects at different stages can ensure cashflow and insulation against market risks.
Boadicea Resources has an expansive and growing ground position in the highly prospective Fraser Range of Western Australia, a world-renowned favourable mining jurisdiction. The Company is further transforming its project portfolio via consolidation of more and more tenements in this region.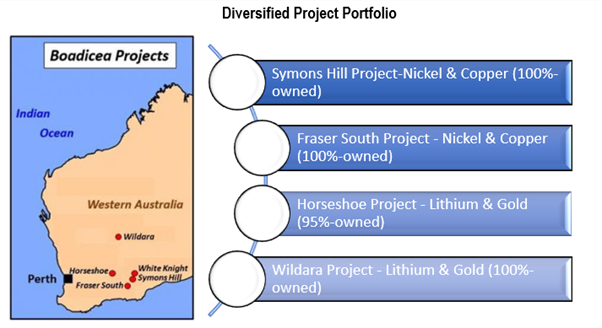 While Symons Hill Project is arguably one of the most prospective nickel exploration licences held by the Company followed by Fraser South Project, BOA has two other projects in Western Australia where resources of Lithium and Gold remain significantly unexplored.
Good Read: Nickel and Copper to Have Upswing in Demand
Horseshoe Lithium Pegmatite Project (E15/1596)
Based in WA's Eastern Goldfields, the project has major pegmatites on the Horseshoe greenstone belt, which is well-defined by aeromagnetics and limited outcrop, with the pegmatites spanning over an approximate area of 204 km².
Historical exploration reports of gold and nickel had indicated lithium prospectivity in this area, specifically at Metals Exploration Ltd.'s Tramline Prospect. However, no exploration has so far been conducted regarding that.
Boadicea Resources, after completing a not-so-yielding geological field reconnaissance including rock chip and soil geochemical sampling in the September quarter 2018, had relinquished the less prospective areas and retained the others with its total ground holding now at 96 km2.
During the quarter ended 31 December 2019, the Company concluded a geological field reconnaissance of the retained area, in order to generate additional targets and plan exploration activities for the future. BOA is currently engaged in assessing the outstanding results from the program.
Lithium: Lithium is lightest of all the metals and finds application in several industries, with the most relevant being in Lithium Ion Batteries (LIBs) or rechargeable batteries used to power electric vehicles (EVs). The EV battery market is increasingly expanding with EVs on the verge of large-scale commercialisation across the globe, as the world transition towards a low-carbon future and conscious consumers shift to sustainable energy sources.
Wildara Lithium-Gold Project (E36/873)
Located ~30 km southwest of Leinster in WA's northeast Goldfields, the Wildara Project encompasses one Exploration Licence spanning 60 km² covering six bores, but the project is currently being reassessed to ascertain targets for warranted geochemical programs as prior geochemical programme undertaken in 2018 had returned no useful results to move forward.
Gold: Currently, the Australian gold miners are reaping high convenience yield and ramping-up the production while aspiring miners are utilising the leverage to develop gold prospects, which is expected to further boost the position of Australia as the world's second-largest gold producer. Particularly in times of slowdown, people flock to the yellow shiny metal which has long been used as a hedge against downturns as gold shines best in times of genuine crisis and maintains its purchasing power unlike normal currencies.
Like any other asset, gold too has been impacted by the global turbulent economic conditions; however, the yellow metal has rebounded once again from its psychological level of USD 1,500 per ounce.
This has been possible as the United States released a USD 2 trillion stimulus package recently, causing a slight sell-off in the dollar, accumulated by the investing community for hedging purposes.
While Lithium is the green energy metal anticipated to experience a high demand in the near future, Gold remains an evergreen safe haven commodity. Boadicea Resources, if finds significant results from its geochemical programme, would be able to capitalise on these amazing opportunities apart from Nickel and Copper.
Stock Information: Boadicea Resources has a market capitalisation of $ 11.68 million and its stock closed the day's trade at $ 0.190 on 9 April 2020. BOA has generated a positive 6-months' return of 40%.
For Recent Updates, Read-
Boadicea Resources' Journey: Key milestones in the last few months
Boadicea Resources' First Half 2020 Highlights: Advancing Key Projects & Expanding Tenure
---
Disclaimer
This website is a service of Kalkine Media Pty. Ltd. A.C.N. 629 651 672. The website has been prepared for informational purposes only and is not intended to be used as a complete source of information on any particular company. The above article is sponsored but NOT a solicitation or recommendation to buy, sell or hold the stock of the company (or companies) under discussion. We are neither licensed nor qualified to provide investment advice through this platform.