Amid the loss of earnings, falling employment numbers and declining housing prices, Australia has a long way to go before returning to a healthy growth trajectory. With the easing of restrictions as the country flattens its coronavirus curve, it is not going to be peaches and cream for the Australian economy.
The government took fiscal measures worth $320 billion, which included JobKeeper Payment of $130 billion- a wage subsidy package to support workers and businesses in worst- affected sectors. The total Government support to the economy represented about 16.4% of the annual GDP to lift the country from the economic fallouts of coronavirus.
Phasing out coronavirus stimulus
The Morrison government delivered a $130 billion support package with new JobKeeper payment to keep Australians in work.
Job Keeper payment scheme is a subsidy introduced to support businesses in avoiding mass layoffs by funding wages for retained staff. Eligible businesses that are going through a substantial reduction in turnover will be paid $1500 per fortnight, per qualifying employee under the scheme for up to 6 months starting 1 May 2020. The payments can be done for the period commencing 30 March this year.
JobKeeper is about $400 a fortnight more than $1100 Jobseeker payment with coronavirus supplement for jobless people and gives new power to employers eligible for JobKeeper subsidies.
However, PM Scott Morrison is contemplating slashing the $130 billion JobKeeper payment due to fears of fake companies being created which do not sustain without wage subsidy and bog down $14 billion JobSeeker. Both stimulus programs are scheduled to run for 6 months and expected to end in September.
With record fall in jobs and number of hours worked, the government has planned to restore mutual obligation requirements that require Australians to prove they are seeking work for 1.6 million on JobSeeker from 1 June after Treasury statement and relaxing of restrictions.
Unemployment tops in April
ABS reported that the unemployment rate for Australia rose to 6.2% in April from 5.2% in March, with a loss of about 6,00,000 jobs posting steepest monthly rise on record. The modest increase in unemployment was due to a fall in the number of individuals actively seeking job.
Bjorn Jarvis, head of labour statistics, stated that the significant fall in employment figures did not result in a corresponding rise in unemployment because about 489,800 people left the labour force.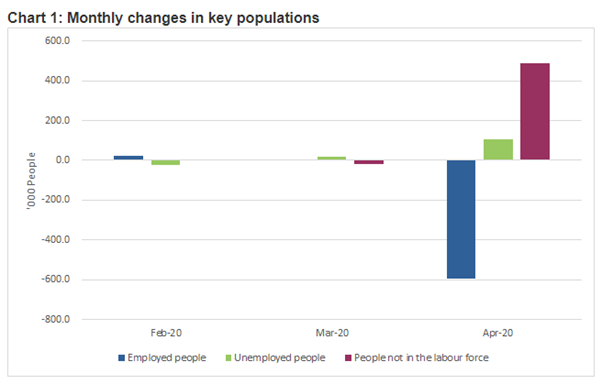 Source: ABS
Market experts had expected the unemployment rate figure to surge above 8%. They asserted that employees who had received the Government's JobKeeper wage subsidy were considered as employed even if they did not work any hours and the numbers would have been a lot worse if they were calculated differently.
ALSO READ: Drivers for Australian Economic Rebuilding
The participation rate, i.e. people either in work or actively looking for it fell from 66% to 63.5%, a 2.4% drop was unparalleled. Also, the underemployment (rate) increased by 4.9 points to a high of 13.7 percent.
ABS compared the Australian figures to recent US and Canadian labour data. While Australia has limited the time to 4 weeks for someone who can be attached to a job without pay and classified as employed, US and Canada concluded all those people as unemployed, who have been stood down on temporary layoff or worked zero hours.
This difference in measurement has resulted in a considerable increase in unemployment figures for April in the US and Canada when compared to Australia. The data suggested that if Australia had adopted a similar measurement approach as the US and Canada for people who worked zero hours due to no work or not enough work available or were stood down, its unemployment rate would have been a staggering 11.7% instead of 6.2%. This was evident in total hours worked falling 9.2% between March and April.
Combining with the fall in the participation rate, about 1 in 5 people who were employed during March either had their hours reduced or left employment distressing about 2.7 million Australians.
Hence, this resulted in record-high underemployment- people with a job who want to work for more hours- and underutilisation rates which are a sum of unemployment and underemployment, jumping to 13.7% and 19.9% respectively.
Hasty stimulus stop could endanger growth
JobKeeper subsidy is keeping the business and employees connected and helping about 835,000 businesses afloat and about 5.5 million workers in the job. Cutting off the support early could result in more job losses, weakening the economic recovery further for the country.
For people under JobSeeker, doing away with the subsidy will result in people applying for more jobs even if few vacancies exist and nearly 50% reduction in benefit due to $550 coronavirus supplement removal. For business under the JobKeeper program, removing the subsidy means suffering a loss of $1500 a fortnight wage subsidy for its personnel.
Economists have cautioned that the economy must have traversed that bridge before the coronavirus stimulus package is withdrawn. They have asserted that all efforts of the government to save the country from the economic fallout of coronavirus would be thwarted if the stimulus is withdrawn prematurely.
ALSO READ: A juxtaposition of Market Optimism and Investors' Fear Across the Globe
Treasurer John Frydenberg and Prime Minister of the nation have emphasised that Australians should know there is no money tree and the subsidies are for a limited time only. Frydenberg asserted that the new measures taken up for spending could not go forever and are taken up to build a bridge to the recovery period.
Nonetheless, rolling back of policies early could temper business and consumer confidence and create uncertainty between workers and businesses. It is of high importance that the policy is in place until it is no longer needed.
Timing is very crucial at which stimulus is withdrawn; otherwise, it will bog down the economy back into a deep recession. Hence, restrictions must be lifted gradually to bring the economy back on track.