From nine universities cracking the list in 2018, Australia is now home to 11 universities that made it to the Times Higher Education (THE) World University Rankings 2020, with the University of New South Wales (UNSW) managing the biggest leap in ranking since 2018 and standing at 71 climbing up the ladder by 25 positions. Leading at the forefront is the United Kingdom's University of Oxford, that topped the world ranking for the fourth consecutive year, followed by the California Institute of Technology, United States and the University of Cambridge, United Kingdom.
35 Australian universities make in-roads
Overall, around 35 Australian universities made it to the list which included approximately 1,400 universities located across 92 countries. The University of Melbourne was positioned at 32nd place followed by Australian National University at 50th and the University of Sydney at 60th. Interestingly, the University of Canberra exhibited a noteworthy success story as it rose by 376 places since 2016, demonstrating the biggest ever institutional improvement in the world.
It is good news for all the stakeholders in the education sector in Australia.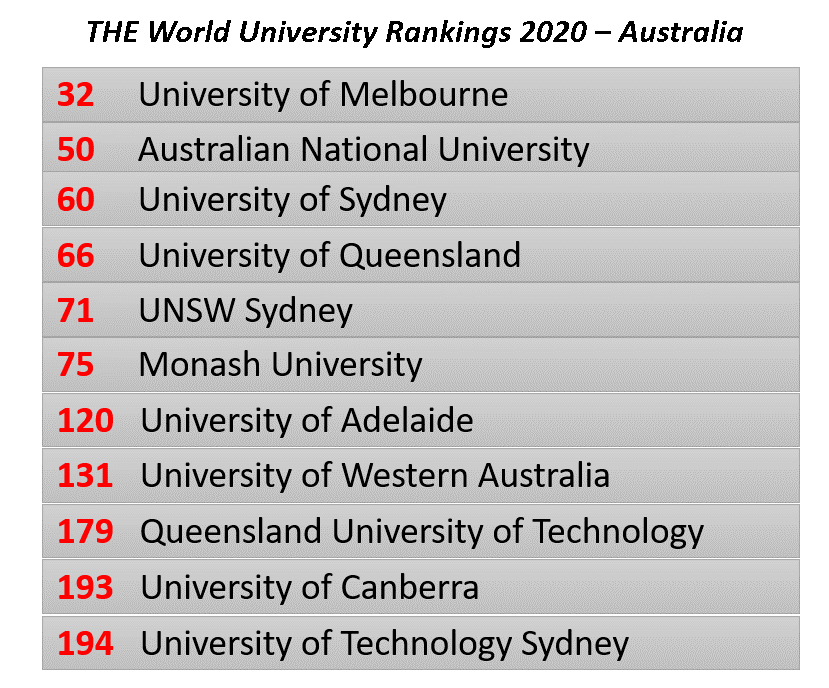 Source: THE
For over five decades, THE has been providing analysis and insight on the fast-transforming global higher education sector and research policy landscape, while also highlighting the challenges facing this sector, thereby acquiring unparalleled expertise in tracking university performance globally.
The data and benchmarking tools offered by THE have been of immense use to the world's most prestigious universities, helping them to set intelligent strategic goals and achieve the same by enhancing their education and research environment.
Key Performance Indicators
The World University Rankings are delivered based on 13 key performance indicators, including:
Teaching,
Research,
Knowledge transfer and
International outlook
They are not only adopted as a geo-political indicator but also help in the strategic management of institutions and a crucial deciding factor in the study choices made by millions of students around the world.
Generally speaking, since there is no world department of education, THE has been doing great work in this space through developing definitions and data that can be utilised by universities for comparison and understanding.
What do the Universities have to say
Talking of the ranking for 2020, Monash University located in Australia shifted off the life science challengers' group and was put under the "international powerhouse" academic cluster. The university climbed nine places to be the 75th in this year's ranking, owing to the university's high-calibre research and educational leadership as per Margaret Gardner, president and vice-chancellor of Monash.
The universities under the cluster of International powerhouse tend to have slightly higher expertise in clinical subjects than their peers in the old stars category, but less prowess in the arts domain.
Monash is also highly renowned for its solution-focused research into major global issues, including:
Long term planetary health,
Eradication of mosquito-borne diseases,
Provision of clean water and others.
Besides, the university has progressively increased its international partnerships with universities and industry, while also developing offshore campuses into an extensive global research network to deliver positive impact on communities worldwide.
As for UNSW, the university's President and Vice-Chancellor Professor Ian Jacobs stated that its global recognition may be attributed to the improvements achieved in research and teaching which consequently led to tangible progress across the spectrum of research, education, innovation, equity, thought leadership and global impact.
Average Scores Improve
THE, in one of its releases also reported that based on their inferences for the year, there were improvements in the average scores of the universities in Australia in 12 out of the 13 performance indicators used or analysis.
Particularly, metrics like
Citation impact,
Research environment and
International outlook demonstrated notable improvements.
International Students head to Australia
Globally, the popular belief is that Australian universities have a considerable dependence on tuition fees derived from foreign students to fund their research initiatives and global standing. Moreover, the latest data disclosed by the Organisation for Economic Cooperation and Development (OECD) confirmed Australia being an international education outlier with an exceptionally high concentration of international students, of which a significant portion hails from Asian countries.
According to THE estimates, the highest number of international students in Australia may be found enrolled in business, administration and law courses (51%), followed by second highest concentration in master's programmes (48 %), reflecting foreign students' predominance in preferred courses like MBAs.
What lures international student to opt for Australia as their preferred study destination?
It is perhaps the location and climate of the country and of course the international recognition for their excellence. But there's more to education in Australia.
The Australian Government Department of Education has a Higher Education Loan Program (HELP) which offers financial support to tertiary students via income-contingent loans. Australia's Higher Education, Research and international education (HERI) Budget 2019-20 has prescribed that the government would invest around $ 15.8 million over the next four years to expand the Unique Student Identifier (USI) initiative to include higher education students.
Moreover, the Department of education have also announced that they would establish a Destination Australia Scholarship Program aimed at supporting both Australian as well as international students to study in regional Australia. It would comprise more than 1000 scholarships worth $ 15,000 being offered per student per year to sufficiently finance the study and living expenses related to taking up a Certificate IV to Doctorate level qualification at a regional campus of an eligible tertiary education provider.
In addition, an additional $ 5.0 million of the grant would be extended by the government to the University of Melbourne to advance the first phase of development of an underground physics laboratory in a disused section of the Stawell gold mine.
With international competition becoming stiff for Australia Universities over the years, there is no room for complacency, and they must keep striving to ensure that their offerings are genuine and world class.
---
Disclaimer
This website is a service of Kalkine Media Pty. Ltd. A.C.N. 629 651 672. The website has been prepared for informational purposes only and is not intended to be used as a complete source of information on any particular company. Kalkine Media does not in any way endorse or recommend individuals, products or services that may be discussed on this site. Our publications are NOT a solicitation or recommendation to buy, sell or hold. We are neither licensed nor qualified to provide investment advice.