The Australian property markets are likely to be impacted by the headwinds that have emerged in the economy, with expectations of residential and retail bearing the brunt of it. In the prime cities of Sydney and Melbourne, there has been an uptick in the supply side, that brought some sense of relief to the tenants after a long span of tight vacancy. The increase in industrial land prices in the two cities is also driving the development of multi-storey warehouses in inner-city locations.
According to the market participants, the housing market has been exhibiting some early signs of recovery starting from December 2018 ahead of the 2019 election. There has been an improvement in the consumer sentiment as auction clearance rates were lifted, and the pace of house price declines has slowed.
The home prices in Australia have yet again fallen by 0.4% in the month of May 2019 from April 2019, when they dropped 0.5% relative to March 2019.
In addition, the hotel sector is expected to benefit from a weaker AUD that would attract tourists and keep more Australians holidaying locally.
3 real-estate companies of Australia - SCG, CMW, MGR
Scentre Group
Sydney-based Scentre Group Limited (ASX: SCG) develops, constructs, owns, operates, manages and markets a vast diversified portfolio of retail real estate properties and shopping centers located in Australia and New Zealand. With a market capitalisation of AU$ 20.15 billion, the SCG stock last traded today (4 June 2019) at AU$ 3.780, down 0.264%. The company's current annual dividend yield stands at 5.85%.
Recently on 20 May 2019, Scentre Group informed the market on Perron Group as a new joint venture partner with 50% interest in Westfield Burwood located in Sydney. As per the deal, Perron Group would have to pay around $ 575 million for its share, demonstrating a 4.1% premium to Scentre Group's book value as of 31 Dec'18. Initially, the proceeds from the transaction would be spent on repaying debt.
In its recently released first-quarter operating update for the three months to 31st March 2019, Scentre Group reported that 99.3% of its portfolio was currently leased and 448 lease deals were completed. In addition, the customer visits per annum grew beyond 535 million and the total speciality in-store sales were up 1.5% for the quarter and 1.7% higher for the entire year.

Source: Company's 1st Quarter Operating Update
Cromwell Property Group
Cromwell Property Group (ASX: CMW) is a diversified real estate investor and manager, which has operations in 3 continents and an international investor base. With a market capitalisation of AU$ 2.61 billion, the CMW stock was traded last at AU$ 1.170, up 0.429% by AU$ 0.005 on 4 June 2019. Recently, ARA Real Estate Investors (incorporated in Singapore) increased its shareholding in Cromwell to 20.58% (from 19.51%).
On 7 May 2019, the company released its Business Update May 2019. In Australia, under the direct property business segment, the property Group reported the receipt of development approval, post the presentation of the results for a $75 million value-add opportunity at Victoria Avenue in Chatswood.
Over 10,000 m2 has been leased by the Group in Sydney as well renovations undertaken at the Group's multi-tenanted assets at Northpoint, Kent Street and Chatswood.
In the UK, Cromwell engaged in preliminary confidential discussions with RDI REIT P.L.C. which were subsequently announced to the market. Cromwell Property Group remained consistent in pursuing accretive opportunities line with its 'Invest to Manage' strategy. In Europe, the Group completed the acquisition of 21,688 m2 of Pirelli Tyre Research & Development Facility in Milan, Italy for EUR 88 million, on behalf of a new Korean capital partner.
As per the financial results for the half year to 31 December 2018: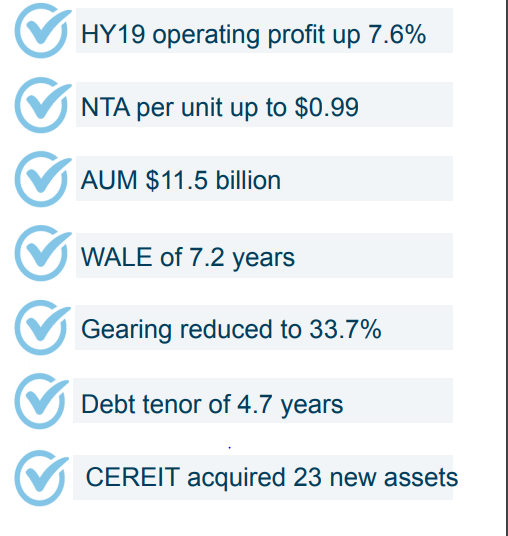 Source: HY19 Results Presentation
Mirvac Group
Australian real estate player Mirvac Group (ASX: MGR) has an integrated development and asset management business with assets under management (AUMs) of over $ 18 billion.
On 4 June 2019, Mirvac announced that it would be conducting a new security purchase plan to enable eligible security holders to acquire up to AU$ 15,000 worth of Mirvac stapled securities at AU$ 2.90 each. This follows the recently completed fully underwritten AU$ 750 million institutional placement that would support the delivery of the next generation of value accretive commercial, industrial, residential and mixed-use projects, repay debt and replenish funding for its existing development pipeline.
On 29 May 2019, Mirvac Group announced that it expects to deliver earnings of 17.1 cents per stapled security for FY19, reflecting a 4% rise on FY18. Besides, it also provided the Preliminary Guidance for FY20 distribution per stapled security (DPS) and earnings per stapled security (EPS). The company's annual results are expected to be released on 8 August 2019.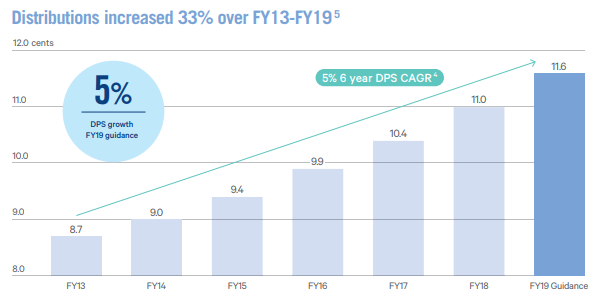 Source: Mirvac Group – Equity Raising for Strategic Growth Initiatives Presentation
One Mid-cap Stock rising today - Abacus Property Group is up 2.8 per cent
Abacus Property Group (ASX: ABP) is a leading Australian real estate player that specialises in investing in real estate opportunities across a range of sectors, and through active management, delivered strong income and capital growth. With a current market cap of AU$ 2.25 billion, the ABP stock closed the market trading session at AU$ 4.00, climbing up 3.09% with ~ 2.95 million shares traded on 4 June 2019.
On the same day, it was announced that the consortium of Abacus Property Group and Charter Hall Group (ASX: CHC) had acquired a 19.9% strategic interest in Australian Unity Office Fund (ASX: AOF) for a total consideration of $ 95.6 million, equivalent to $ 2.95 per AOF unit. The consortium has also extended an unsolicited, indicative and non-binding proposal to Australian Unity Investment Real Estate Limited (AUIREL), the Responsible Entity of AOF to acquire all the issued units in AOF that it does not already hold for $2.95 each, by way of a trust scheme.
Australian Unity Office Fund is a real estate investment trust with a portfolio comprising nine office properties located across the Australian metropolitan and CBD markets in the prime cities of Canberra, Adelaide, Melbourne, Brisbane and Sydney. The Board of AUIREL would establish an independent board committee to consider the Proposal.
Under the Proposal, AOF unitholders would be entitled to retain distribution of up to 3.95 cents per unit related to the quarter ending on 30 June 2019, paid prior to the date of scheme implementation.
Recently, Abacus updated the stakeholders that Ms Myra Salkinder, a member of the Board since 2011, would be succeeding Mr John Thame as the Chairperson, effective 1 September 2019.
The company had also reached an agreement, as announced on 26 April 2019, for the divestment of a portfolio of three residential development projects and an investment property to an offshore property group, at circa $ 31 million (settlement expected in June 2019): Spencer Street, West Melbourne, Victoria; Smith Street, Fitzroy, Victoria and Mina Parade, Alderley, Queensland. The Group's project on Hampstead Road, Maidstone, Victoria was expected to be exchanged later in May or June 2019.
A snapshot of Abacus Property Group's financial results for the first half of 2019 is as follows: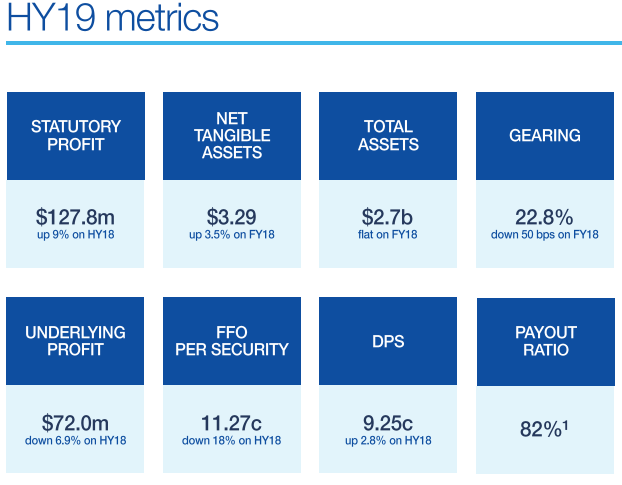 Source: HY19 results presentation
---
Disclaimer
This website is a service of Kalkine Media Pty. Ltd. A.C.N. 629 651 672. The website has been prepared for informational purposes only and is not intended to be used as a complete source of information on any particular company. Kalkine Media does not in any way endorse or recommend individuals, products or services that may be discussed on this site. Our publications are NOT a solicitation or recommendation to buy, sell or hold. We are neither licensed nor qualified to provide investment advice.