With Gold acting as the safe haven to investors globally, the gold demand grew to 1,107.9 tons in the September 2019 quarter. The gold prices, benefitting from the escalating US-China trade, weak global economic growth, the US strike on Iran, killing the Qassim Suleimani, Commander of Iranian Forces, further retaliation by Iran, striking US forces in Iraq and political uncertainty over the impeachment of US President Donald Trump, are expected to hold high grounds in 2020. The high gold prices have kindled the gold miners. Here are a few-
Read More: Get Ready to Pay ~2.8k for 24k Gold; Gold Bulls Break the Gated Cage
Saracen Mineral Holdings (ASX:SAR) is a prominent gold mining company and also the new co-owner of the Kalgoorlie Superpit gold mining operations. Saracen completed the acquisition of Kalgoorlie Superpit from Barrick Gold for USD 750 million on November 29,2019.
Superpit, owned by equal partners Newmont Goldcorp and Saracen, is the largest open-pit gold mine in Australia with a capacity to process 12 Mt of ore annually producing almost 800 koz of gold. Newmont later in January 2020 sold its stake in the Super pit operations to Northern Star Resources Limited (ASX:NST).
The company also owns Thunderbox and Carosue dam gold operations producing almost 350 koz at an AISC of $1,033 an ounce of gold. The Company expects to produce over 615 koz of gold in FY2020 with almost 245 koz coming from Superpit (attributable production) and remaining from its other operations.
Source: AGM Presentation November 19 Saracen
Efficient Operating Performance
The EBITDA also increased to $219.5 Million in FY2019 from $198.7 Million in FY2018. The EBITDA margin stood at 39.51% in FY2019 indicating better and more efficient operating performance. SAR savours on the lower cash cost and higher gold prices which gives it the margin to expand production and fund acquisitions such as Superpit. Saracen shares closed at $3.640 a share on 08 January 2020, up by 3.4% against its previous close on ASX. The company has a P/E ratio of 31.15 and EPS of $0.113.
Evolution Mining (ASX:EVN) is one of the largest gold miners in Australia. The Current asset base is spread throughout Australia. Evolution mining in late November announced its plans to acquire the Red Lake mining complex from Newmont Goldcorp based in Ontario, Canada for a cash consideration of $551 Million payable on completion of the transaction and an additional USD 100 Million payable on new resource discovery.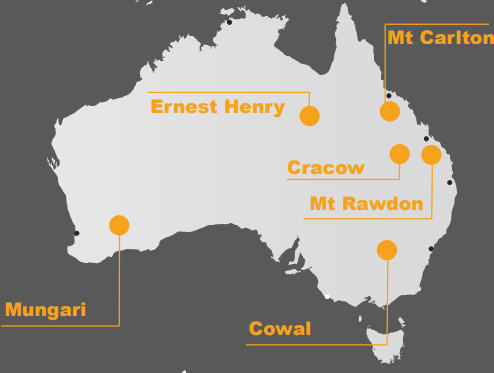 The EBITDA also increased to $730.3 Million in FY2019 from $795.1 Million in FY2018. The EBITDA margin stood at 48% in FY2019 even though the year recorded a decrease in gold production and a 22% increase in the operating cash costs.
Second lowest cost gold miner
The company ranks as the second lowest cost gold miner in the top 10 gold miner as per the Van Eck Gold Miner Index (GDX). The average all-in sustaining cost stands at $924 an ounce of gold. Red Lake is a long-life gold operation with depletion in 2032 as per the current mine schedule. It produced roughly 276 koz of gold at an AISC of USD 988 an ounce.
The huge operating margin of Evolution allows it to invest in a high operating cost asset such as Red Lake and targets to attain a stable output of 200+ koz of production with a significantly lower OPEX during the proposed three-year turnaround phase.
Evolution shares closed at $3.910 a share on 08 January 2020, up by 2 per cent from its previous close on ASX, with a market capitalization of $6.68 Billion. The company has a P/E ratio of 29.78 and EPS of $0.129.
Northern Star Resources Completes Acquisition of 50% stake in KCGN
Northern Star Resources (ASX:NST) announced the completion of the acquisition of 50% stake from Newmont Gold in the Kalgoorlie Super pit operations for a cash consideration of $800 million. The acquisition includes a USD 25 million, refundable option valid for 120 days to exclusively negotiate and acquire the Newmont power business which supplies power to KCGM. As per the latest guidance from Newmont, the KCGM operations would produce almost 570 koz in CY2020.
All-in sustaining cost (AISC) stood at $1,296 an ounce. The FY20 production guidance for Northern Star is expected between 920 and 1040 koz at an AISC of $1,240 to $1,340 per ounce including 120 to 140 koz gold production from KCGM.
Northern Star shares closed 2.5% up against its previous close on ASX, at $12.20 a share (as on 08 January 2020), with a market capitalization of $8.88 Billion. The company has a P/E ratio of 48.77 and EPS of $0.244.
Gold Road Resources (ASX:GOR) is a mid-tier gold miner and is one of the co-owners of the Gruyere gold project with an annual capacity of 300 koz till 2030. The company formed a JV with Goldfields in 2016 to develop the Gruyere project which came onstream in 2019. The company has a long history of working on the Yamarna Greenstone belt since 2004, the year of the Gold Road's inception. The $621 Million Gold project poured its first gold in June 2019. Extensive exploration programs have been planned on 150+ targets with more than a million ounces to further extend the mine life of the low-cost Gruyere operations.
Update on the exploration Program at Yamarna
The company recently published an update on the exploration program at Yamarna, which covered approximately 1,675 square kilometres. The large-scale gravity survey captured 18,350 data points for geospatial modelling.
With the further analysis of the data captured, Gold Road can identify and prioritise the targets to be explored during 2020. Gold Road plans to follow a staged approach to manage, prioritise and successfully explore its portfolio.
The company has EPS of -$0.044. Gruyere completed the first operating quarter in September producing 29,107 ounces, higher than the expectations. The Gruyere operations expect to produce 75-100 koz (100% basis) in CY2019. The All-in Sustaining Cost (AISC) for the December quarter is expected to lie in the range of $1,050-1,150 an ounce as the process plant ramps up to its nameplate capacity. Evolution shares closed at $1.39 a share on January 8 2020 with a market capitalization of $1.23 Billion, which underpinned a price appreciation of 2.5 per cent against its previous close on ASX.
Suggested Read: What's latest with GOR, IGO?
Resolute Mining (ASX:RSG) owns the fully automated underground gold operations at the Syama mine in Mali. The other Resolute mines include Mako in Senegal, Ravenswood in Australia along with the Bibiani project in Ghana. The company experienced a production of 103,201 ounces of gold with sales of 127,265 ounces of Gold with a group level cash cost of $1,439 an ounce.
The company has recorded significant forward sales to further boost its revenue. The Ravenswood expansion project was also completed in late December and expects to produce 80 koz a year at an AISC of $1,600 an oz. Stage 2 of the expansion is expected to be completed in 2020 with its ramp-up in 2022, expanding the targeted production to reach 200 koz per year.
Syama sulphide operations restarted the Sulphide roaster and added a secondary crusher at the operations. Resolute mining acquired Toro Gold from Lion selection group to add Mako to its portfolio as Resolute to strengthen its operating segment.
The company stock closed at 1.26 AUD at ASX on January 8, 2020 with a market capitalization of $ 1.16 Billion, 2.4 per cent up against its previous close on the exchange.
The surging demand from gold-backed ETF and central banks is likely to continue as long as gold continues to provide security against price drops and fluctuations in the commodity, geopolitical issues and trade war. These 5 gold mining stocks could shine in the upcoming future. The share prices of the gold miners closely follow the gold prices. In the continued times of uncertainty over Trump's impeachment and re-election, trade war dispute , unrests in middle east, and the global uncertain economic conditions, the gold miners are increasing production either by revamping or by acquiring new assets to benefit from the higher gold prices.
---
Disclaimer
This website is a service of Kalkine Media Pty. Ltd. A.C.N. 629 651 672. The website has been prepared for informational purposes only and is not intended to be used as a complete source of information on any particular company. Kalkine Media does not in any way endorse or recommend individuals, products or services that may be discussed on this site. Our publications are NOT a solicitation or recommendation to buy, sell or hold. We are neither licensed nor qualified to provide investment advice.