Employment in Australia
In September 2019, unemployment rate in Australia witnessed a decline for the first time in seven months, as compared to unemployment rate reported in the previous month and market expectations. As per the data provided on some sources, the country's seasonally adjusted unemployment rate went down from 5.3% in August 2019 to 5.2% in September 2019. As per media reports, the number of unemployed dropped by 8.1k. While male unemployment saw an increase of 4.6k, female unemployment witnessed a fall of 12.8k.
In the recent times, significant job creation along with an increase in the proportion of the adult population in work or actively looking for a job, has put a downward pressure on the unemployment rate. However, the impact of the above advancement has been limited due to simultaneous growth in population and rising participation, that has given an upward push to measures of unemployment. An increase in full-time jobs and steady unemployment also led to a rise in underemployment and underutilisation of resources.
As per data provided in few media reports, the list of top employers in Australia is mainly dominated by the Banking and Financial services sector. Other rank holders include companies from diversified sectors like construction, civil engineering, management consulting, e-commerce, retail etc. Let us now have a look at some of the recent updates from Australia's top employers.
Westpac Banking Corporation (ASX: WBC)
Westpac Banking Corporation is primarily engaged in providing financial services such as lending, investment portfolio management and advice, payments services, superannuation and funds management, deposit taking, general finance, leasing finance etc.
WBC is awarded as No. 1 in the LinkedIn Top Companies List of 2019. This list compliments the 25 top companies nationwide "Where Australia Wants to Work Now".
S&P Global Ratings Upgrade: As per a recent announcement, S&P upgraded Westpac's stand-alone credit profile by one notch. The rating was revised from 'a-' to 'a'. While, the senior debt rating of AA-/A-1+/stable remained the same, S&P rating on certain capital instruments issued by Westpac was increased by one notch. Rating for Basel III compliant Tier 2 instruments was revised from 'BBB' to 'BBB+'. Rating for Basel III compliant Additional Tier 1 capital instruments was changed from 'BB+' to 'BBB-'.
Shareholding Update: As per another recent announcement, the company's voting power in Tower Limited increased from 6.49% to 8.13%.
Financial Highlights: During the year ended 30 September 2018, the company's net interest income increased by 6% in comparison to the prior corresponding period. Total net loans witnessed a rise of 4% or $24.8 billion as compared to 2017. Excluding the impact of foreign currency translation, total net loans increased at a rate of 3%. Net interest margin for the year went up by 7 basis points to 2.13%.

Income Statement (Source: Company Reports)
Stock Performance: Over a period of 1 month and 3 months, the stock generated returns of 3.68% and 1.55%, respectively. Currently, the stock is trading towards the upper band of its 52-weeks trading range of $23.300 - $30.050. The stock closed at a market price of $27.880 and had a market capitalisation of $98.45 billion on 1 November 2019.
Australia and New Zealand Banking Group Limited (ASX: ANZ)
Australia and New Zealand Banking Group Limited is engaged in providing banking and financial services to its customers. Its declared as one of the best employers after Westpac in 2019. ANZ encourages employees to express their true self.
FY19 Full Year Result: During the year ended 30 September 2019, the Group reported a statutory net profit after tax amounting to NZ$1,825 million, representing a decline of 8% on the previous year. Cash NPAT for the year amounted to NZ$1,933 million, up 2% on prior year. The increase in cash NPAT is attributable to ANZ New Zealand's 25% share in Paymark Limited and sales of insurance company OnePath Life (NZ) Limited. Revenue for the period including the impact of one-off items, increased by 3%.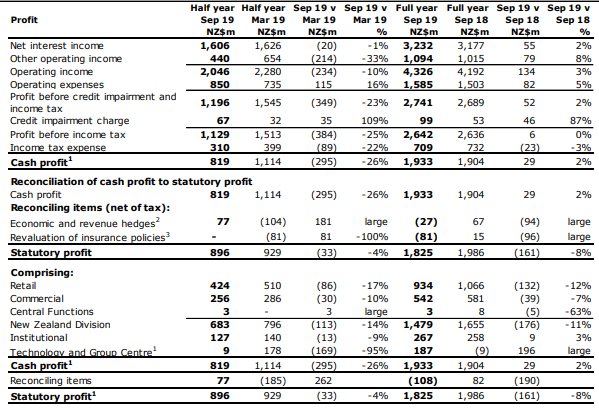 Financial Summary (Source: Company Reports)
During the year, customer deposits and gross lending went up by 5% and 4%, respectively. Operating expenses during the year increased by 5% on a cash NPAT basis due to remediation and increased regulatory requirements.
On the macro front, interest rates dropped to the lowest levels on record due to strong competition in the home lending market combined with Official Cash Rate cuts. This provided a market entry to home buyers and enabled homeowners to pay off as much debt as possible.
Stock Performance: The stock of the company generated negative returns of 3.09% and 1.29% over a period of 1 month and 3 months, respectively. Currently, the stock is trading at a market price of $26.190, down 2.057% on 1 November 2019. As on 1 November 2019, Price/Earnings multiple and market capitalisation for the stock stands at 12.470x and $75.8 billion, respectively.
Lendlease Group (ASX: LLC)
Lendlease Group is primarily engaged in retail property management and asset management. The company recently announced that the 2019 AGM of shareholders and General Meeting of unit holders of Lendlease Trust, will be held on 20 November 2019. LLC has been awarded as the Platinum Employer, for the second year in a row by Australian Workplace Equality Index Awards, and LGBTI Employee Network of the Year (for having the best employee resource group for LGBTIQ).
Appointment of Director: The company recently provided an update regarding appointment of Baroness Margaret Ford OBE as an independent Non-Executive Director, effective 01 March 2020. She is currently serving as the Chairman on the Board of New River REIT Plc and has extensive experience in development and construction, and infrastructure financing.
FY19 Performance: During the year ended 30 June 2019, the company reported a profit after tax amounting to $804 million from the core business. Funds under management for the core business stood at $35.2 billion, up 17% on previous year. The non-core business i.e. engineering and services, reported an after-tax loss amounting to $337 million. During the year, the company secured three major urbanisation projects in Milan, Chicago and Sydney.
Outlook: The company's portfolio of 21 major urbanisation projects provide strong visibility of future earnings. The urbanisation pipeline has grown significantly over the last 5 years from $25 billion to around $80 billion. Given the growth in the urbanisation pipeline, development activity is expected to accelerate materially over the medium term. Integrated projects in Europe and the Americas, are expected to form a larger proportion of the construction backlog over the medium term.
Stock Performance: The stock of the company generated year to date return of 68.86% and has a market capitalisation of $10.55 billion. 52-weeks trading range of the stock stands at $11.030 - $18.960. Currently, the stock is trading close to the upper band of the range and closed at $18.950, up 1.391% on 1 November 2019.
CIMIC Group Limited (ASX: CIM)
CIMIC Group Limited is primarily engaged in construction, mining and mineral processing, public private partnerships, engineering and other services. CIM is again ranked seventh doe work in 2019 by Linkedin. The company is best known for attracting and keeping top talent.
Recent Contract: The company recently updated the exchange that one of its group company, CPB Contractors, will be delivering an upgrade to a northern section of Melbourne's M80 Ring Road. The contract is expected to provide CPB Contrators with an approximate revenue of $331 million. The upgrade, which is funded by the Governments of Australian and Victorian, will reduce congestion and enhance safety for drivers at the M80 Ring Road. Construction under the above contract is expected to start in early 2020, with completion anticipated in early 2023.
Board Changes: In another recent announcement on 23 October 2019, the company updated that Trevor Gerber will step down from the position of independent director with effect from 31 December 2019.
Nine Months Financials: During the nine months ended 30 September 2019, the company generated revenue amounting to $10.7 billion. NPAT for the period amounted to $573 million, up 2% on YoY basis. The period was also marked by a strong operating cash flow of $811 million and net cash of $826 million.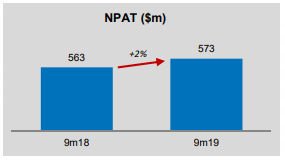 Growth in NPAT (Source: Company Presentation)
Full Year Guidance: NPAT for the year ending 31 December 2019 is expected to be in the range of $790 million - $840 million. The guidance is supported by a positive outlook across core markets, strengthening of the mining market, a strong PPP pipeline in Construction and Services, and a strong balance sheet enabling improved flexibility to pursue strategic growth initiatives and capital allocation opportunities.
Stock Performance: The stock has a market capitalisation of $10.69 billion. Currently, the stock closed at a market price of $32.920, down 0.273% on 01 November 2019.
---
Disclaimer
This website is a service of Kalkine Media Pty. Ltd. A.C.N. 629 651 672. The website has been prepared for informational purposes only and is not intended to be used as a complete source of information on any particular company. Kalkine Media does not in any way endorse or recommend individuals, products or services that may be discussed on this site. Our publications are NOT a solicitation or recommendation to buy, sell or hold. We are neither licensed nor qualified to provide investment advice.