While Coronavirus has impacted almost every sector, the Australian banking industry is in a state of flux. Banks and relevant authorities are taking all suitable steps to minimize the risk arising from the economic slowdown. The credit rating agencies such as Fitch and S&P Global Ratings are taking into consideration the adverse effect of COVID-19 on banks and have recently revised the credit ratings of few banks. APRA has also asked banks to delay their decision on dividend distribution. Although dividend is a major attraction for many investors, banks are withdrawing their dividend distribution as a prudent approach.
In this context, let us look at four big Australian banks and their recent financials, announcements on dividend distribution decision and other crucial activities.
Commonwealth Bank of Australia (ASX:CBA)
CBA in its half yearly FY 2020 results for the period ended 31 December 2019 had declared an interim dividend of $2 per share. The interim pay-out ratio stood at 79 per cent of cash NPAT. Also, the Company mentioned that it targets the full year pay-out ratio to lie in the range of 70 – 80 per cent. Now with the COVID-19 impact on the economy, the dividend pay-out plans of the company could be in shambles.
Other highlights.
Group net interest margin (NIM) was up by 1 basis point on 2H FY2019 and recorded at 211 bpts in 2H Fy2020 vs 210 bpts in 2H2019. Due to the stable Group NIM, net interest income increased by 1.7 per cent.
CBA further mentioned that lower cash rate would impact NIM. Also, it predicts that cuts in cash rate will have a negative effect on NIM. Reduction by 5 bpts in 2H FY 2020 (vs 1H FY 2020) and 4 bpts each in FY 2020 (vs FY 2019) and in FY 2021 (vs FY 2020).
Common Equity Tier 1 capital ratio was 11.7 per cent and cash return on equity was 12.7 per cent.
Statutory net profit after tax came in at $6,161million, an increase of 34 per cent. Which includes a $1,688 million from the gain on sale of CFSGAM.
On 1 April 2020, CBA provided an update on divestment of CommInsure Life, its Australian life insurance business to AIA Group Limited. Under the revised transaction path, Commonwealth Bank has obtained further proceeds of around $865 million. In 1H FY 2020, the Bank received $740 million of proceeds, which brings the total proceeds to $1.6 billion.
As a result of coronavirus pandemic, the number of doubtful or bad debts are most likely to rise for banks. We will only get to know the present financial situation of CBA and its plans to deal with the COVID-19 situation once the bank releases its third quarter results on 13 May 2020.
On 11 May CBA received final approval from the regulators for the divestment of 80% stake in PTCL- CBA's Indonesian life insurance business. The deal is anticipated to complete in June 2020.
On 12 May 2020, CBA was trading at $59.42, down by 1.18 per cent (AEST: 1:34 PM).
Also Read: Commonwealth Bank beats market expectations: $2 interim dividend announced
Westpac Banking Corporation (ASX: WBC)
WBC recently released its interim results for six months period ended 31 March 2020. The Company made a prudent decision on deferring its dividend distribution. Following APRA's guidance on dividends, the bank stated that it will not pay a dividend in June 2020.
However, for FY 2019 the bank delivered a fully franked interim and final dividend of 94 cps and 80 cps, respectively.
For the coming 6 months, Westpac is continuously evaluating the uncertainty in economic situations. Albeit, WBC assures that it will continue to evaluate opportunities for improving its capital utilisation throughout the Group.
Other key highlights from 1H FY 2020 report.
Net interest income came in at $9,000 million, an increase of 9 per cent or $737 million on pcp basis.
Net profit attributable to owners of the Company was $1,190 million, which marked a dip of 62 per cent or $1,983 million as compared to prior year.
Cash earnings were down by 70 per cent on pcp basis, to $993 million. Cash earnings per share was reported at 28 cents, down by 71 per cent.
The Company recorded an impairment charge of $2,238 million, a significant increase of around $1,905 million on account of COVID-19 pandemic impact.
Return on equity of 2.9 per cent.
Regarding the capital position of the bank, Westpac has not got any apprehensions from APRA.
Common equity Tier 1 capital ratio was reported at 10.8 per cent.
On 12 May 2020, WBC was trading at $15.280, down by 2.23 per cent (AEST: 2:03 PM).
Australia and New Zealand Banking Group Limited (ASX:ANZ)
ANZ recently released its half year FY 2020 results for the period ending 31 March 2020, and the bank has deferred its decision on interim dividend. ANZ mentioned that further update on dividend will be provided in August 2020. In FY 2019, the bank was able to deliver the dividend of 80 cents per share in both half yearly results.
COVID-19 has had a material impact on the results, key highlights are as follows.
Earnings Per Ordinary Share was 54.6 cents as compared to 111.7 cents in pcp.
Return on average assets was 0.30 per cent as compared to 0.65 per cent in the same corresponding period last year.
Return on equity was 4.7 per cent and CET1 capital ratio was 10.8 per cent.
Net interest margin was 1.69 per cent and net interest income to average credit RWAs was 3.96 per cent.
Statutory profit attributable to shareholders was reported at $1,545 million, a dip of 51 per cent on pcp basis.
Cash profit from continuing operations decreased by 60 per cent, to $ 1,413 million.
In the March 2020 half-year period, ANZ recognized $1.7 billion pre-tax of credit impairment charge. Due to COVID-19, the bank suffered $815 million impairment loss on two of its Asian investments.
On 12 May 2020, ANZ was trading at $15.52, down by 1.84 per cent (AEST: 2:30 PM).
National Australia Bank Limited (ASX:NAB)
The bank had declared a fully franked dividend distribution of 30 cps for six-month period ended 31 March 2020. Record date for determining entitlements to the dividend was 4 May 2020 and payment date is 3 July 2020. Although the revenue and NPAT were down by 2.7 per cent and 51.3 per cent, respectively.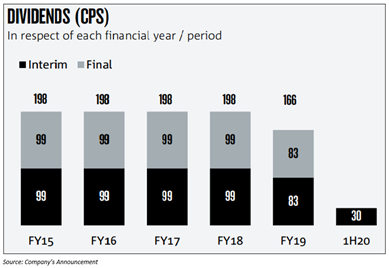 Revenue from ordinary activities stood at $8,920 million and NPAT from ordinary activities attributable to NAB's owners was $1,313 million. Cash earnings decreased by 51.4 per cent on pcp basis, to $1,436 million.
Group Common Equity Tier 1 ratio was 10.39 per cent, which is an increase of 1 bp (on September 2019). As at 31 March 2020, the leverage ratio was 5.2 per cent (APRA basis).
The bank stated that more than 1.5 million customers visited its online support site for COVID-19. NAB offered up to 10 business days leave to all its colleagues and nearly 81 per cent of them were working remotely.
The bank provided an economic outlook for Australia, where it stated that the country's GDP is likely to dip by 8.4 per cent by September 2020 as compared to December 2019. Unemployment is likely to peak at 11.7 per cent in mid-2020 and expected to improve to 7.3 per cent by December 2021.
In pursuant to a placement issued on 27 April 2020, NAB confirmed that it had completed the process of issuance and allotment of fully paid ordinary shares. Total of 212,014,135 shares was issued at a price of $14.15 per share. On 4 May 2020, NAB notified the market that SPP is opened for a subscription of a maximum of $30,000 new fully paid ordinary shares.
On 12 May 2020, NAB was trading at $15.49, down by 3 per cent (AEST: 2:30 PM).