Summary

Empire Resources' exploration activities continue to add value to its projects, whilst investment interests continue to mature- offering the potential for significant, non-dilutive revenue into 2020.
The Company seeks to extract value from direct exploration in existing projects and identifying value accretive investment opportunities that complement its development objectives
Recent encouraging results of RC drilling and DHEM surveys at Yuinmery Copper-Gold Project underpin the potential for discovery of new copper-gold deposits within project limits

More activities remain in the pipeline, as Empire aims further investigation of this "exciting project"
Mineral explorer and developer focussing on gold and copper, Empire Resources Limited (ASX:ERL) owns 100 % of two highly prospective projects- Yuinmery Copper-Gold Project and Penny's Gold Project. Both projects have numerous exploration targets with excellent potential and have been advancing well, owing to the Company's systematic approach to exploration and an experienced team of exploration, development, and financial professionals.
Recently, Empire Resources intimated about encouraging results from Yuinmery prospects-
Smith Well- wherein the presence of broad zones of disseminated to matrix sulphide mineralisation and a strong downhole electromagnetic (DHEM) conductor response was reported.
YT01- wherein drilling indicates a potential for copper-gold mineralisation and warrant further follow up work.
Backdrop & Management View
In May 2020, three RC holes and one re-entry for 462 m at Yuinmery tested the extent of copper-nickel mineralisation at Smith Well, followed up encouraging copper-gold results from March RC drill program at YT01. Further, DHEM geophysical surveys were undertaken to test for off-hole sulphide mineralisation signatures at both prospects.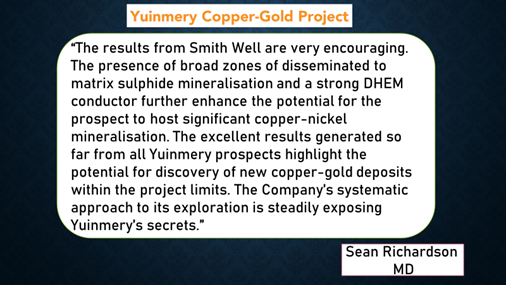 Let us dive into details of these significant updates-
Smith Well Prospect Developments
Reportedly, 7 RC holes demonstrated very strong EM responses of up to 38,000S, surveyed by Southern Geoscience Consultants Niche Acquisition (SGC-NA). The RC program, designed to provide additional DHEM data beyond limits of the 2008 modelled DHEM anomaly, demonstrated as below-
Hole YRC20-19 was designed to test upper-centre of the 2008 modelled DHEM geophysical plate, which-
Intercepted 16m of disseminated to matrix sulphides from 102m, including 10m of matrix (>55%) sulphides consisting of pyrrhotite, pyrite and chalcopyrite from 107m.
Assays returned 16m @ 0.50% Cu, 0.25% Ni & 0.03% Co from 102m including 1m @ 0.88% Cu, 0.32% Ni & 0.04% Co from 116m
Hole YRC20-20 was designed to test the north-eastern extent of mineralisation, which-
Intercepted 12m of disseminated to matrix sulphides from 119m
Assays returned 7m @ 0.45% Cu, 0.28% Ni & 0.04% Co from 123m
DHEM Specifics
DHEM data were acquired in four holes at Smith Well prospect using a single transmitter loop. Logs suggested strong conductive source restricting EM signal and limiting off-hole detection. SGC modelled plates for these holes individually before generating a singular DHEM plate to comply with all four surveys.
Location of May 2020 DHEM plate demonstrates good convergence with previous DHEM surveys. Location of the single plate model is interpreted as the upper contact of copper mineralisation, located within highly conductive black shales (as observed in holes YRC20-19 and YRC20-20).
YT01 Prospect Developments
Results of drilling at YT01 indicate the potential for copper-gold mineralisation.
RC drilling in March intercepted copper oxide minerals above the base of oxidation and trace and disseminated sulphides consisting of chalcopyrite, pyrrhotite and pyrite in holes YRC20-14, YRC20-15, YRC20-16 and YRC20-17. Hole YRC20-14 was extended by 24m, based on the end of hole copper anomalism.
1m original samples selected from the drilling program of March showcase encouraging results-
YRC20-14 depicted 44m @ 0.47% Cu & 0.07g/t Au from 88m including

1m @ 1.00% Cu & 0.18g/t Au from 93m
2m @ 1.05% Cu & 0.22g/t Au from 95m
1m @ 1.40% Cu & 0.13g/t Au from 101m
No discrete basement conductors were observed in the DHEM data, post DHEM surveys were concluded by SGC-NA.
What Remains in Pipeline?
Further RC drilling is planned for Smith Well prospect to test the strike and depth of mineralisation at this exciting prospect. At YT01 Prospect, further, follow up work is likely, given the indication of potential copper-gold mineralisation.
As MD Sean Richardson states- "The Company looks forward to further investigation of this exciting project"
ERL quoted $ 0.011 on 3 July 2020, up by 10%, and the stock has delivered returns of 35.56 % in the last one year.
(Note: All currency in AUD, unless specified otherwise)