The worst is not over for the Australian markets as oil prices continue to fall and Brent crude hit a 21-year low on 20 April amid bleak predictions on economy indicate at one of the worst economic contraction since the Great depression.
While the number of coronavirus cases in Australia are flattening due to strict social distancing and lockdown measures adopted by the government, there are three arches that are not levelling, i.e. oil futures, yield curves and inflation expectations.
These measures can provide an estimate of the viability and success of the policies adopted to control and overcome the crisis caused to the country due to coronavirus outbreak that has disrupted the economy drastically.
Oil futures
Oil prices have been falling as travel bans and lockdown measures being taken up by the countries to prevent coronavirus outbreak have widely reduced the fuel used by the world. This has resulted in growing stockpiles with almost no storage capacity.
The price on a futures contract for West Texas Intermediate (WTI) fell into the sub-zero territory to as low as minus US$37.63 per barrel on Monday impacted by multiple factors of demand erosion due to coronavirus pandemic. The US is running out of storage capacity amidst technicality where May futures contracts expired on 21 April.
As per the International Energy Agency (IEA), global oil demand will plunge by 9% in 2020 because of coronavirus lockdowns, hampering efforts made by OPEC to impede the supply glut of crude oil. The oil consumption is expected to fall by 9 million barrels per day, reflecting that a decade of demand expansion will be lost in 2020.
ALSO READ: Markets positive on US but in fear amid an oil supply glut
On 22 April, WTI futures contract for June delivery was trading around $11 a barrel after a lift a day before the prices turned negative. The global benchmark Brent crude due for June was trading around $17.43 per barrel on 22 April, lowest since 1999, after falling 24% in the previous session closing at $19.33. The fall was due to the demand slump and massive oil supply glut due to coronavirus outbreak.
American energy companies have run out of storage, forcing sellers to actually pay buyers to meet their oil storage requirements. This implies that with no place to store the oil, a crude contract that is about to come due is unwanted.
OPEC and Russia have come to the pact of reducing output by approximately ten million barrels per day during the next two months. Still, as per market experts, the cut is too less to counter about 20 million bpd demand slump in April and May.
As per the Monthly Oil market report for April 2020, OPEC called the term structure of crude benchmarks to be moving to a "super contango"- a situation where the spot price is lower than the forward price of the commodity.
OPEC has forecasted demand for OPEC crude at 24.5 million barrels per day in 2020.
The production cuts must happen at a quicker pace to avoid storage plans. Global economic recovery and eventual easing of lockdown measures can help in wiping out storage problems of oil.
Demand slump and oil oversupply with a lack of storage capacity continue to worry energy companies and have posed new inflation and credit risks to US oil companies.
Yield curve
Yield curves, as measured by the difference between the short-term and long-term yields, have steepened from their March lows. If we take the 2-year government bond and the 10-year government bond yield, the Australian yield curve has steepened to 61 basis points on 20 April from 18 basis points on 9 March.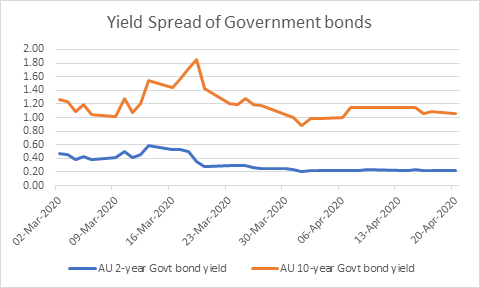 The government inflation-indexed bond yield reached a peak in mid-March, as there was a massive sell-off of bonds with the bond yield reaching the peak as evident in the below figure. Nonetheless, yields are now stabilising with RBA's quantitative easing program with cash rate as low as 0.25%.
This shows various policy measures taken up by the government and central bank that have steepened the yield curves.
Inflation expectations
Inflation expectations make a vital contribution to the inflation forecast process and help in the formulation of macroeconomic policy settings.
Breakeven rates reflect the difference between the yield on a standard Treasury bond and the yield on an inflation-indexed bond of comparable maturity and credit value. It shows the market's probability for inflation and helps in figuring out the asset that will outpace the other.
Inflation expectations have recovered after falling in March and are now steadying as can be seen in the graph above.
ALSO READ: Economies On COVID-19 Fight, Will Their Measures Suffice?
As a result of low crude oil price, suppressed demand due to lockdowns. Markets are pricing very low inflation. However, when inflation numbers are released by ABS, the movement in Indexed bond yields and normal yields should be worth noting.
RBA has a target of 2-3% inflation, and the ability to achieve the target is low when cash rates are close to 0. Amidst massive job losses, supply disruptions and demand slump due to COVID-19, inflation will take considerable time to get close to central bank targets.