The coronavirus outbreak has had a severe impact on the Australian economy and has led to the government taking several measures to tackle the unprecedented situation. The measures included the provision of financial aid to boost the economy and implementation of nation-wide lockdown to curb the spread of the virus. The federal government had assigned ~$320 billion in support package, and a significant portion of that was dedicated to assist eligible employers run their businesses.
The Treasurer of Australia anticipates that the country is set to witness a fall by more than 10% in its gross domestic product (GDP) in the June quarter, representing the biggest fall on record. The government has postponed the release of 2020-21 federal budget until it measures the complete economic cost of the COVID-19 pandemic.
Let us look at six ASX-listed stocks and have a glance at their recent activities amid the crisis- GNC, VVR, D2O, SSG, ICQ, STI.
GrainCorp Limited Reported Strong Results for 1H20
Agricultural Company GrainCorp Limited (ASX:GNC) provides grain storage, handling and freight services on the east coast of Australia. GrainCorp is mainly focused on three grains- wheat, canola, and barley.
On 14 May 2020, the Company reported results for the FY20 first half ended 31 March 2020. The highlights are:
On Cash flow front, GrainCorp has reported a profit after tax of $388 million reflecting a significant repositioning of the Group's portfolio. The Underlying EBITDA and underlying NPAT were reported to be $183 million and $55 million respectively, substantially up on the prior corresponding period (pcp).
On the operational front, Agribusiness benefited from its new more flexible rail contracts and the first year of the Crop Production Contract, which included a $45 million net gain.
Moreover, there was no repeat of the negative impact from last year's disrupted grain trade flows and the Feeds, Fats & Oils businesses performed well with strong demand.
Outlook for H2 FY2020:
In the second half, higher grain exports are anticipated but will be offset by lower imports as domestic demand is likely to taper in the fourth quarter. Recent rainfall will be a boost for FY2021.
Tonnes handled skewed to the first half.
The new rail contracts that came in effect in FY20 to remain beneficial for GrainCorp and rail operator with greater flexibility as well as alignment to volumes.
The Company foresee the continuation of healthy oilseed crush margins owing to improved canola oil and meal values.
For the financial year 2021, the Company is projecting Widespread planting and crop expected due to recent rainfall in ECA and favourable weather outlook.
GNC stock climbed by 11.55% to $3.670 on 14 May 2020 with a market cap of $752.94 million and 228.86 million outstanding shares on the ASX.
Viva Energy REIT Recorded 3.7% growth in Distributable Earnings
A leading real estate investment trust (REIT), Viva Energy REIT (ASX:VVR) is principally working with the activity to invest in service station properties. The Company is working with the objective of increasing income on the long-term as well as capital returns from its portfolio ownership for the profit of all security holders.
On 14 May 2020, Viva Energy updated the market with its AGM presentation providing the key financial and business highlights.
On cash flow front, the Company disclosed distributable earnings of 14.54cps up by 3.7% on the financial year 2019. The Net Tangible Assets (NTA) was reported to be $2.29 per security up by 4.1% from December 2018.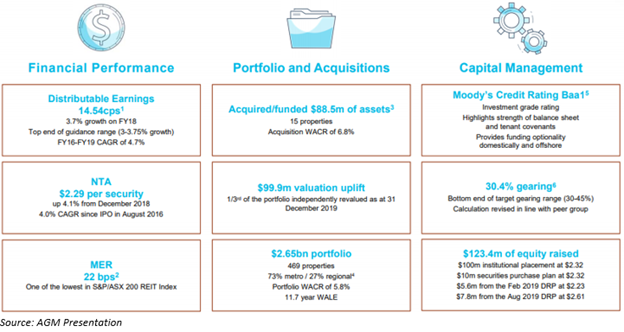 On the operational front, the Company acquired/funded nearly $88.5 million of assets including 15 properties. Viva Energy disclosed $99.9 million of valuation uplift and 1/3rd of the portfolio independently revalued as at 31 December 2019.
The Company updated that, in February 2020, Viva Energy Australia Pty Ltd (a part of the Viva Energy Group Limited (ASX:VEA)) sold its 35.5% holding in Viva Energy REIT, out of which 10% stake acquired by Charter Hall and rest 25.5% sold to a range of institutional investors.
COVID-19 Update: Related to the impact of COVID-19, Viva Energy REIT mentioned that it had observed minimal impact from coronavirus outbreak so far. Moreover, the Company is in discussions about rental relief with six small non-fuel tenants.
On 14 May 2020, the stock of VVR rose by 1.288% to $2.360 with a market capitalisation of nearly $1.82 billion and 780.86 million outstanding shares on the ASX.
Duxton Water Provides Dividend Guidance Until 2022
Utilities sector Company Duxton Water Limited (ASX:D2O) is into investing in Australian water entitlements.
The Company has confirmed its intention to pay a 100% franked 2.9 cent dividend in September 2020 and a 100% franked 3.0 cent dividend in March 2021. Moreover, the Company also disclosed a further target of fully franked 3.2 cents to be paid in March 2022, providing shareholders one-year visibility during this uncertain situation.
Moreover, the Company also revealed its monthly update highlighting the net asset value (NAV) per share since inception, and the NAV on 30 April 2020 was $1.65 per share.
Below mentioned image shows the net asset value per share of D2O since inception.
On 14 May 2020, the stock price of D2O was up 1.908% at $1.335, with a market cap of $156.38 million.
Shaver Shop's Reported Robust Online Sales Growth, Share price up by ~30%
A New Zealand and Australian specialty retailer Shaver Shop Group Limited (ASX:SSG) provides male and female personal grooming and beauty products.
On 14 May 2020, the Company provided trading and COVID-19 update and disclosed that its online channel had performed strongly. The online sales of the Company grew by 387% in last six weeks (from 1 April 2020 to 10 May 2020). Moreover, total sales climbed by 32.1% in the six weeks. The sales have gone up by 17.6% so far in the second half of FY20.

Related to its COVID-19 update, the Company highlighted that it fully supports efforts of both the government as well as the community to limit the spread of the virus while supporting the economy and taking all precautionary measures such as cashless payments, flexible working arrangements for support office staff, maintaining store cleanliness and sanitation measures.
SSG stock rose by 30.233% trading at $0.560 on 14 May 2020, with a market cap of $54.38 million.
iCar Asia's Unaudited Revenue Reached $4.3 million
Car portal network Company iCar Asia Limited (ASX:ICQ) is engaged in developing and operating network of automotive portals in the ASEAN market. The Company is headquartered in Kuala Lumpur, Malaysia and has its operations in top automotive portals across Indonesia, Thailand, and Malaysia.
On 14 May 2020, iCar Asia provided the trading updated and disclosed that unaudited revenue of the Company year to date until April 2020 reached $4.3 million, an upsurge of 18% YoY regardless of COVID-19 restrictions.
Notably, the Company is expecting that results in the second quarter would be improved by revenue with the Group's two largest markets in Malaysia and Thailand, with the announcement of relaxation of movement and business restrictions. The Company notified that movement and business restrictions remain in place in Indonesia until 22 May 2020.
The stock of ICQ went up by 6% to $0.265 on 14 May 2020, with a market cap of $106.78 million and 427.11 million outstanding shares on ASX.
Spirit Telecom's Revenue Soared by 146% for Jan-April 2020
A telecommunication service provider, Spirit Telecom Limited (ASX:ST1) operates across Australia and is engaged in providing voice, fibre broadband, internet, and business services.
Spirit Telecom revealed that the Company generated a robust revenue & sales trading outcome for April as well as for the period from January to April on a year on year basis. The Company highlighted that total revenue growth increased by 146% to $14.3 million and B2B revenue growth soared by 216% to $12.4 million for Jan-April 2020 as compared to pcp.
Additionally, the Company has a strong balance sheet with a mix of cash and debt of nearly $14.8 million to be deployed for acquisitions and expansion of its Spirit X Digital Sales Platform.
It is noteworthy to mention that the Company announced that in late May 2020, Spirit X platform would launch the NBN Enterprise Ethernet range to its direct customers as well as partners.
ST1 stock grew by 9.375% to $0.175 on 14 May 2020, with a market cap of $68.22 million.
NOTE: All figures are reported in Australian Dollars unless stated otherwise