In the contemporary world, digital transformation acts as a key promoter of bringing change in the world around us. It has the potential to significantly improve our needs and providing businesses with new opportunities for value creation. The telecommunications industry is facing a digital transformation at a very rapid pace. An access to a globally connected network has been benefitted by millions of people around the world, since they are able to receive useful information in a timely manner.
In this article, the two communication sector companies, being discussed are engaged in the business related to the communication services.
The S&P/ASX 200 Communication Services (Sector) was trading on 30th August 2019, up 1.3 % or 16.9 points, and the Australian Benchmark S&P/ASX 200 was trading at 6599.3, up by 91.9 points or 1.4% (at AEST 12:32 PM).
Let's go through the recent updates on the two stocks under discussion as follows:
WPP AUNZ Limited
WPP AUNZ Limited (ASX: WPP) is a leading creative transformation entity in Australia. It provides various services related to marketing, content and communications services. WPP includes of companies associated with advertisement, data investment management, public relations and so forth.
Recent Updates
On 23 August 2019, WPP declared its half-year report for the period closed 30 June this year.
Key Highlights of Financial Performance of H1 CY 2019:
Net sales stood at $405.6 million (falling down by 2.6%) when compared to 2018's 416.3 million.
EBIT stood at $43.6 million (slipping down by 12.6%) when compared to the previous corresponding period's 49.9 million.
Interim dividend of 2.3 cps was in accordance with the last year's half-year dividend of 2.3 cps.
Non-cash impairments of intangible assets totalled $295 million in Advertising & Media Investment Management and Data Investment Management divisions.

Dividend
The company has declared 100 percent franked dividend of AUD 0.023, with an ex date of 25 September this year, record date of 26 September this year and is payable by 3 October 2019.
Outlook
The current performance of the Australian and New Zealand markets media spending is anticipated to be flat with diverse performance in the individual market segments. Also,
the company is currently expected to deliver earnings per share (EPS) to be on the downside of 5% - 10% for 2019. Data Investment Management, Public Relations and Specialist Communications divisions of the company, have achieved organic earnings growth in the first half of the year and are expected to be on the same path for the rest of the year as well.
On 16th August 2019, the company has announced to sell 100% of its stakes in the Kantar businesses in New Zealand & Australia.
Few Highlights of the transaction are as follows:
The planned transaction of Kantar simplifies WPP. An attractive strategic financial result can be seen for WPP and its shareholders.
Kantar's 2019 budgeted EBITDA is equal to a multiple of 8.2x which is equivalent to transaction value of Kantar i.e $168 million.
Proceeds to WPP post conclusion, post-sale costs, and provision for restructure liabilities at the consideration of $8.4 million, are anticipated to be of around $150 million, payable in cash.
The transaction under discussion creates flexibility in balance sheet to pursue progress and capability to return funds to shareholders.
The transaction is anticipated to complete in early 2020 which is subject to approval of non - WPP plc shareholders of WPP and conclusion of the WPP plc international deal.
Use of Proceeds
The management of the company would review the utilisation of the proceeds of the anticipated receipt in initial part of 2020, on the back of existing gearing levels, capital requirements, cashflow guidance and so forth.
Stock Performance
On 30 August 2019, WPP's stock was trading at AUD 0.54, with a fall of 1.818 per cent (at AEST 1:40 PM). The company has ~852.15 million shares outstanding, and a market cap of AUD 468.68 million. The 52-week high and low value of the stock was at AUD 0.950 and AUD 0.420, respectively, at the time of writing the report.
QMS Media Limited (ASX: QMS)
A leader among the outdoor media entities in nations like Australia, New Zealand and Indonesia, it focuses in quality landmark digital and static billboards, sport and transit media and street furniture.
Recent Updates
On 23 August 2019, QMS declared the FY report for the interim period closed 30 June this year.
Key Highlights of Financial Performance of H1 CY 2019:
Revenue was up by 23% to $128.9 million.
Underlying EBITDA was up by 144% to $56.4.
NPAT up by 65% to $16.5.
Gross profit up by 85% to $90.5 million.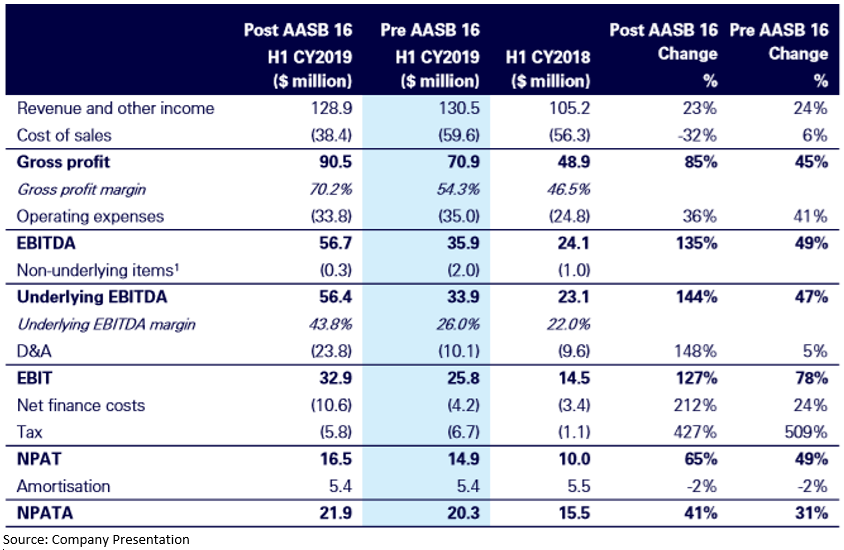 Segment Update
Highlights from Business Segment:
QMS Australia achieved good group revenue in a competitive marketplace, the revenue & Underlying EBITDA is up by 8% & 16% to $64.4 million & $21.6 million, respectively.
The Australian media business' focus on quality digital assets outperformed the market; with media revenue up by 63 percent, large format billboard revenue up by 8.3 percent and market leading digital revenue contribution, 81 percent of Australian media revenue.
QMS Sport's solid financial performance with revenue and underlying EBITDA growth of 119% and 251 % respectively.
QMS NZ and MediaWorks merger obtained a regulatory approval in July this year, with the deal anticipated to conclude in September CY 2019.
According to Barclay Nettlefold, CEO, QMS, the company's operational and financial performance were highly satisfactory. A clear point of differentiation had been provided from the competitors through company's unique diversification strategy.
The YTD results for the QMS Sports segment is extremely good, with the progress being made in revenue and underlying EBITDA. Also, QMS Australia is expected to grow by 15-20% compared to the last year period during the same time.
Dividend
On 23th August 2019, the company had announced 100 percent franked dividend of 1.2 cps. The dividend has an ex date of 19 September 2019 and record date of 20 September 2019. It is to be paid by 21 October 2019.
Outlook
The primary focus for QMS Australia is quality landmark digital billboards. Proprietary data provides a greater understanding of assets and their impact on target audiences and their return on investment. Also, QMS Sport segment is transforming into international integrated platform, which is aligned by new technology by offering opportunities in the fragmented market.
Acquisition of TLA Australia and Stride and Capital raise launched
On 9th August 2019, the company had announced to acquire TLA Worldwide (Australia) Pty Ltd & TLA – ESP Limited (United Kingdom) along with Stride Sports Management Holdings Pty Ltd businesses.
Key Highlights of the transaction are as follow:
The company would invest AUD$32.7 million for the acquisition of both the businesses.
On pro-forma basis, the acquisition is expected to contribute AUD$ 6.0 million pre synergies.
$1-2 million/annum synergies are expected to be realised by the end of CY 2020.
TLA & Stride acquisitions are expected to be accretive EPS in CY 2019 at an EV/EBITDA multiple of 5.3x.
The transaction is expected to be finalised in 30 days and is subject to customary conditions, which comprises of financing conditions precedent and shareholder approval of the TLA parent entity.
Funding of the Transaction
The acquisitions of the two businesses discussed above would be funded through private placement of fully paid unlisted ordinary shares of QMS sport to various sophisticated and institutional investors for raising ~A$ 12 million. The lead managers for the private placement are E.L & C. Baillieu Limited. The remaining balance if the purchase price would be funded through a short- term bank financing facility, that would be paid back in 2020.
Trading
QMS Sport EBITDA for H1 CY 2019 is anticipated between ~A$ 11.0 – A$11.5 million. Sport business has a forecast of strong organic growth and the seasonal weighting of earnings of first half of calendar is expected to continue.
Stock Performance
QMS' stock is trading on ASX at AUD 0.835 with a slip of 0.595%. percent (at AEST 2:41 PM). With ~344.5 million outstanding shares, the company has a market cap of AUD 298.38 million. The 52-week high and low value of the stock was noted at AUD 1.050 and AUD 0.660 respectively, at the time of writing the report.
---
Disclaimer
This website is a service of Kalkine Media Pty. Ltd. A.C.N. 629 651 672. The website has been prepared for informational purposes only and is not intended to be used as a complete source of information on any particular company. Kalkine Media does not in any way endorse or recommend individuals, products or services that may be discussed on this site. Our publications are NOT a solicitation or recommendation to buy, sell or hold. We are neither licensed nor qualified to provide investment advice.
With the pandemic continuing to affect the globe, healthcare companies are evaluating their lead compounds for COVID-19 treatment. Future revenue for these stocks depends on the probability of launching an approved treatment in the market.
CLICK HERE FOR YOUR FREE REPORT!