Highlights

Texas-based Vaxxinity is a biotechnology company specializing in vaccines for chronic disorders and infectious diseases.
The company launched its IPO in November 2021.
The stock price has declined by over 72% since the IPO.
Shares of biotechnology company Vaxxinity, Inc. (Nasdaq: VAXX) rose for the second consecutive day on Friday, gaining over 80% to US$6.79 from the previous close at 2:51 pm ET.
The two-day rally follows the company's updates about its ongoing Phase 1 clinical trials. Vaxxinity launched its IPO in November 2021. However, the stock has declined more than 72% since its listing.
Also Read: 5 dividend-paying mid-cap stocks to watch: WLL, ZIM, SBLK, GOGL & ARCH
Vaxxinity develops prophylactic and therapeutic vaccines. It has recently completed the enrollment for the Part B clinical trial of UB-312, a candidate vaccine for Parkinson's disease.
The investigational drug targets at Parkinson's, dementia with Lewy bodies (DLB), and multiple system atrophy (MSA). The project is supported by the Michael J. Fox Foundation, Mayo Clinic, and the University of Texas. It expects an "end-of-treatment" analysis in the second half of 2022 and a complete analysis in 2023.
Video: Beyond Science – Future of Biotech & Healthcare: Harnessing Inventive Approaches
Vaxxinity, Inc:
Texas-based Vaxxinity is focused on pioneering a new class of synthetic, peptide-based immunotherapeutic vaccines to treat chronic disorders and infectious diseases.
Its pipeline programs are focused on neurodegenerative and cardiovascular diseases.
Also Read: Five student loan stocks to watch in April: DFS to SLM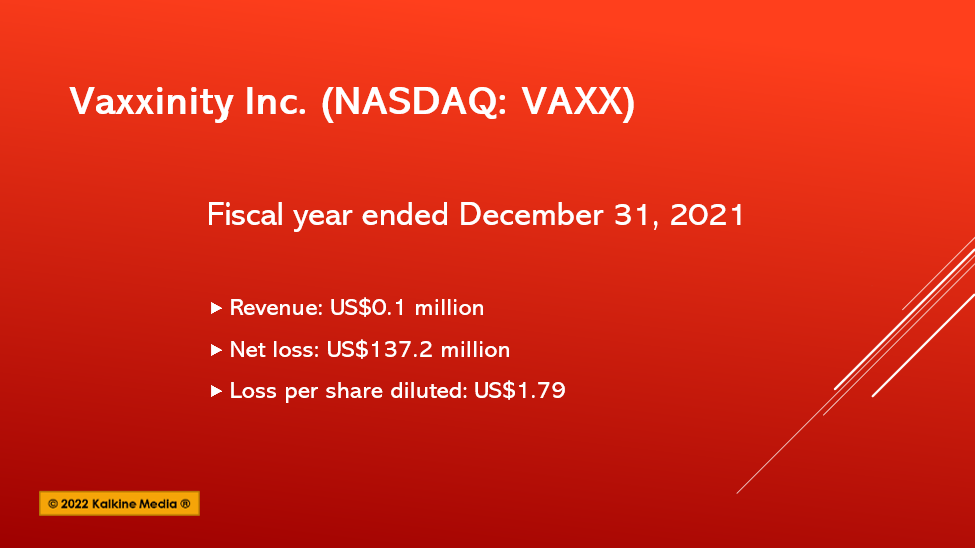 Also Read: Top mental health stocks to watch in Q2: LLY, ACHC, ITCI, LSFT & ACAD
Financials:
Vaxxinity booked a net loss of US$137.2 million or US$1.79 per share diluted for the fiscal year 2021 compared to a net loss of US$39.96 million or US$0.61 per share for fiscal 2020.
Its revenue was US$0.1 million for the fiscal year ended December 31, 2021, compared to US$0.6 million in 2020. Its current market capitalization is US$911 million.
Also Read: CELU to CMPI: Explore top 5 biotech stocks with over 100% YTD return
Bottom line:
The stock's trading volume jumped more than 30 million on Friday following these updates. However, investors should exercise due diligence before investing in the stock market.