Highlights

FDA has agreed to review the new drug application (NDA) for Linzagolix.


It has set Sep 13, 2022, as a target date for the NDA review under the Prescription Drug User Fee Act (PDUFA).


ObsEva announced the appointment of Stephanie Brown to its Board of Directors.
The ObsEva SA (NASDAQ: OBSV) stocks rallied in premarket trading on Monday after the firm said the US Food and Drug Administration (FDA) has agreed to review its new drug Linzagolix.
Linzagolix manages heavy menstrual bleeding associated with uterine fibroids in premenopausal women. The shares of OBSV traded at US$2.47 at 8:51 am ET on Nov 22, up 6.47% from its closing price of November 19, when it closed at US$2.32, up 5.45%.
The FDA's consent comes after ObsEva SA submitted its two Phase 3 Primrose trial data. If approved, Linzagolix will be the first and the only GnRH receptor antagonist with extended dosing options for uterine fibroids, the company said.
Also Read: Top rising fintech stocks to explore
FDA has set Sep 13, 2022, as a target action date for the New Drug Application (NDA) review under the Prescription Drug Fee Act (PDUFA).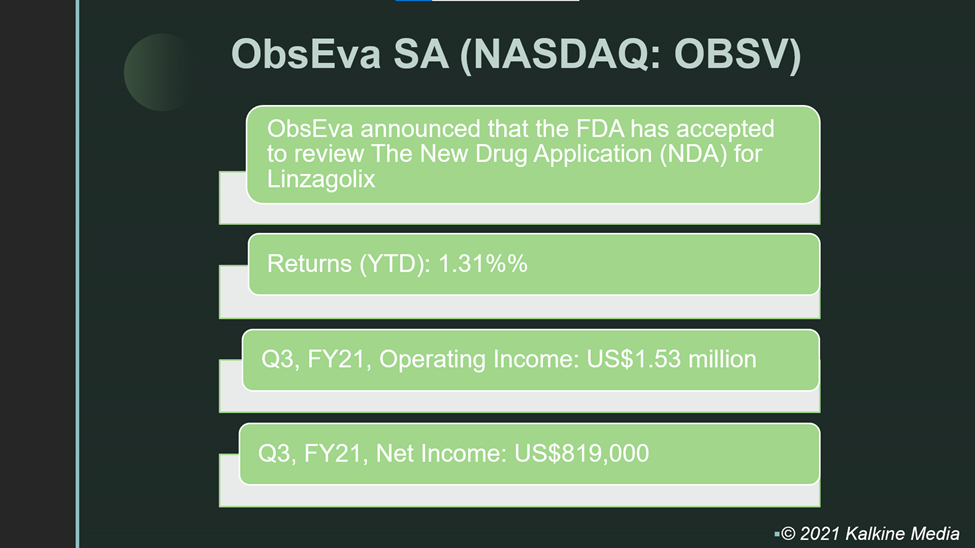 Also Read: Why did Micron Technology (MU) stock skyrocket on Friday?
What's next for ObsEva
ObsEva is a Swiss-based clinical-stage biopharmaceutical firm that aims to address some of the unmet needs in women's health. ObsEva was co-founded by Ernest Loumaye in 2012.
CEO Brian O'Callaghan said FDA's consent is an "important milestone" for the company and the "millions of women" living with uterine fibroids. He expressed optimism about launching the drug in the market soon. In a statement, he added that: "We are encouraged by our positive Phase 3 PRIMROSE results. If approved, we believe Linzagolix will address a significant unmet need in offering a more individualized treatment option for a broader range of women."
Also Read: Greenland Technologies (GTEC) stock jumps 75% - guess why?
Stock performance and financials
ObsEva has a market cap of US$180.89 million, with a forward P/E one year of US$-2.42. Its EPS is US$-0.85. The stock saw the highest price of US$5.55 and the lowest price of US$1.90 in the last 52 weeks. Its share volume on November 19 was 444,205.
The company reported an operating income of US$1.53 million in Q3, FY21, against a loss of US$23.63 million in the year-ago quarter.
Its net income came in at US$819,000, or US$0.01 per diluted share, versus a loss of US$24.38 million, or a loss of US$0.49 per diluted share in the comparable quarter of the previous year.
Also Read: Intuit Inc. (INTU) raises guidance after earnings, stock jumps
Bottomline
On Monday, the company announced that Stephanie Brown has been selected to join its Board of Directors effective from December 1, 2021. The OBSV stock rose 1.31% YTD.