Highlights

Immix Biopharma, Inc. (NASDAQ: IMMX) announced the study data of its lead candidate IMX-110 January 12.
The stock jumped 30.94% at 8:43 am ET in pre-market Wednesday.
The company had its IPO in December 2021.
Immix Biopharma, Inc.'s (NASDAQ: IMMX) stock gained traction and jumped 30.94% at 8:43 am ET in pre-market Wednesday. The stock was priced at US$7.11 and the trading volume reached 9,994,882 today compared to the 10-days average daily volume of 26,321,106.
The company announced its study data today where its lead candidate IMX-110 produced a 50% response rate in first-line-therapy-resistant cancer in a soft tissue sarcoma (STS) mouse study.
Immix Biopharma is a clinical-stage biopharmaceutical company based in Los Angeles, California. It is engaged in developing tissue-specific therapeutics in inflammation and oncology.
Also Read: Five bank stocks to explore as rate hike prospects grow
The U.S. Food and Drug Administration (FDA) has given orphan drug designation (ODD) approval to IMX-110 for treating the soft tissue sarcoma. FDA has approved rare pediatric disease designation (RPD) already to IMX-110 to treat life-threatening pediatric cancer in children.
IMX-110 data across multiple STS subtypes in pretreated patients showed a median progression-free survival of four months with zero adverse events related to the drug and no dose interruption on account of toxicity, as per the latest study.
Also Read: Five alcohol stocks to explore when market gets choppy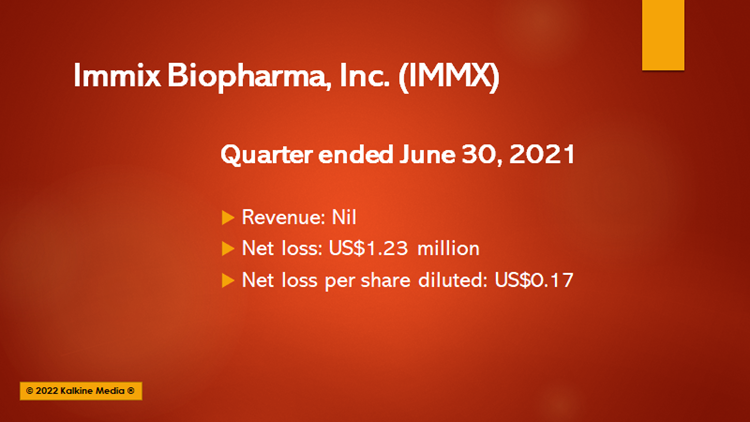 Also Read: Turo Inc IPO: Car-sharing firm eyeing $100M debut on NYSE
The lead candidate IMX-110 is under clinical development for soft tissue sarcoma, whose market is expected to grow to US$6.5 billion by the end of 2030.
The lead asset IMX-110 is currently under Phase 1b/2a clinical trials. Its rare pediatric disease designation makes it qualify for fast-track review and priority review voucher (PRV) while getting marketing approval.
The company's proprietary SMARxT platform produces the drug candidates. These travel in the bloodstream and exit through the tumor blood vessels. At the same time, these drug candidates attack all three tumor micro-environment components.
The company brought its IPO on December 16, 2021, and the stock has grown.
Also Read: Top 5 US e-commerce stocks to explore in Q1 2022
Financials
For the quarter ended June 30, 2021, the company earned no revenue, and the operating expenses were US$0.41 million compared to US$0.21 million in the same quarter of 2020.
Its net loss came in at US$1.23 million in the June quarter of 2021 versus a net loss of US$0.27 million in the June quarter of 2020. The loss per share diluted was US$0.17 in the June quarter of 2021 compared to US$0.04 in the comparable quarter of 2020.
Its market capitalization is US$41 million. The specialty chemical stock price traded in the range of US$8.68 to US$2.85 in the last 52 weeks. The stock closed at US$5.43 on January 11, 2022, with a 9.8% decline.
Also Read: Top 5 US semiconductor stocks to watch in 2022
Bottom line:
The Nasdaq Biotechnology Index (NBI) fell over four percent in one month. Healthcare companies make a profit only when their drugs or therapies are approved, and once they are, the companies have pretty much every possibility to make profits. However, an investor must exercise due diligence before investing in these stocks until the products are approved and ready for commercialization and even after.