Highlights:

The EQ stock jumped over 25 per cent on September 27.
The company announced interim results for its product on Tuesday.
Its trading volume was nearly 4.5 million on Tuesday morning.
The stocks of the clinical-stage biotech firm, Equillium, Inc. (NASDAQ: EQ) drew attention from the market participants on Tuesday, September 27, as seen by the upward momentum in its price. The stock price of EQ stock was up over 25 per cent in the morning trading on September 27.
Let's discuss the latest stock performance and other key details about the firm after exploring the potential reason that may have helped in its recent gains.
Why is it rising?
The San Diego, California-based biotechnology company primarily focuses on developing novel therapeutics for treating severe autoimmune and other diseases with highly unmet medical requirements.
The company announced the interim results of the Type B portion of EQUALISE on September 27, that revealed the efficacy of itolizumab. Equillium claims it to be a "first-in-class" anti-CD6 monoclonal antibody that targets the CD6-ALCAM pathway in people suffering from lupus nephritis (LN).
According to the company's CEO, Bruce Steel, about sixty per cent of the patients with LN could achieve a complete response in one year, despite recently approved treatments.
The EQUALISE study in patients with LN assessed the efficiency, safety, and clinical measures of itolizumab.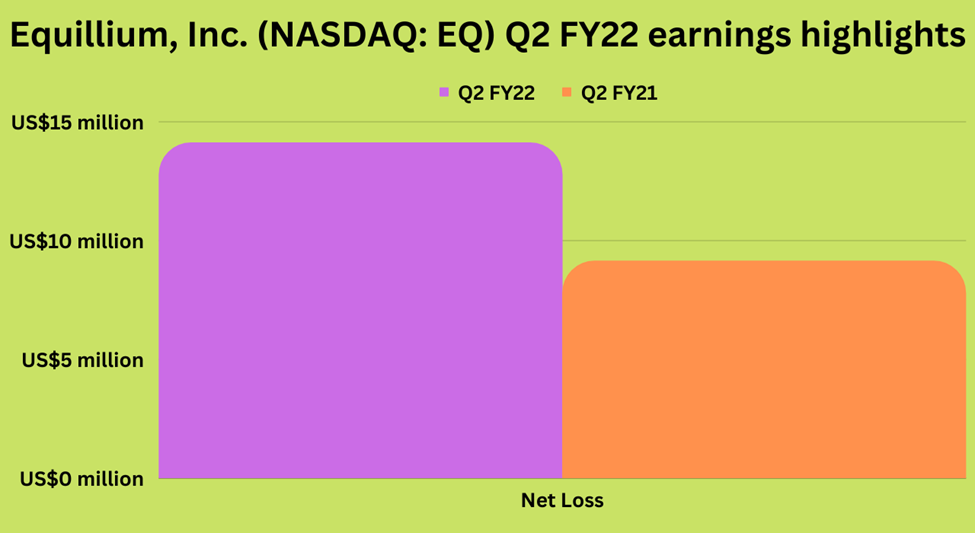 Source: ©Kalkine Media®; © Canva Creative Studio via Canva.com
Bottom line:
The price of the EQ stock jumped 25.65 per cent in the morning trading at 9:44 am ET on Tuesday, September 27, to trade at US$ 2.425, while its trading volume was more than 4.48 million at the same time. The stock of the US$ 81.46 million market cap firm closed at US$ 1.93 in the prior session.
However, despite the significant gains in the EQ stock on Tuesday, its price dropped nearly 15 per cent in the last 30 days.
Regarding its second quarter fiscal 2022 financial results, its total operating expenses were US$ 13.55 million, compared to US$ 8.84 million in Q2 FY21. Equillium net loss was US$ 14.12 million in Q2 FY22, up from US$ 9.15 million in the year-ago period.
Investors should focus on the risks and volatility associated with penny stocks before concluding.