Benchmark US indices continued their rally on Tuesday, November 2, bolstered by gains across stock segments as strong quarterly earnings of companies lifted the market sentiments.
The S&P 500 was up 0.37% to 4,630.65. The Dow Jones rose 0.39% to 36,052.63. The NASDAQ Composite gained 0.34% to 15,649.60, and the small-cap Russell 2000 was up 0.16% to 2,361.86.
Upbeat third-quarter earnings kept the investors' morals high.
Analysts expect the S&P 500 index's earnings to surge 40.2% YoY in the third quarter, according to Refinitiv data. So far, some 320 companies listed on the index have reported their financial results.
The strong results diminished worries about inflation and supply shortages. Investors now eagerly wait for the outcome of the Fed's two-day meet that concludes on Tuesday. The bank was expected to throw more light into its tapering plan. Rate hike expectations have increased after the central banks of Canada and the UK were considering such a move by next year.
Real estate, technology, and basic materials stocks were the top gainers on S&P 500 on Tuesday. Energy and consumer discretionary stocks were the bottom movers. Seven of the 11 stock segments of the index stayed in the positive territory.
Global Markets scaled a new peak on Tuesday
Shares of Pfizer Inc. (PFE) rose 4.49% after reporting strong quarterly results on Tuesday. Its revenue surged 134% YoY to US$24.09 billion in Q3, FY21. It also raised its fiscal 2021 revenue guidance in the range of US$81 billion to US$82 billion.
Avis Budget Group, Inc. (CAR) stock gained 109.90% after its quarterly revenue almost doubled to US$3 billion from the comparable period a year ago. Its adjusted net income came in at US$693 million, or US$10.74 per diluted share, beating analysts' estimates by over US$4.
Shares of Tesla, Inc. (TSLA) tumbled 2.58% after CEO Elon Musk said the company hasn't yet signed a deal with Hertz for vehicle orders. The stocks had jumped last week after news that Hertz had ordered 100,000 vehicles from Tesla.
In the real estate sector, Prologis, Inc. (PLD) rose 1.33%, Public Storage (PSA) rose 2.16%, and Simon Property Group, Inc. (SPG) gained 6.09%. SBA Communications Corporation (SBAC) and CBRE Group Inc. (CBRE) grew 3.37% and 1.16%, respectively.
In technology stocks, Microsoft Corp. (MSFT) rose 1.10%, Nvidia Corporation (NVDA) jumped 2.12%, and Oracle Corporation (ORCL) rose 1.35%. Cisco Systems, Inc. (CSCO) and Accenture PLC (ACN) advanced 3.04% and 1.62%, respectively.
In the energy sector, Exxon Mobil Corporation (XOM) declined 1.12%, ConocoPhillips (COP) fell 2.06%, and Marathon Petroleum Corporation (MPC) tumbled 3.67%. Occidental Petroleum Corporation (OXY) and Valero Energy Corporation (VLO) plunged 1.13% and 2.85%, respectively.
Also Read: Estee Lauder (EL) posts net income of US$692 million in Q1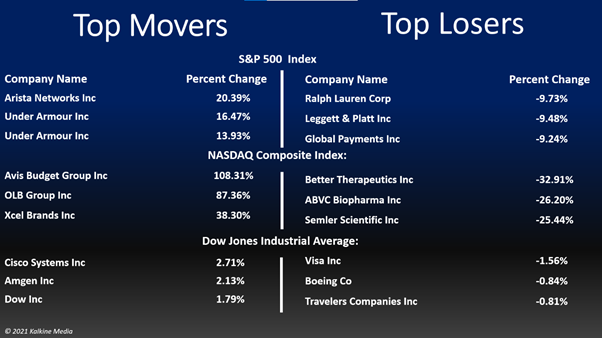 Also Read: ConocoPhillips (COP), BP (BP) Q3 profits rise on high energy demand


Also Read: Lucid, Rivian start delivery of much-awaited inaugural EV models
Futures & Commodities
Gold futures were down 0.38% to US$1,789.05 per ounce. Silver decreased by 2.08% to US$23.573 per ounce, while copper fell 0.51% to US$4.3710.
Brent oil futures decreased by 0.80% to US$84.03 per barrel and WTI crude was down 1.28% to US$82.97.
Bond Market
The 30-year Treasury bond yields was down 0.60% to 1.956, while the 10-year bond yields fell 1.65% to 1.547.
US Dollar Futures Index increased by 0.24% to US$94.102.