Benchmark US indices closed higher on Tuesday, March 29, boosted by gains in technology, consumer cyclical, and real estate stocks after mixed signals from the economy.
The S&P 500 gained 1.23% to 4631.60. The Dow Jones rose 0.97% to 35294.19. The NASDAQ Composite was up 1.84% to 14619.64, and the small-cap Russell 2000 rose 2.65% to 2133.10.
Global benchmark Brent crude prices fell to around US$108 a barrel ahead of the peace talks between senior Russian and Ukrainian officials in Turkey later on Tuesday.
It has been more than a month since Russian President Vladimir Putin ordered a full-scale military offensive in Ukraine. Oil prices dropped in recent days from their record highs early this month. The ongoing fighting has threatened the global supply of essential commodities.
Meanwhile, the Labor Department said the gap between open positions and unemployed people in the US widened further, with February attrition rising by 94,000 from the prior month.
The JOLTS data revealed that quits rose to 4.35 million from January. There were 11.27 million open positions during the same period, slightly down from January.
The highest number of vacancies were in the education and healthcare sectors, followed by skilled and enterprise providers, commerce, and transportation.
On Tuesday, real estate, technology, and consumer cyclicals were among the top movers on S&P 500. Financials, consumer non-cyclical, and energy were the bottom movers. Ten out of 11 segments of the index stayed in the positive territory.
In the real estate sector, Prologis, Inc (PLD) gained 2.71%, American Tower Corporation (AMT) rose 2.25%, and Crown Castle International (CCI) rose 1.68%. Public Storage (PSA) rose 3.42%.
In technology stocks, Apple Inc. (AAPL) advanced 1.91%, Microsoft Corporation (MSFT) gained 1.52%, and NVIDIA Corporation (NVDA) rose 1.55%. TSMC Limited (TSM) gained 2.75%.
In the consumer cyclical sector, Amazon.com, Inc (AMZN) rose 0.19%, Tesla, Inc (TSLA) increased by 0.71%, Home Depot, Inc (HD) gained 1.09%, and Alibaba Group (BABA) rose 1.41%.
In financial stocks, Berkshire Hathaway Inc (BRK-B) fell 1.24%, Visa Inc (V) gained 3.33%, and JPMorgan Chase & Co (JPM) was up 0.22%. Bank of America Corporation (BAC) and Mastercard Incorporated (MA) advanced 0.25% and 4.87%, respectively.
In energy stocks, Exxon Mobil Corporation (XOM) declined 0.53%, Chevron Corporation (CVX) fell 1.22%, and Shell plc (SHEL) decreased by 0.98%. ConocoPhillips (COP) declined 2.71%.
The crypto market fell 0.89% to US$2.13 trillion on Tuesday afternoon. Bitcoin (BTC) declined about 0.86% to US$47,257.81 at around 4 pm ET.
Also Read: Top healthcare stocks to watch in Q2: ABBV, BMY, ABC, VRTX & MCK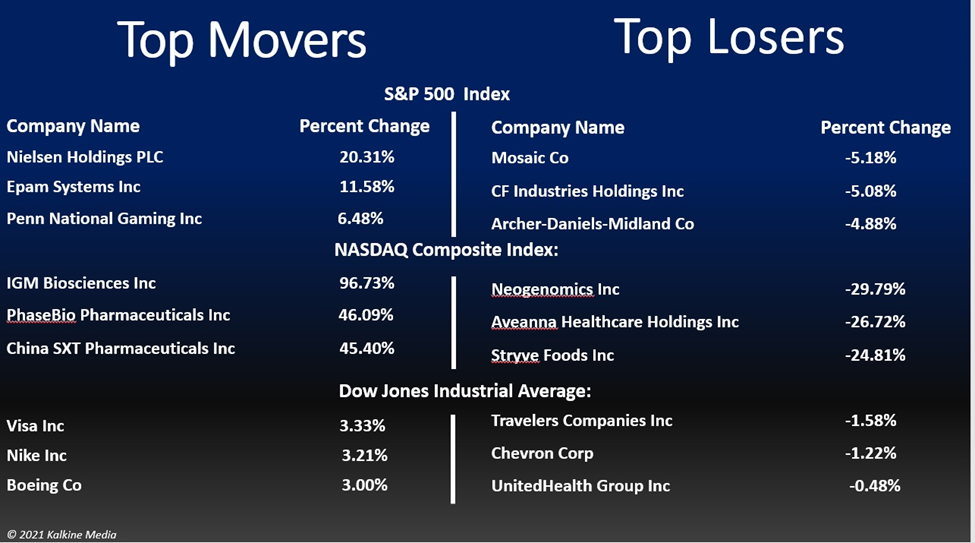 Also Read: Why is DexTools (DEXT) crypto rising? Volume up 700%


Also Read: Why is Flux (FLUX) crypto rising?
Futures & Commodities
Gold futures were up 0.09% to US$1,919.80 per ounce. Silver increased by 0.13% to US$24.945 per ounce, while copper rose 0.11% to US$4.7545.
Brent oil futures fell 0.06% to US$108.65 per barrel and WTI crude rose 0.03% to US$105.35.
Also Read: Top blockchain stocks to explore: COIN, CME, RIOT, MARA & BITF
Bond Market
The 30-year Treasury bond yields fell 0.84% to 2.503, while the 10-year bond yields declined 0.08% to 2.398.
US Dollar Index Futures fell 0.58% to US$98.477.