US stocks closed the session mixed on Tuesday, August 16, pulled up by the gains in the retail stocks following their quarterly earnings release. The robust earnings results suggested that Americans are still maintaining significant spending despite the decades-high inflation.
The S&P 500 rose 0.19 per cent to 4,305.20. The Dow Jones was up 0.71 per cent to 34,152.01. The NASDAQ Composite lost 0.19 per cent to 13,102.55, and the small-cap Russell 2000 fell 0.04 per cent to 2,020.53.
The retail giants, Walmart Inc. (NYSE: WMT) and Home Depot, Inc. (NYSE: HD), both posted their quarterly earnings results on Tuesday. The investors were eagerly waiting for the earnings of these companies, as it tends to provide cues on the broader consumer habits.
The stocks have maintained a steady momentum in the ongoing quarter, with S&P 500 index advancing for four consecutive weeks as of last Friday, August 12. The stocks also noted their best monthly performance in around one and half years in the prior month.
In economic news, US housing starts fell sharply in July, the Commerce Department report showed on Tuesday. Housing starts declined 9.6 per cent in July to an adjusted annual rate of 1.45 million. Building permits tumbled 1.3 per cent to 1.7 million, the report added.
The consumer discretionary and consumer staples sectors led gains in the S&P 500 index on Tuesday. Six of the 11 segments of the S&P 500 index stayed in the positive territory. The information technology and healthcare sector were the bottom movers.
Shares of Walmart Inc. (WMT) gained five per cent in intraday trading after the retail giant posted strong quarterly earnings results while raising its full fiscal 2022 guidance. Notably, the firm had issued a warning over its profit in less than a month.
The Home Depot, Inc. (HD) advanced 4.40 per cent in the intraday session after the home improvement retailer posted strong quarterly earnings that may have topped the market expectations. The firm also reaffirmed its profit and revenue guidance for fiscal 2022.
Shares of Sea Limited (SE) plummeted 14.48 per cent after the technology conglomerate firm reported its second-quarter earnings results on Tuesday morning. Meanwhile, the company had suspended its revenue guidance for the e-commerce segment.
In the consumer staples sector, The Procter & Gamble Company (PG) increased by 0.92 per cent, The Coca-Cola Company (KO) gained 0.82 per cent, and Costco Wholesale Corporation (COST) rose 1.33 per cent. British American Tobacco p.l.c. (BTI) and Mondelez International, Inc. (MDLZ) soared 1.50 per cent and 1.20 per cent, respectively.
In consumer discretionary stocks, Amazon.com, Inc. (AMZN) surged 1.12 per cent, Nike, Inc. (NKE) jumped 1.50 per cent, and Lowe's Companies, Inc. (LOW) added 2.92 per cent. Booking Holdings Inc. (BKNG) and The TJX Companies, Inc. (TJX) advanced 1.01 per cent and 1.96 per cent, respectively.
In the technology sector, NVIDIA Corporation (NVDA) lost 0.80 per cent, Taiwan Semiconductor Manufacturing Company Limited (TSM) fell 1.77 per cent, and ASML Holding N.V. (ASML) plunged 1.44 per cent. Broadcom Inc. (AVGO) and Adobe Inc. (ADBE) decreased by 1.31 per cent and 0.77 per cent, respectively.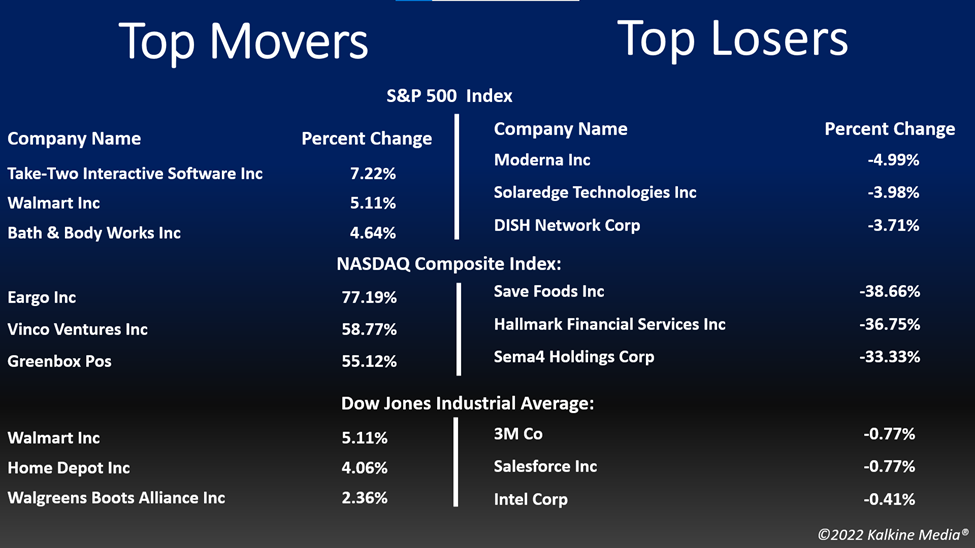 Futures & Commodities
Gold futures were down 0.44 per cent to US$1,790.10 per ounce. Silver decreased by 0.88 per cent to US$20.093 per ounce, while copper ticked up 0.20 per cent to US$3.6247.
Brent oil futures decreased by 2.70 per cent to US$92.53 per barrel and WTI crude was down 2.78 per cent to US$86.92.
Bond Market
The 30-year Treasury bond yields were down 0.23 per cent to 3.090, while the 10-year bond yields rose 0.66 per cent to 2.809.
US Dollar Futures Index decreased by 0.07 per cent to US$106.360.