Highlights

PAX Gold (PAXG) is a gold-backed stablecoin.
PAXG is an ERC-20 token launched in September 2019.
Its price rose by 6.72% in the last seven days.
Stablecoins are cryptos backed by real-world assets like gold, fiat currencies issued by the government, cryptos, etc. But the value of stablecoins can change with the performance of the underlying assets in the market.
Stablecoins, especially the gold-backed stablecoins, are catching investors' attention as they look for safe-haven assets amid the Russia-Ukraine tensions.
The geopolitical tensions have adversely impacted the financial and the crypto market.
On Tuesday, the global crypto market was down 0.97% to US$1.72 trillion at 12:22 pm ET, while the 24-hour trading volume was up by 12.71% to US$84.66 billion at the same time.
So, what are PAX Gold (PAXG) stablecoins?
Also Read: Black Rifle Coffee Company (BRCC) stock gains attention, what's next?
PAX Gold (PAXG) crypto
Pax Gold (PAXG) is a gold-backed stablecoin launched by Charles Cascarilla in September 2019. Cascarilla is the CEO of Pax Gold.
PAXG, an ERC-20 token, operates on the Ethereum blockchain. It aims to make gold more tradable, arguing that the physical commodity is not easily divisible.
In its whitepaper, the company further claims the platform allows investors to buy an "indefinitely small amount" of gold through cryptos without minimum purchase limits.
Also Read: Why is FTX Token (FTT) rising?
Why Is Gold Backed Stablecoin PAX Gold (PAXG) Rising?
Why is Pax Gold rising?
Pax Gold's (PAXG) surge in recent weeks could be due to the increasing inflationary headwinds triggered by the Ukraine crisis, forcing investors to look for shelter in safe-haven gold assets.
After sanctions on Russia, prices of nearly all commodities, including gold, have soared.
Other gold stablecoins like Tether Gold (XAUT) has also witnessed a price jump.
Also Read: Why is Immutable X (IMX) crypto rising?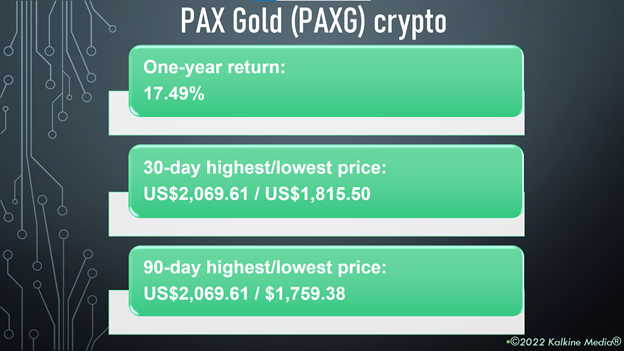 Source: *Data provided by CoinMarketCap.com
Bottom line:
The PAXG token was priced at US$2,031.74 at 12:55 pm ET on March 8, up 2.20%, while its one-day volume surged 18.04% to US$150.36 million. It has a market cap of US$593.43 million, and its fully-diluted market cap is US$604.83 million.
The token's circulating supply is 292,083.81, and its total supply is 292,084. Its price soared 17.49% over the past 12 months and 6.72% in the last seven days.
Also Read: NEM to FNV: 5 gold stocks to hedge against Russia-Ukraine tensions
Risk Disclosure: Trading in cryptocurrencies involves high risks including the risk of losing some, or all, of your investment amount, and may not be suitable for all investors. Prices of cryptocurrencies are extremely volatile and may be affected by external factors such as financial, regulatory, or political events. The laws that apply to crypto products (and how a particular crypto product is regulated) may change. Before deciding to trade in financial instruments or cryptocurrencies you should be fully informed of the risks and costs associated with trading in the financial markets, carefully consider your investment objectives, level of experience, and risk appetite, and seek professional advice where needed. Kalkine Media cannot and does not represent or guarantee that any of the information/data available here is accurate, reliable, current, complete, or appropriate for your needs. Kalkine Media will not accept liability for any loss or damage as a result of your trading or your reliance on the information shared on this website.