Highlights

Juno is an open-source, public blockchain in the Cosmos ecosystem.
Juno's new website went live on Tuesday.
The total supply of JUNO is 70,424,332.
The Juno (JUNO) crypto's new website launch on Tuesday was marred by technical glitches, leading to a drop in its price, according to news reports.
The JUNO coin was down 2.02% to US$41.65 at 1:21 pm ET on Tuesday.
So, what is Juno?
Juno is an open-source platform or a public blockchain in the Cosmos ecosystem for interoperable smart contracts. The platform automatically executes, controls, and documents a procedure for the events and actions as per the terms of the smart contracts.
The network is a decentralized, permissionless, censorship-resistant avenue where developers can securely launch smart contracts and compile them in different languages.
Also Read: Why Russian blogger's Crypto Hasbulla NFTs trending?
Juno was created by a group of developers, validators, and delegators in the Cosmos system. This community-driven initiative is to create a world-class permission-less, designated smart contract network, remove common smart contract bottlenecks, such as non-operability, high fees, and lower scalability, and develop and adopt CosmWasm.
Juno has not carried out any seed sale, private or public, for its coins and does not intend to do so in the future. All its circulation is done through the decentralized network launched in 2021.
Also Read: Why is Friends with Benefits (FWB) crypto rising?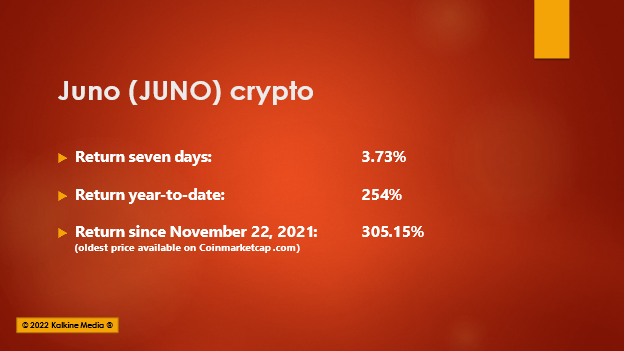 Data Source: Coinmarketcap.com
Also Read: Why is NFT game Alien Worlds' (TLM) offer catching attention?
What is Cosmos Ecosystem?
Cosmos is a blockchain ecosystem where different blockchains can scale and interoperate.
The new website features JUNO's DApps, contracts, and tools. JUNO has communities on Discord, Github, Telegram, and Twitter. It has more than 50,000 followers on Twitter.
Also Read: Why is Immutable X (IMX) crypto rising?
The coin's current market capitalization is US$1.86 billion. Its self-reported circulating supply is 44,979,247.11. The maximum and total supply are 185,562,268 and 70,424,332 JUNOs, respectively. JUNO can be purchased from Osmosis and Sifchain exchanges.
Also Read: Women's Day: Nine crypto entrepreneurs climbing the ladder of success
Bottomline
The crypto market is volatile. Besides, the lack of regulatory oversight makes it prone to scams and other frauds. Investors should exercise due diligence while investing in digital assets.
Risk Disclosure: Trading in cryptocurrencies involves high risks including the risk of losing some, or all, of your investment amount, and may not be suitable for all investors. Prices of cryptocurrencies are extremely volatile and may be affected by external factors such as financial, regulatory, or political events. The laws that apply to crypto products (and how a particular crypto product is regulated) may change. Before deciding to trade in financial instrument or cryptocurrencies you should be fully informed of the risks and costs associated with trading in the financial markets, carefully consider your investment objectives, level of experience, and risk appetite, and seek professional advice where needed. Kalkine Media cannot and does not represent or guarantee that any of the information/data available here is accurate, reliable, current, complete or appropriate for your needs. Kalkine Media will not accept liability for any loss or damage as a result of your trading or your reliance on the information shared on this website.