Highlights:

One should have proper planning to survive and come out of a financial crisis after losing a job.
It is important to differentiate between luxury and necessity during unemployment.
Many people are worried about their job stability amid a global economic downturn, which also spurred fears over a potential recession.
For most Americans, one of the worst nightmares is unemployment. It can't be denied that being unemployed is not impossible, and it could happen to anybody, irrespective of which industry or position you are working in.
Several reasons may result in unemployment, including layoffs, businesses closing, health conditions, etc. Whatever the reason is, losing a job is always stressful, and according to research, unemployed individuals tend to experience more depression and anxiety.
Due to several macroeconomic factors, the current financial situation, inducing the fear of a possible recession, has spooked many Americans. While losing a job is scary and stressful, preparing for the worst is always beneficial.
Let's look at some ways that could help you to survive the walk to a better path and manage your money, even if you lose your job:
Monitor and understand your expenses
The most important part of financial planning, regardless of if you are working or unemployed, is to monitor your daily expenses. Create a list of all your expenses, even if it seems negligible to you.
You will get a clear picture of all the daily necessities and luxury expenses by monitoring your spending thoughtfully. This might help you to map a better plan if you lose your job.
Reducing expenses
After tracking and understanding your expenses, it is important to trim your budget. It could be referred to as a diet for your expenses, through which you must find the spending areas from where you make some savings.
However, expenditures like rent, food, and other necessary items, utility services including water, electricity, etc., could not be avoided, but a reduction in all these areas is possible.
Like in times of being unemployed, look for a shared or low-rent apartment, reduce spending on expensive food or dining out in restaurants, and use electricity as minimum as possible.
Look for assistance programs
The next important step is to look for assistance programs during the unemployed period. There are several benefits programs that you could apply to as soon after losing a job.
For instance, one should immediately file for unemployment benefits claims through their state after losing a job. Even if you think you are not qualified for the said program, you should try, as it would provide some cover for a few of your essential expenses after losing a job.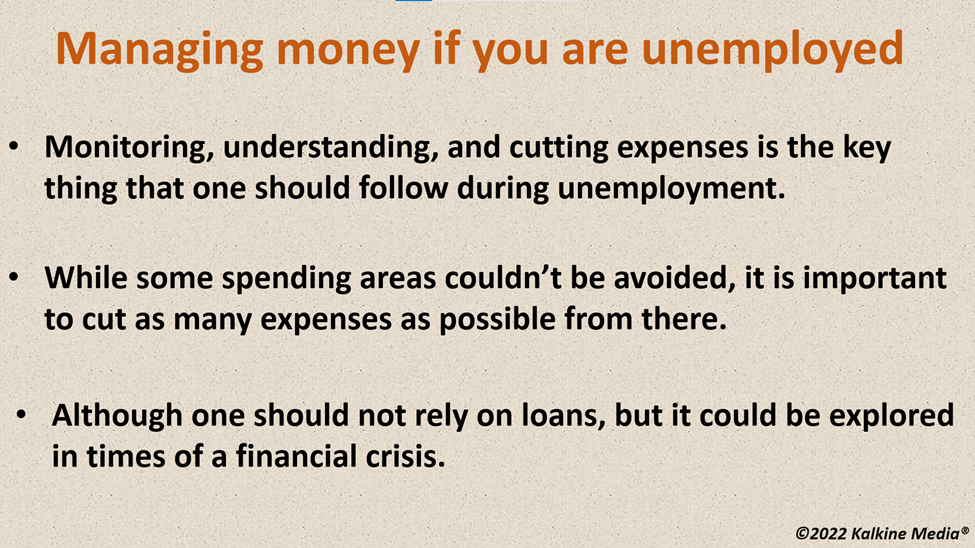 Should have an emergency fund
Do some savings when you are working. To be precise, it is important to keep a savings fund for times of emergency, like losing a job. Even if you are in a good position or a growing industry, you should keep some savings as there is no guarantee of your job in times of crisis.
A robust fund for an emergency could help you avoid severe struggles after losing a job or during a financial storm. So, start building an emergency fund that might help you survive and come out of a financial crisis.
Explore loans if required
While no individual should rely on loans after losing a job, in case of emergency, one could explore the best options and take out a loan to survive. Although it could only help you to walk a shorter distance while raising concerns over your debt, loans could be explored in times of emergency.
In addition, while you are in a stable financial position, try to repay your loans within the given time for a better credit score, which might also help you get a loan easily from that institution during unemployment.
Bottom line:
The COVID-19 pandemic has disrupted the labor market, and the rising concerns over a potential recession in the coming days also have weighed on individuals' sentiments.
Despite this, maintaining an individual's financial health cannot be neglected. It is as important as maintaining one's physical or mental health. So, keep close track of your expenses and plan for any contingencies in advance.