Highlights

Wise's shares surged after the group upped its FY 2022 revenue growth forecast.
Wise's gross profit during the period rose by 46 per cent to £173.8 million on a year-on-year basis.
The company estimates its FY 2022 revenue growth to be in the mid-to-high 20s percentage range.
Payments focused fintech firm Wise PLC's (LON: WISE) shares surged by around 12 per cent on Tuesday after it increased its full-year revenue forecasts in its half-year report.
Wise's half-year results
The group reported its H1 revenue, for the six months ended on 30 September, increased by 33 per cent to £256.3 million, up from £192.2 million in the same period year before.
During the period, the group's gross profit increased by 46 per cent to £173.8 million, up from £119.2 million in the previous year.
And, its adjusted earnings before interest, tax, depreciation and amortisation (EBITDA) improved by 20 per cent to £60.6 million, up from £50.6 million.
FY 2022 guidance
The group upped its forecast for FY 2022 annual revenue growth at mid-to-high 20s per cent. It had earlier estimated its full-year revenue growth rate to be between 20 to 25 per cent in October.
The company added that its take rate is estimated to be a little lower in H2 2022 from H1 2022, based on its strategy of reducing costs and thereafter lowering prices.
The group also stated its estimated gross margin to be between 65 to 67 per cent, thus maintaining its earlier guidance, subject to certain conditions.
Wise PLC's (LON: WISE) share price performance
Main market-listed firm Wise's shares were up by 11.90 per cent, trading at GBX 844.40 on 30 November at 10:48 AM BST. Comparatively, the industrial services sectoral index was at 12,154.78, down by 1.28 per cent. The company's market cap stands at £7,505.18 million.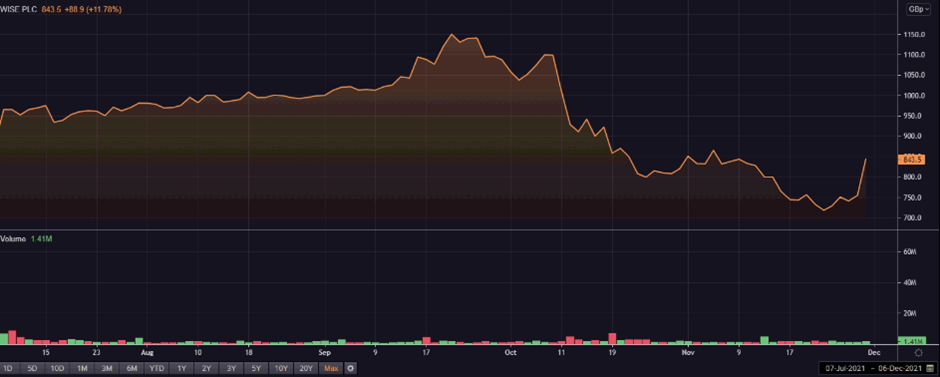 Image source: Refinitiv
The company was admitted to the LSE earlier this year on 7 July and was among one of the London Stock Exchange's (LSE) biggest listings in the tech space.
The group had a market valuation of about US$ 11 billion when it was listed on the LSE.